It's been several months since I joined the Homeschool Crew. Back in the beginning, we were full of enthusiasm, but had nothing to review yet. Not wanting to waste the energy that came from the excitement and anticipation, we fired off emails and messages to each other to introduce ourselves and get to know each other better. One of the conversation topics was "What does your homeschool room look like?" I loved looking at other's pictures, but wasn't about to post my own until after some serious cleaning.
This past weekend, my parents came for a visit (a good motivator to clean). And this week we're getting our house appraised (even more cleaning). As I looked around today I thought "Well, it's never going to get better than this. If I'm ever going to take pictures of our homeschool room, this is it."
We do most of our schooling in our walkout basement. Math-U-See videos and messy science experiments are done elsewhere. The chalkboard was given to us by a fellow homeschooler. When her church remodeled, they gave her all the classroom chalkboards, and she passed the blessings on to others.
Our music area. Fritz loved this keyboard we found at Target. The keys light up to show which notes to play. We would visit it in the store and he would play "Jingle Bells" over and over. Now that we have it at home, his favorite songs are "Moonlight Sonata" and "Jesu, Joy of Man's Desire."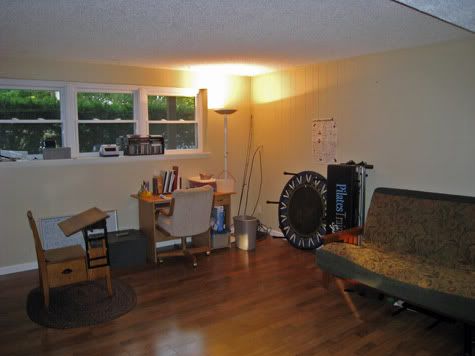 Here are our desks, not that we use them much. We sprawl on the floor or cuddle on the couch or use the chalkboard. He seems to enjoy phonics so much better if we arrange magnetic letters on the board than using flash cards. Leaning against the wall is our "energy dissipation system," also known as gym class.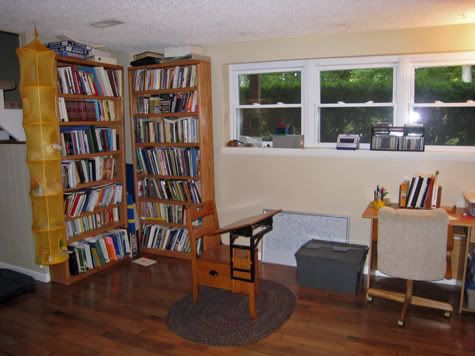 Here are the bookshelves, straining under their burden. It's a passion and a weakness--biographies, Landmark Books, DK and Usborne reference books. I never pass up a good book sale.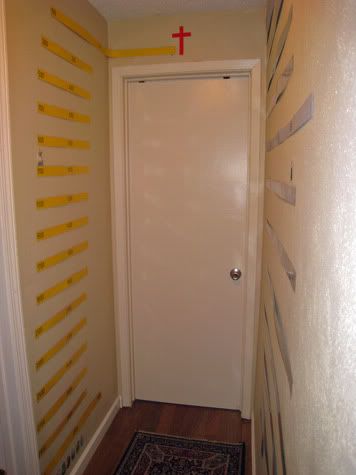 Down the hallway is our take on the Konos timeline. The yellow, left-hand side is B.C. and the blue on the right is A.D. Christ is above the door. We're using the Konos I figures.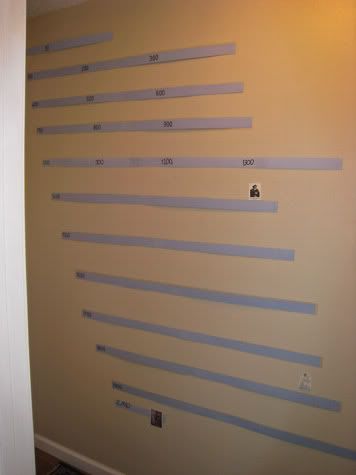 Since I'm also doing a review of Mystery of History III, I'm having to fill in some figures using the History through the Ages cd-rom. There's also a photo of my Schnickelfritz for 2002.
I should end this with a disclosure: the room seldom looks this good. There are usually Geo-tracks or wooden train tracks sprawling across the floor. Math manipulatives and Jenga blocks make tunnels and mountains. Other days there are marble runs and roller coasters. Everthing gets scattered by a scooter or the dog chasing it. At least I have proof that for one day at least, it was clean.
UPDATE: I don't want some of you moms who struggle with organization hating me for these pictures. Let me assure you after spending the winter months and a particularly muddy past week inside that our basement doesn't look this good anymore. Right now there are two K'nex rollercoasters waiting to be seen by grandparents visiting next week. There is a pile of muddy shoes by the back door. One day there may be a Lionel train set out, the next day he switches to wooden tracks. It's a classroom, playroom, storage area, and it gets messy.