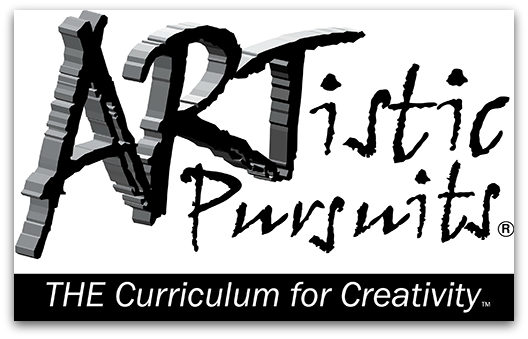 When the Homeschool Crew reviewed curriculum from ARTistic Pursuits last year I did not participate. This year though I was looking for a way that my son could strengthen his hand and finger muscles without the drudgery of writing, writing writing. I also hoped he would grow beyond his "stick figure" drawing style. We received a copy of Elementary 4-5, Book 1: The Elements of Art and Composition.
A little background before we dig in—I never liked art time in my own public school education. After mandatory art class in elementary school I never opted for art as an elective, unless you count theater or music as performing arts. I'm decent enough at crafts (quilting, needlework, stenciling) but not drawing or painting. My Schnickelfritz used to draw occasionally (usually with both hands at once), up to age 4 or 5. Now he prefers to make his artwork by laying out Jenga blocks on the carpet to form outline shapes of his subjects. He'll go through phases where he'll draw outline maps of states (and he's pretty good at that). When he has to draw for notebooking in Bible or science, his work is the stick figure style. Another concern of mine is his perfectionist tendencies – would he be discouraged if his drawings didn't look as good as the samples in the book.
The comb-bound book (92 pp.) has 16 Units, each unit containing 4 lessons.
Space
Line and Shape
Texture
Value
Form
Form using Value
Local Value
Contrast
The Shapes of Natural Forms
Edges
Balance
Rhythm
Overlap
Depth
Proportion
Movement
The first lesson in each unit introduces the subject and gives new vocabulary terms. In the second lesson the student studies a full color image of famous piece artwork to see how the artists incorporates the unit concept. This lesson also includes a brief biography of the artist and some insight into the time the painting was created. Lesson 3 gives the student more instruction in how to apply the concept to his/her own drawing. Lesson 4 is a final project with samples of other students' work, (but every lesson includes a drawing exercise).

How we used it:
The author writes directly to the student so Schnickelfritz did all the reading himself. While he read I gathered up the supplies he would need and helped him find suitable subjects to study for his own drawings (most of the exercises involve studying objects placed in front of them rather than drawing from imagination). We incorporated Art into our schedule two days per week so one unit took two weeks to complete.
What we thought:
The book was great at explaining concepts and giving us actual works of art to study – We'll probably keep it when were doing Art Appreciation. However, my son found the drawing exercises VERY frustrating. For example, the very first assignment was to look closely an object and draw the edges of the object while looking closely at the object. Schnickelfritz kept his eyes on the blue bottle and when he looked down at his paper one side was longer than the other, the edges didn't line up, etc. He got so mad at himself that he crumpled up the page and declared himself the "worst drawer ever." I said he could probably glance at the paper occasionally, but he insisted on following the directions literally and they hadn't mentioned looking at the paper.
Here is a second example of his following exact directions. The text says "Move your pencil in a tiny circle to make a dot. Make them big, small, light or dark." Well he certainly has big and little, light and dark dots, but there was no direction explaining where to place the dots to make the star fish appear dimensional (You can also see where he erased his first attempt in frustration").
I think my son would benefit more by watching someone drawing and copying their steps. This book may be more appropriate for a child that has already displayed some artistic talent and just needs some guidance refining it.
Elementary 4-5, Book 1: The Elements of Art and Composition is for ages 9 and up and retails for $47.95. The book is non-consumable so you could save and use it with younger children. For your convenience, ARTistic Pursuits has teamed up with Dick Blick for one stop shopping of all your necessary tools and art supplies. I found everything I needed except the Ebony pencils at my local craft store (small rural town so big cities may have those too).