Let me be perfectly transparent before we start this review: This isn't our first go-round with the Institute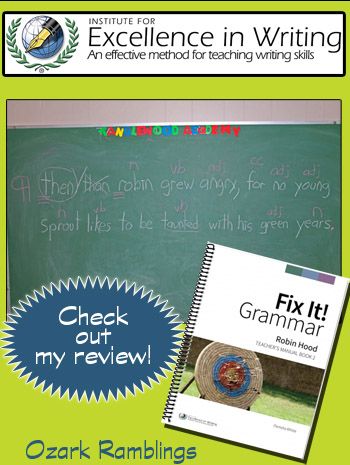 for Excellence in Writing (henceforth referred to as IEW). My first year on the Review Crew we were introduced to their Teaching With Structure and Style and Student Writing Intensive programs. After completing that I purchased their level A Continuation Course (and have Level B) waiting in the wings. Last year we reviewed IEW's Teaching the Classics and I'm using that as my base for teaching literature analysis at our local co-op. I even used their Fix It! Grammar program last year, but wanted to check out how they revamped everything in their new edition. I received two spiral bound books:
Fix It! Grammar: Robin Hood [Book 2] (Teacher's Manual) $19.00
Fix It! Grammar: Robin Hood [Book 2] (Student Book) $15.00
The six books in the Fix It! series can be used by 3rd-12th graders, each book building on the one before. Because we had already completed Book 1 I felt very comfortable working with Book 2, but if you're not sure where to start with your students IEW has a thorough Placement Test on their website. The concept for Fix It! Grammar is that students will learn while they edit a story one sentence at a time. In addition, they will be building their vocabulary by looking up the definition for at least one bolded word each day. At the end of the 33 weeks, they'll have written their own corrected copy of the story—in our case, Robin Hood (so you'll need a blank spiral notebook or a ring binder and filler pages).
What We Received:
The first page in the Teacher's Manual (it's blue) contains instructions to download a PDF version of the Student book and two free audio files: Mastery Learning and But…But…But…What About Grammar? The back of the book has a 45 page grammar glossary with definitions and usage rules for parts of speech, punctuation, phrases & clauses, and the stylistic techniques used in IEW's writing curriculum. The bulk of the manual ( 200+ pages) has a brief introduction to explain the teaching process and then the lessons themselves broken down by week and by day. Each week begins with a page of concepts that you'll be teaching, then follow four pages of sentences of the day, and finally an example of the completed paragraph/s the students should have rewritten for the week.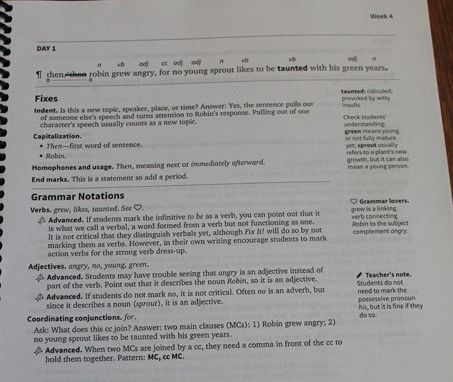 The daily pages show how the sentence should look once it's labeled for nouns, verbs, articles, etc. and editorial marks for indentation, capitalization, and punctuation added. The Fixes section will help explain why editing was needed and give definitions for the bolded words. The Grammar Notation deals with the labeling of the words and may include notes to the teacher about advanced topics or what's to skip at this point. For example, we came across the word "his" in a sentence and the teacher notes said it was okay if the student didn't recognize it as a possessive pronoun at this time (even though my Schnickelfritz did, hooray!). The margins may also include notes for the real grammar lovers—really more for the teachers than to share with the students.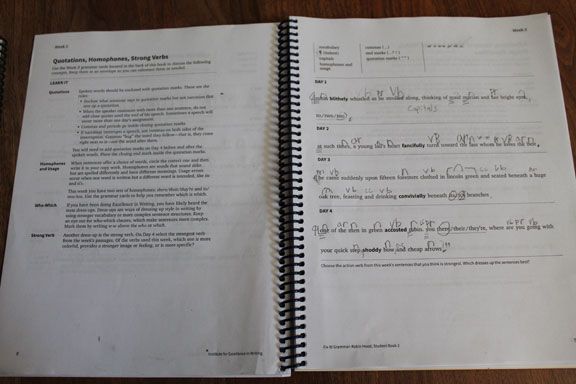 The Student Book has a whole week's worth of sentences on one page so it's only work section is only 70 pages long. It has the same weekly concept page and 45 page Grammar Glossary as the Teacher's Manual. Also included are five cardstock pages designed to be torn out and cut apart into Memory Cards. The card's front may show an editing symbol or parts of speech label while the back gives more detail about the concept and states which week it will be covered. You'll need something to store these cards in and unfortunately they weren't designed to fit in standard baseball card sheets. We ended up just lumping them all together in a page protector in the same ring binder that held his rewritten story pages.
How We Used It
Each week has only four lessons. At first we tried editing the sentences on days 1-4 and then having my son write the corrected passage on day five. This lead to much whining and grumbling on the fifth day so we just rewrote each sentence on the day we edited it so we only had grammar 4 days a week. This turned out to work well when our co-op started and we tried to keep Thursday's course loads as light as possible.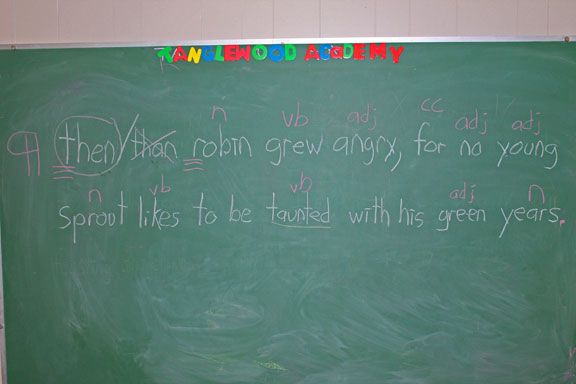 I would begin each week by writing day one's sentence on our chalkboard. We'd discuss the new concepts for the week and mark up the sentence appropriately. Some of the concepts may not be covered in the first sentence so I would repeat this procedure any day a new concept appeared in the work.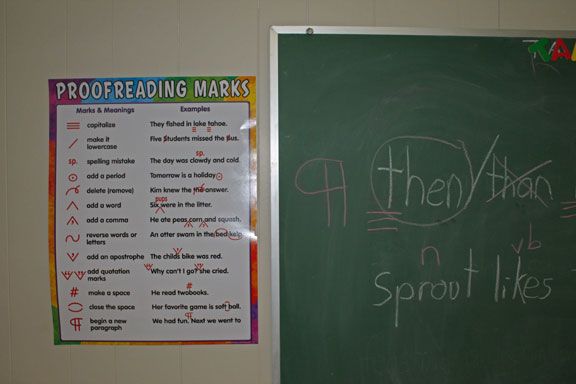 It was very helpful to have this proofreading marks poster mounted next to the chalkboard.
On other days my Schnickelfritz could work on his own in the book alone. The top of the page lists all the labels and marks he should be adding. He could pull out the memory cards if he needed reminding about the concept. After I checked his work he could rewrite the sentence on a separate sheet of paper. The curriculum suggests he keep a "dictionary" of the bolded vocabulary words and their definitions but I was happy for him to just look up the words.
What We Thought About It
Fritz has been very pleased with the "it's just one sentence" style of learning—grammar never takes more than 10 minutes. He's also enjoying the story. More than once I've caught him trying to read ahead, but I pull the book away. It's a little carrot to dangle in front of his nose to keep him interested in doing grammar again next week.
I have been pleased that concepts aren't dropped the week after they've been taught. In the past we used a grammar program that focused on prepositions for several weeks and then all focus switched to nouns or verbs and within a short time all things prepositional had been forgotten. With Fix It! Grammar each week builds on rather than replaces the last. In Week One I was banging my head on the wall because my son couldn't identify all the nouns, couldn't even remember the definition of a noun. Now in week 5, he's tearing through nouns, articles, verbs, pronouns, conjunctions, and adjectives and we're starting on prepositions.
It's also great that our grammar has coordinated with our writing program. We're still looking for strong verbs and who-which clauses. The double exposure is making things stick that much better in Fritz's head. I'll be honest, I really hadn't intended to keep using Fix It! Grammar in its old format but now I think we'll be buying the rest of the series.
In case you're interested in the IEW products I've reviewed you can click on the links below