One of Fritz's favorite annual field trips is to visit Lewis & Clark days in St. Charles, Missouri.  Their journey to explore the newly purchases Louisiana territory and search for a water route to the Pacific ocean covered many future states, but we Missourians like to think of them as our own.  Their trip started and ended here.  Clark was governor of the Missouri territory and is buried here.   A homeschooling family from southwest Missouri obviously shares that pride by naming their business
The Corps of Re-Discovery
.  Their products allows children make their own leather goods and pioneer crafts.  Fritz received a Tomahawk kit for our review.
This kit retails for $7.99 and includes a wooden handle, a leather "blade", lacing, and assembly instructions.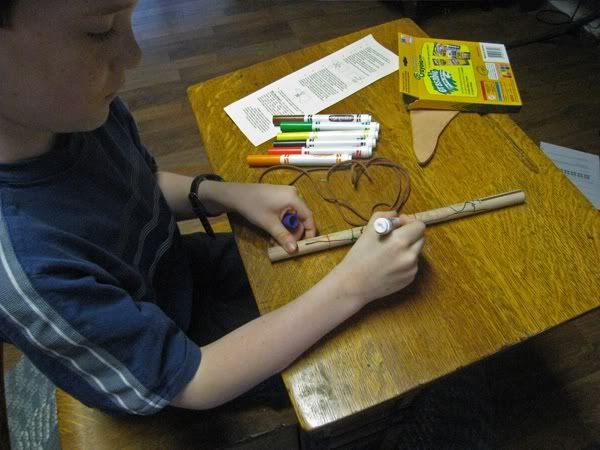 We used our  permanent markers to decorate the handle  but you could also use paint.
The instructions suggest wetting the leather and using a tack hammer to apply texture to the edges of the "blade," giving it the appearance of  a chipped flint rock.  This hammer came from Fritz's handyman helper tool kit.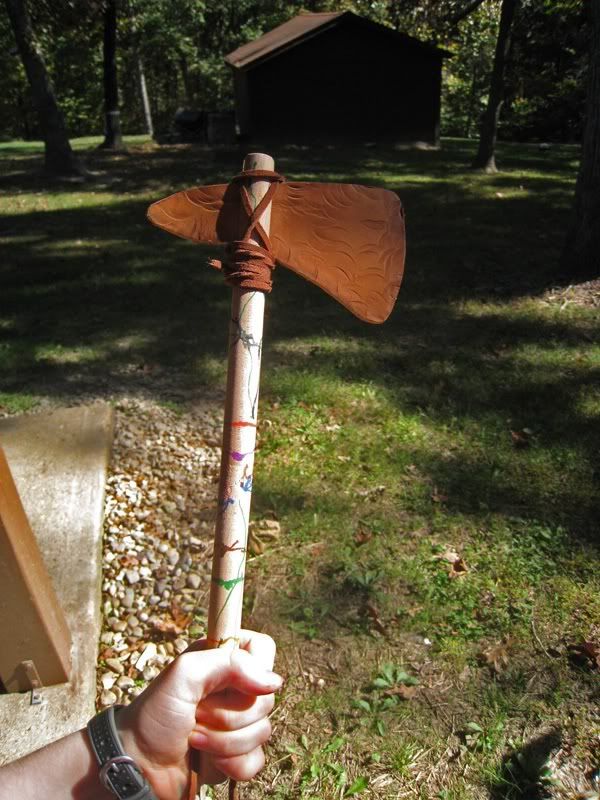 Here's the finished product.  I tried to leave it large enough so you could see the texturing.  Total decorating and assembly time took less than 20 minutes (your child may take more care in the decorating portion of the project).  We did allow a little drying time for the leather blade.  I assumed it might have swollen slightly and drying in the slot would have left it loosened.  Fritz, now eight, did everything except tying the cording without my help.  The blade, being leather, will not cut anything so it should be safe for all children.  That doesn't mean it won't hurt if you hit yourself in the noggin with it (vigorous product testing discovered this fact).
We're going to see the Lewis & Clark re-enactors again in Hermann, Missouri next month and I'm sure this tomahawk will be taken along for the ride.  Other projects available from the Corp of Rediscovery include: leather headbands, vests, moccasins,  cornhusk and clothespin dolls, weaving kits, and quill pens.  Older children may consider flint and steel fire starters and actual throwing tomahawks and knives.  You can check out the entire catalog online at
The Corp of Re-Discovery
.  Also follow them on
Facebook
as they announce special coupons and discounts. 
You can see what fellow Homeschool Crewmates thinks of their Corp of Re-Discovery products by clicking
here
.
Disclaimer: I received a free Tomahawk kit for the purposes of completing this review.  I received no other compensation for my honest opinions.