As I mentioned in our last field trip post, Schnickelfritz and I had traveled to Mansfield, Missouri for a quick, weekend jaunt. We'd spent Friday afternoon at the Baker Creek Seed company and Saturday the town of Mansfield was hosting its annual Wilder Day's in honor of the towns famous author—Laura Ingalls Wilder.
Laura and Almanzo Wilder moved to Southwest Missouri in 1894 as a compromise (he couldn't take the cold winters of the north and she couldn't stand the low altitude and humidity of south). They purchased 40 acres with money she had hidden in her writing desk. The original log cabin on the property was moved and became the kitchen of the white farmhouse they started building the next year. 2013 marks the centennial of completion of the house so they apparently worked on it as time and finances allowed. It's probably the least famous of the Little Houses, because it's the one she didn't write about—at least not in a book. Many Missourians read about the Rocky Ridge farm through Laura's articles in the Missouri Ruralist. It definitely has Little House ties though because this is where she sat down and wrote the books – in long hand with a pencil no less.
And Wilder Days is the time to come visiting—the town hosts a parade and look-alike contest, the town players host an outdoor pageant of Laura's Memories, there's reduced admission to the house and museum, you can go upstairs in the farmhouse (not part of the normal tour), and best of all—they take Pa's fiddle out of the case and play it! I heard from someone with relatives in the area that the Rock House (built by Rose Wilder Lane for her parents) isn't always open depending on staffing, but it definitely is for Wilder Days.
Having scouted out the venue after our Baker Creek trip, we thought it best to arrive early Saturday morning for a parking spot. There were a number of weavers and spinners setting up their looms and wheels, several Morgan horses were being led out of their trailer, and there were a few other eager guests mulling about. I had to say I was a little concerned about the state of our cultural well-being by what I saw. There was a smaller group of older ladies – I took as fans of the books from when they were originally published; the majority of guests were my age—these were clearly fans of the TV series (more on them later), and NO other kids besides my son. I was afraid that Laura and her little houses were being largely ignored by the new generation more interests in vampires and werewolves or post-modern battles to the death.
Since it wasn't quite time for the opening ceremonies Schnickelfritz went to visit the horses while I got in line to get Dean Butler to sign my copy of his documentary The Legacy of Laura Ingalls Wilder (which I reviewed last month). Cleary most of the people were here just for the chance to meet the actor—who was running an hour late. A group of five sisters headed the line, clad in t shirts sporting the actor's picture and touting "We love Zaldamo!" Another woman pulled a Ziploc bag of cinnamon chicken out of her purse (fans of the show will understand these two references). The woman in line ahead of me was 45 minutes late in getting her daughter to a church wedding –WHERE SHE WAS SUPPOSED TO BE AN ATTENDANT! She had been a tour guide at the home in her teens and had old hardback copies of Farmer Boy signed by the original illustrator, Garth Williams. I was pleased to see that Mr. Butler was humble enough to refuse to add his signature to that page.
Mr. Butler had to leave the autograph table to take part in the opening ceremony. He encouraged everyone to take part in the capital campaign to restore the grounds to their original design and build a new bookstore/ museum down the hill from the farmhouse. As you can see, by now there were other children—I guess most had been in Mansfield taking part in the look-alike contest.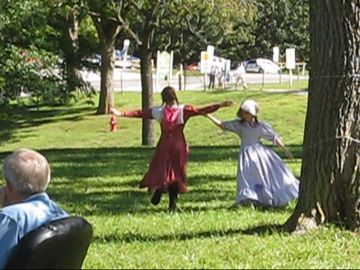 By the time Pa's fiddle was being played there were plenty of "little Laura's" twirling and swirling in their prairie dresses. David Scrivener, the musician, explained that Pa probably received his fiddle through a promotion by a seed company—which sounds really strange until you do some investigation. The contraption used to broadcast seed was called a seed fiddle and you looked like you were moving a bow back and forth as you distributed the seed. Mr. Scrivener read passages from the various books as introductions to the songs: Ol' Dan Tucker, Pop Goes the Weasel, Camptown Races, Golden Slippers, and the Sweet By and By. He even took a few requests for more gospel tunes like I'll Fly Away. He probably played for more than an hour!
Photographs are prohibited in the houses and museums so I can only tell you about the things we saw –Laura's writing desk, the jewelry box she got for Christmas, Pa & Ma's marriage certificate, Mary's nine-patch quilt, and on and on. Where applicable, there was a card quoting the book that mentioned the object.
In the houses we could see that the family was petite by the lowered kitchen cabinets, etc. You should see the narrow stair/ladder that rose used to take up to her bedroom. I'm not sure I would fit and yet the volunteer said Laura still used the ladder in her 80's! we also learned that Almanzo had made the latch-hook rugs and pillow in the front room. There were several volunteers in both houses willing to answer questions and offering some information but they weren't officially "tours." We received a tri-fold paper with notes on each room for a self-guided tour
.
It was just a short drive to the Rock House. The museum is hoping to restore the original path between homes as part of their capital campaign. My Schnickelfritz had just received his first real camera-a hand me down from his grandpa. He took this photo of the front of the house and the fiddle player. Pretty good, huh?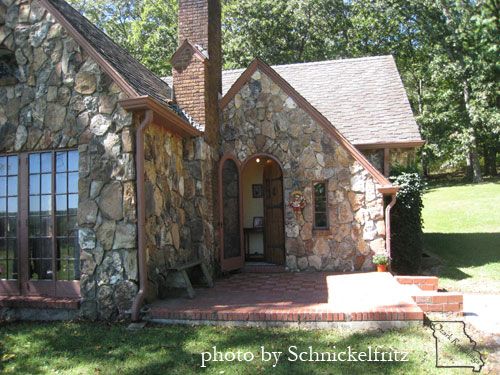 Mansfield is probably only
an hour from Branson, MO. If your vacationing in the live music capital or visiting Silver Dollar City, Laura's Home and Baker Creek Seeds would make an excellent day trip.
Don't miss a thing!
Subscribe to Ozark Ramblings
and get my posts in your inbox.