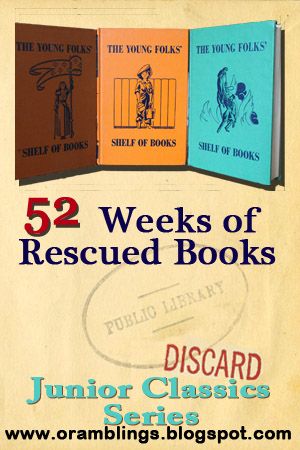 All good things must come to an end. We're starting school again so this will be the last of the just for fun reading rescued books. To go out with a bang, I'm sharing about a whole series of books, not just one.
Although the front covers all say "The Young Folks' Shelf of Books", the spines and the Introduction in Volume 1 refer to the series as Junior Classics so that's how I will as well. When I was waiting to check out at the Friends of the Library sale I showed these books to my stepfather and he recognized them from his own childhood (they were originally published in 1938). I've manages to find all ten books, but they aren't all the same edition. My books range from the 52nd to the 63rd printings.
The ten books are:
1: Fairy Tales and Fables—The stories are arraigned by country of origin. The Three Little Pigs and Jack & the Beanstalk come from England. Snow White and Rapunzel are German while Little Red Riding Hood and Cinderella are French. There are also plenty of unfamiliar stories from Norway, Czechoslovakia, and India (one of those is called The Rat's Wedding). You'll also find some of Aesop's Fables here.
2: Stories of Wonder and Magic—I'm not sure how they decided which stories went where because I wouldn't have included Uncle Remus in this book, but here it is. You'll also find Aladdin and Ali Baba here and many of the stories of Hans Christian Anderson.
3: Myths and Legends—Greek and Roman myths are combined: Perseus, Jason and the Argonauts, Midas and the Golden Touch (this last one is a version written by Nathaniel Hawthorne). You'll find Odin and Thor in the Norway section. There are a few American Indian stories and then a section of Old Legends not arranged by country, although St. George & the Dragon and King Arthur are clearly English.
4: Hero Tales—The heroes within this volume are from bygone times and it's difficult to separate fact from legend. Here you'll find Odysseus, El Cid, Beowulf and Robin Hood. There's also a much longer tale of King Arthur than the one in Volume 3.
5. Stories that Never Grow Old—These were the most familiar stories in the set: Alice's Adventures in Wonderland, Gulliver's Voyage to Lilliput, Rip Van Winkle, A Christmas Carol, and Edgar Allen Poe's Gold Bug. There is also the Charles and Mary Lamb's interpretation of Shakespeare's A Midsummer Night's Dream.
6: Stories About Boys and Girls—The only story familiar to me was Tom Sawyer Whitewashes the Fence. Other stories are When Molly Was Six, Solomon John Goes for Apples, Nelly's Hospital, and A Miserable Merry Christmas. I did find a sweet story about a Chinese immigrant boy finally accepted by his classmates called My Song Yankee Doodle.
7. The Animal Book –Truly a menagerie, there are stories about bears, bulls, cobras, leopards, rhinos, cats and monkeys. Of course you will probably be most familiar with Black Beauty and Lassie Come-Home.
8. Stories From History—History in this case spans from the time of the Greeks and Persians through World War II. You'll visit with royalty (Olaf II of Norway, Henry IV and Queen Bess of England), Ste. Joan of Arc, American legends Daniel Boone and Davy Crockett, Napoleon, Abe Lincoln, all the way up to Gen. MacArthur.
9. Sport and Adventure—Not all of these stories are based on real events since Arthur Conan Doyle's The Red-Headed League appears within, but there are plenty of factual stories: New York to Paris by Charles Lindbergh, Flying over the North Pole by Adm. Byrd, a trip to the summit of Mt. Everest, the Race for the South Pole and Rounding Cape Horn in a Windjammer.
10. Poetry –The book opens with nursery rhymes: Little Miss Muffet, Humpty Dumpty, and Ole King Cole. There are still plenty of poems for the older crowd with Henry Wadsworth Longfellow, Robert Louis Stevenson, William Wordsworth, Oliver Wendell Holmes, John Keats, and Ralph Waldo Emerson well represented. There's a patriotic section with The Landing of the Pilgrim Fathers and Paul Revere's Ride and should you need it at Christmas, you can find A Visit from St. Nicholas. This volume also has the index for the entire series.
The lengths of the stories varies greatly—some are perfect for bedtime reading while Alice in Wonderland and A Christmas Carol will take longer. And when not being read, the books look great on the shelves.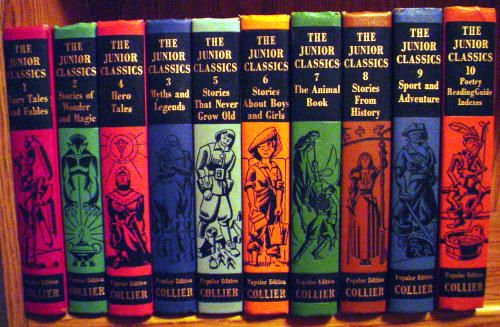 You can find a list of all my Rescued Books here