I'll confess right up front that you'll never catch me in the cosmetics aisle of the drug store—make up and hair styling products just aren't my thing. That doesn't mean that I don't try to look my best, I'd just feel more comfortable with the face and hair that God gave me. And I want the products I use on that face and hair to come from God's creation rather than a chemical laboratory. That's why I'm so thrilled with Koru Naturals and the latest products I've received.
The company's name is based on the Maori word for a new, unfurling fern frond (what some may know as a fiddlehead). It symbolizes new life, growth, strength and peace to that New Zealand aboriginal culture. This single word reflects not only the origin of many of the company's products, but their purpose as well. Since 2002, Koru Naturals has been offering products to protect skin and promote good health. In addition, all the company's suppliers certify that there is no animal testing with the products.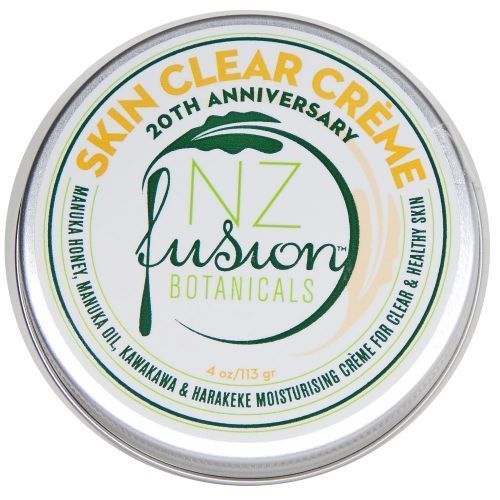 The Skin Clear Cream comes in a 4 oz. plastic tub with a screw on lid, about 3 1/2 inches wide and 1 1/2 inches tall. There is a secondary lid inside that keeps the product from messing up the screw cap and holds a small plastic paddle (so you can remove the product without introducing your own body oils, etc.) The key ingredients are Manuka honey, manuka oil, and kawakawa. Please Note: Manuka oil is not recommended for pregnant women due to its spasmolytic properties. I applied a dime to nickel-sized dollop of crème to my washed face when I wake up and just before bed. The crème absorbs quickly and has a subtle, refreshing scent (no perfumes, just the ingredients). I have two competing concerns—my nearly 50 year old skin is drying out and I can see signs of crows feet, and yet my nose, cheeks, and chin still have oily blackheads. The Skin Clear Creme is really helping both issues. After a month, my black heads are nearly gone and my nose doesn't feel as oily, but the rest of my face doesn't feel dried out either. I can hardly tell I've made a dent in the container so I know it will last a long time. I'm anxious to see how it keeps my skin moisturized as we head into dry skin season.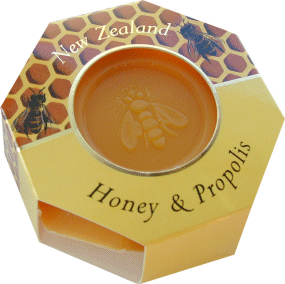 I let my son use the
Manuka Honey Propolis Soap
for his almost-a-teenager/developing acne face. The roughly 4 oz. cake of soap started out being about 3 inches across and 1 inch high. Honey and propolis are both produced by bees and a known for their antibacterial properties. I had my son wash his face with the soap nightly. It seems to be keeping the small whiteheads that form around his hairline in check. My son is very fair with sensitive skin, but this soap never bothered him. The soap itself doesn't seem to be disintegrating into goo the way some natural soaps do either.
Our final product was
Argan Oil and Sandalwood Hair Tonic
.
It comes in a metal bottle (about 4 inches high, excluding the pump top). The metal is important to keep the
bergamot essential oil out of sunlight (it's probably even wise to stay out of the sunlight for an hour after you apply it). I have naturally curly hair which can quickly turn frizzy when I step outdoors. It also get quite tangled and hard to comb through by the end of the day. Hair Tonic to the rescue! I've applied a pump's worth to my towel-dried hair and kept the frizz in control. Sometimes at day's end I'll get 1 or 2 drops (not even a full pump), rub it on my fingers, and run my fingers through my hair before attempting to comb it—and it seems to help.
While researching this product, I read that Koru Naturals suggests it can be used in aromatherapy. Both the sandalwood and bergamot have sedative properties and helichrysum is a nervine (meaning it strengthens the nervous system and can help reduce anxiety or stress). My son has terrible troubles unwinding at the end of the day and falling asleep so I tried applying some tonic on the soles of his feet. It didn't seem to make a difference—that may be because the Australian sandalwood in not as beneficial as the Indian variety. I will keep using the tonic on my hair though.