While I didn't plan any formal educating, we certainly didn't stop learning this summer. For two months we went to swimming lessons at the local pool. The lessons left a lot to be desired, but my Schnickelfritz certainly appreciated the company of other kids and the pool's two water slides. We're also working on tying our own shoes. ----You know, when they first came out with velcro shoes I warned there would be a generation that didn't know how to tie knots. Then I became a mom and grew to appreciate that he could handle velcro himself and I saved valuable time for myself by not having to put on his shoes in the morning or retie the 87 times during the day. Now he's reaching an age and shoe size that only comes with laces.
The big accomplishment this summer was taking the training wheels of the bike.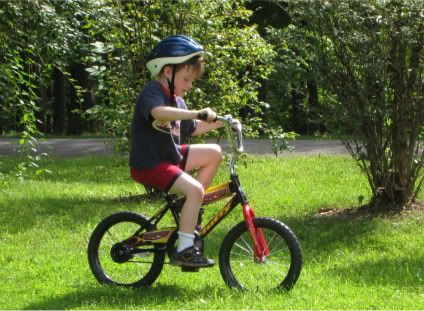 Fritz chose to ride in the grass--a more difficult surface to learn on, but also a softer one. The security of a soft landing made this a rather easy lesson. On the first attempt he made two pedals before tipping to the side. The second time he increased to 7 pedals and the third was almost 20! He was able to cross the whole yard that afternoon. It took us several days to learn to turn and start in the grass (while I didn't have to run alongside the bike, I was getting my workout crossing the lawn to provide takeoff pushes). As his confidence grew, we started to take in the harder surfaces of the driveway and road. After moving from the flatlands of Indiana, the rolling Missouri hills provided intimidating downhills and exhausting uphills to conquer.
Then, in week three--disaster struck. Fritz was working his way up a medium-sized hill and I was following with Della the Dog. I yelled out that I had to pause for Della's pit-stop and as Fritz turned to acknowledge he hit a patch of gravel and fell. It was his first fall and he managed to earn his "red badge of courage" on his left knee. It wasn't too bad till he looked down and saw it for himself. "Blood!!" he screamed, "I'm bleeding!!" I don't want to share blood and gore with my readers so I don't have a photograph. I am instead including an artist's rendering of tragedy (done by the victim himself). Please note the very sad expression.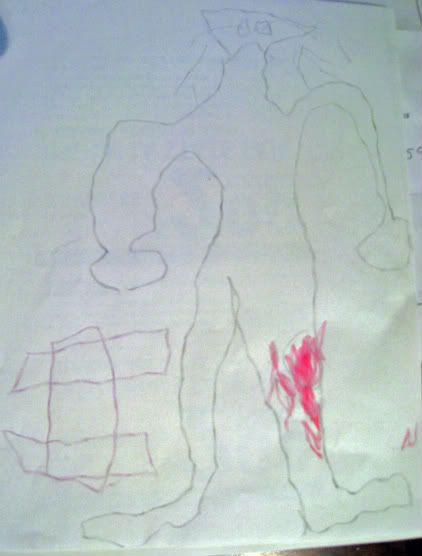 The image of blocks to the left represents the enormous bandage held in place with tape to cover his knee.
This incident occured about a quarter mile from home. Fritz refused to get on the bike again. I had to hold the dog's leash, push the bike, and comfort the wounded. I tried showing him my battlescar from learning to ride--it didn't help. He wanted nothing to do with the horrible bicycle EVER AGAIN. We put the bike away, cleaned and dressed the wound, and drowned our sorrows in an Arby's Jamocha shake.
By the next morning the bicycle had been forgiven and Fritz was once again riding alongside as we took Della out for her walk.