The email had been forwarded through several homeschool groups and individuals before we learned of an opportunity to visit the City Museum in St. Louis for $5.00 per person. Everyone who had been raved about it and the savings on the tickets would more than cover our gas. Schnickelfritz and I set out on our adventure not knowing what would be in store.
Whoever dreamed of calling this place a museum??? I've been to museums---they are stately places where people walk slowly and speak in whispers and children are told "For Heaven sake, DON'T TOUCH ANYTHING!!" At the city museum you are not only encouraged to touch, but to climb on, crawl through and explore every nook and cranny. If people were whispering it couldn't be heard above the laughter and intermittent calls "I'm here, where are you?" You knew this wasn't an ordinary museum when you pull up and see the school bus dangling over the edge of the roof.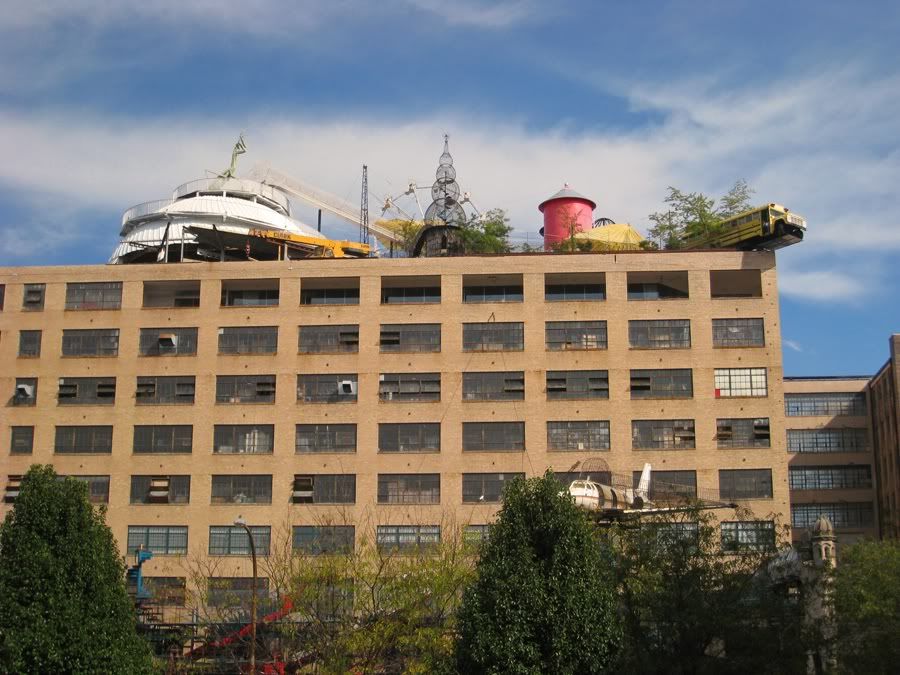 The building used to hold a shoe factory but it's found new life, new use and is filled with other objects being recycled in ways never originally conceived. The outside is a climbers paradise. You can travel through steel tubes to visit the skeletons of two planes, a firetruck, and trams I'm sure I rode on at Grant's Farm. Schnickelfritz was determined to climb as high as he could--about six stories in the air.
At the summit he yelled down "I'm never going this way again!" Less than two hours later he called out "Remember what I said earlier? Well, I've changed my mind about it." It seems he had to conquer his fears and scale the heights again.
Inside on the first floor are mazes of holes and tunnels. Now Fritz and I have been in tight squeezes before when we went to the Cave in Rockwoods reservation, There were a few instances where I had to send him ahead and find a roomier alternate route for myself. One half of the floor is themed with aquatic animals dominated by a large white whale. Even the floor has mosaic krill.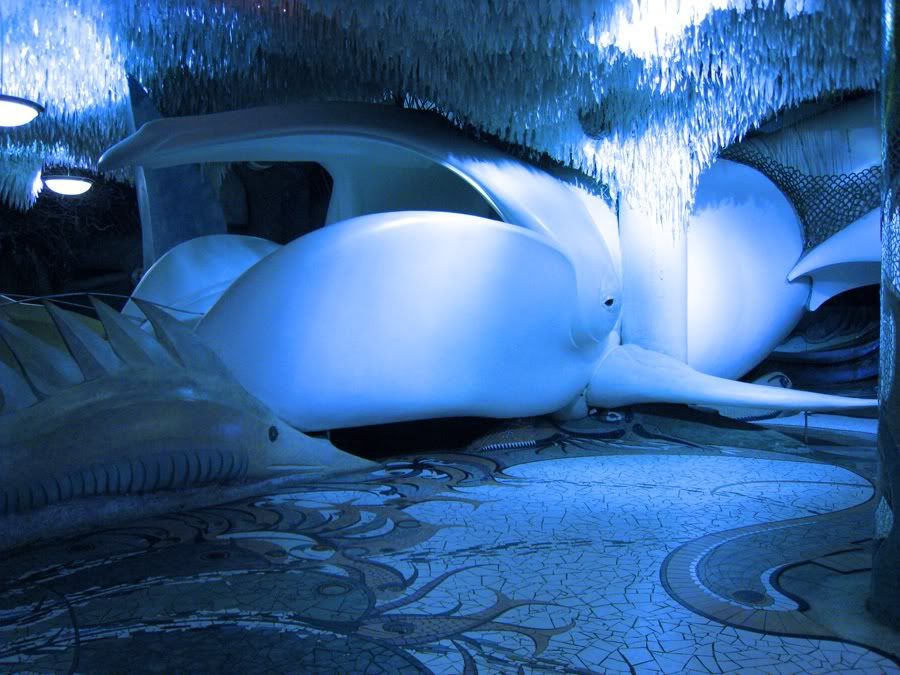 The other half was designed like a cave--but are they stalactites and stalagmites or giant teeth and spiny backs of dragonlike creatures.
The caves also led to an enormous ten-story spiral slide. It was orignally used to move materials and shoes from floor to floor but now it delights kids and grown-ups alike. When you need a rest from all your climbing and crawling there are a few "sit down" activities. Today we saw a magic show but other days there is also a gymnastic circus. Little ones can ride a miniature train. In the section known as "Art City" you can express your creative side with clay, paint or make paper masks. I visited the Snowflake Lady. Her little room was covered with a blizzard of handcut snowflakes. You may have done this activity as a kid--folding paper and cutting out notches. Trust me when I say she has taken it to a new level.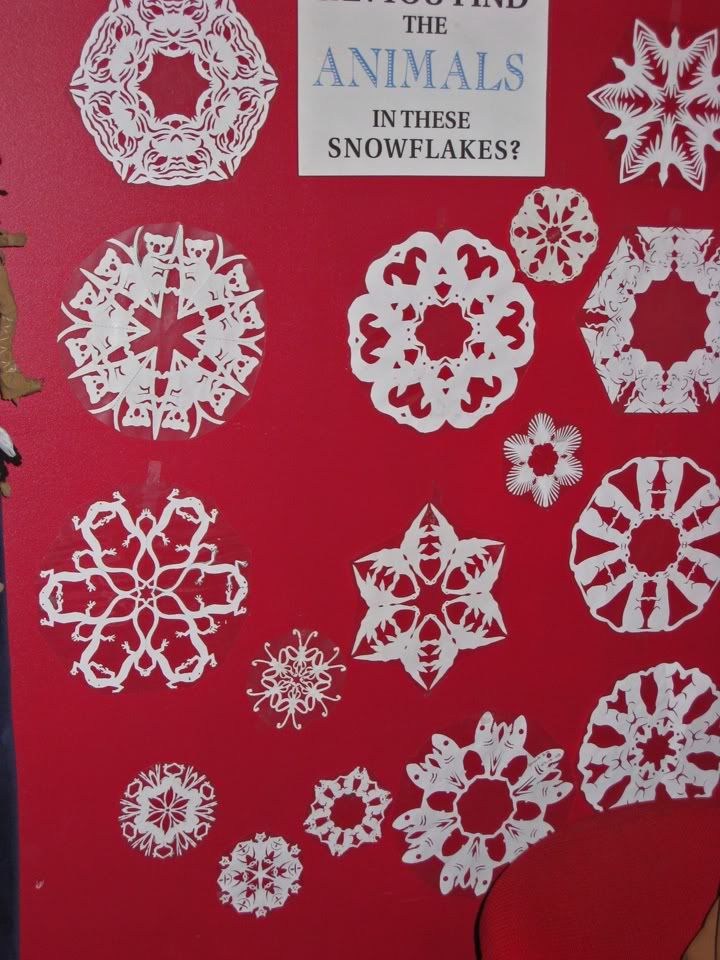 In this one photo you can see the snowflakes are actually made up of koalas, tiger faces, dolphins, sharks, lizards, and other creatures. Other themes are leaves, insects, and musical instruments. She has the paper all folded for you and you just have to cut on the solid lines. She'll even laminate your snowflake to protect it on the trip home. I also sat in our her rag doll making class (Fritz was off riding the train). All the materials are included in the museum admission. You can purchase books of her snowflake and doll patterns to make other projects at home.
Before we even left the parking lot Fritz was asking when we'd take our next trip to the City Museum.