If you've traveled on Highway 44, you've probably seen the signs for Meramec Caverns.  Heck, I've seen an advertisement on Highway 70 in Indiana.  I've always found it a little too expensive to go, but recently the privately owned cave advertised a half price day.  Schnickelfritz got his birthday trip to the cave a few months early.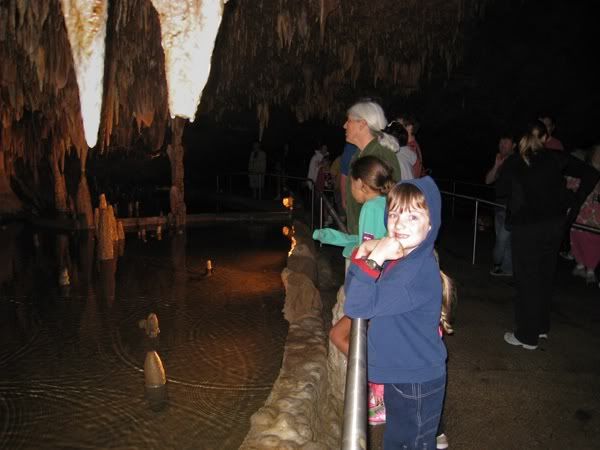 I believe the cave was the first tourist attraction on Route 66, although it's been attracting people long before that.  It once held a gun powder factory in the Civil War (thanks to all the bat guano).  Artifacts found in the cave are linked to a robbery by the infamous Jesse James.  Some areas are big enough to hold square dances (the buggies were parked around the perimeter of the "room"). 
Outside the cave were more activities--free and half price.  There were bouncy houses, a train made out of metal barrels pulled by a John Deere, a small camp of Civil War re-enactors (complete with cannon).  Fritz learned about the current danger facing bats, white nose syndrome, and made a free bat house to mount on our barn.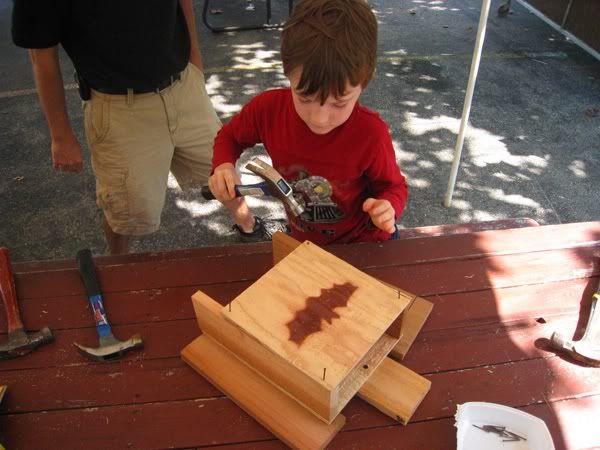 The big attraction (well, besides the cave) was the new zip line that takes adventuresome souls across the Meramec River--twice. This also seems to be the rage in Branson right now.   I wonder how they felt with the cannon going off beneath them.  Fortunately, Fritz is still too young for such sport.  I guess that will be a later birthday wish.