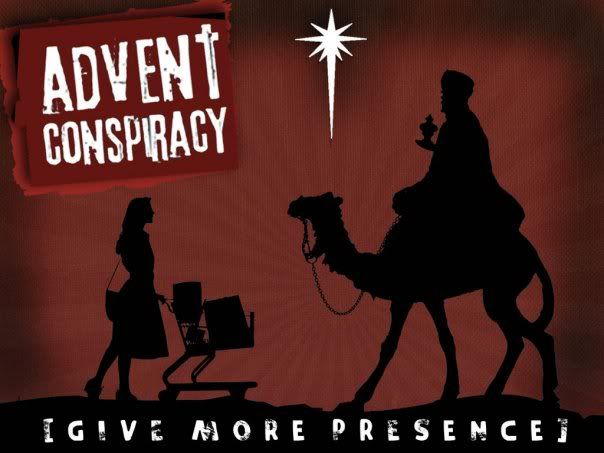 Week two of the Advent Conspiracy focuses on Spending Less.  This is not the advocation of standing in line at 3 AM to catch the bargains of Black Friday sales.   It is instead, the conscious decision to
not
purchase the obligatory fruitcake for your second cousin or perhaps decide that everyone in the family could still be happy with one less present. 
According to their website,  Advent Conspiracy claims Americans spent $450 billion of Christmas in 2008.  How much of that was spent in that aisle each store has filled with gifts for people you don't even know well enough to know what they'd like for Christmas--coffee mugs, yuletide ties (or worse, underwear),  or generic gift certificates.   
Before you call me the Grinch, I'm not saying you shouldn't express your love or appreciation to these people.  Next week we'll learn how to give of ourselves, not of our pocketbooks.  And the money we save by not buying unappreciated gifts--well according to Advent Conspiracy it would only cost $10 billion to make sure everyone in the world had access to clean water.  In addition to supporting Living Water, or church is also donating to an orphanage in Mexico and a battered women's safe house right in our own county.   Oops, I think I'm getting ahead of myself.  Stay tuned for next week's topic :  Give More.
You can learn more about Advent Conspiracy at their
website
.