Even as I wrote that title it seemed like an oxymoron.   A one-day ticket with the park hopper option costs more than a barrel of oil (and you know everyone thinks that's too high).  We've saved up, made reservations, and booked our flights and now I'm going to share some of the little ways we've saved.
First--get a Disney Visa and start accumulating points.  We've had ours for five years now and use it for all our purchases and reoccurring bills (phones, insurance, cable, etc) .   They are all things we'd have to buy anyway.  Now we just write one monthly check to Chase Visa instead of multiple checks to all the utilities.  Because we  pay off the credit card balance every month we accumulate points for FREE.  If you're not in a situation to pay your bill in full each month or you aren't in control of your credit card use this is probably not the option for you.  You'll be paying for these points through the interest you're charged (and if you don't pay the minimum balance due you can't accumulate points at all).   Bottom Line: we're getting our 6 night stay at Port Orleans FREE and there's still plenty of points left to cover our food and souvenirs in the parks.   (There are a few other perks to the Disney Visa like a special character greet and access to resort discounts before the general public).
Second--You know how they say the value of an automobile drops the second you drive it off the lot?  Well that's doubly true for park souvenirs.  I've been hitting the garage sales and thrift stores for items we may have purchased in the parks.  Like the Duggars say "Buy used and save the difference."  
The scrapbook was $5 at a consignment store.  The stickers that should have been included were gone, but I can buy a LOT of stickers with the $30+ I saved by not buying it at the resort gift shop.    I think Schnickelfritz has outgrown the Mouse Ears we bought him on the last trip (maturity-wise, not size wise).  Will pack them just in case I'm wrong.  In the meantime I found him this nice denim ball cap for 50 cent at a garage sale.  I had to doctor Mickey's eyes with a Sharpie marker. 
I've also been able to get a lot of Disney themed shirts--Cars are the easiest to find right now but I didn't manage to snag a Phineas and Ferb.  Again, why pay full price at the park when you can get them for less than a dollar at a garage sale.  I would much rather get cheap souvinirs and save our money for memorable experiences like a back stage tour of the Magic Kingdom's Train shed.
Here's an item from our last trip to Disney World.  The toy store in Downtown Disney has a themed Mr. Potatohead.  For a set price you can fill a box with Mouse ears, Goofy hats, and other items for a Potatohead doll.  Now most people will buy to potato body and try to fill it with parts to get more in the box.  I found a body (and generic arms, eyes, and feet) at a garage sale so I could fill my box with exclusive Disney items.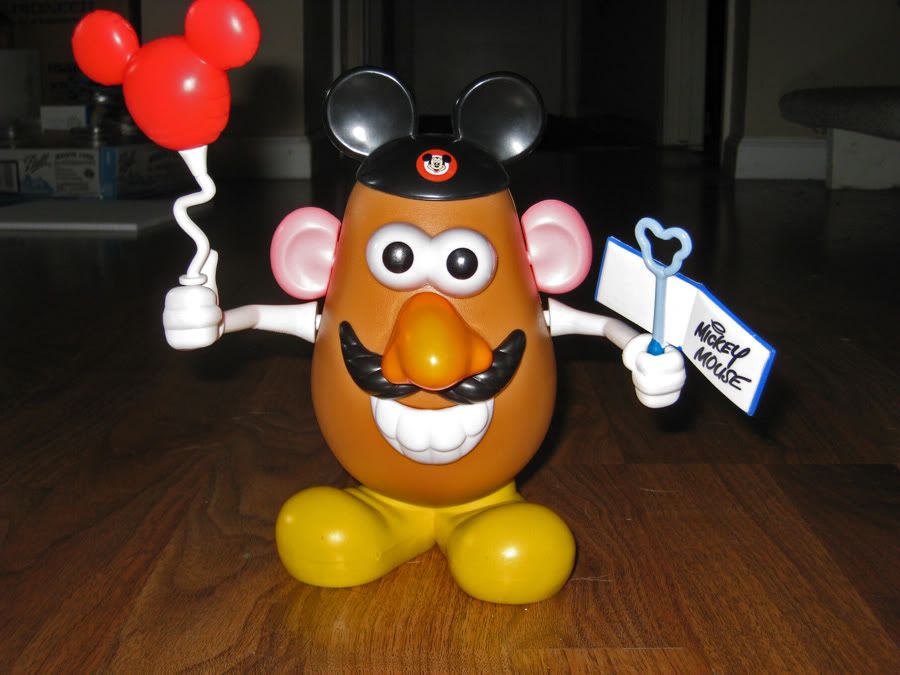 One of the big things to do at the park is Pin Trading.  Each pin cost $5 or more at the park.  I'm looking into buying a lot of pins on ebay.  It won't matter what they are because we can trade them for pins we like with cast members at the parks.  BUYER BEWARE:  I have read that a lot of sellers on ebay are in fact selling knock-offs that you may not be able to trade so do some homework.
Coming Next: Cheap Dining