I love a good wedding, and I don't think I'm alone. How many people woke up early to catch a glimpse of the royal wedding this past spring? A quick look through the TV Guide and I've found shows where brides shop for their wedding dresses, one where brides pick out their bridesmaid's dresses, one where brides try to lose weight to fit into their dresses, and one where brides compete with other brides for the most entertaining wedding/reception. It seemed we're obsessed with what should be a once-in-a-lifetime event lasting only a few hours. Is anybody considering the days and weeks and years that follow that nuptial event? Apparently not, as there is one celebrity wedding still being shown in reruns, even though the couple has already filed for divorce (72 days later). By my calculations her wedding cost 33,000 times more than mine, but mine has already lasted 50 times longer than hers. You can't throw money at a
wedding
and expect to have a successful
marriage
.
Our latest review product, from
Bower Books
, is designed to help return the focus to the important part of a wedding. It's not the planning, the food or the venue but choosing the right person with whom to spend the rest of your life. I sat Schnickelfritz on my lap (won't be able to do that much longer, he's turning nine) and we read The Person I Marry.
The pictures and Suess-esque style of rhyme make this book geared towards young children as in "Train up a child in the way he should go: and when he is old, he will not depart from it." (Prov. 22:6) God's timing is always perfect and Fritz has just developed a real interest in poetry and rhyming so he was very attentive to the words and patterns. The writing is carefully crafted so that either a young boy or girl could be speaking and the illustrations all show a young pair so you can share this book with a son or daughter. I practiced a Charlotte Mason narration exercise after the book and he was obviously picking up on the idea that a person's insides matter more than their outside. Decorating the background of the text are adjectives and phrases like : unpretentious, willing to open up, faithful and modest. If you had older children I think it would be wonderful to do a character study of these traits.
The illustrations are some of the most charming I've seen--not quite as realistic as a Norman Rockwell painting but certainly in line with his celebration of everyday life and sense of humor. Fritz's favorite is of the fishing buddies where the girl accidentally snags her baited hook on the boys hat. There is genuine warmth and a glow on every two-page spread.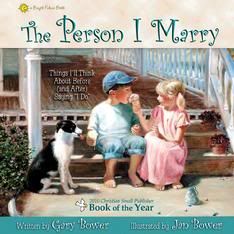 The Person I Marry won the 2010 Book of the Year from the Christian Small Publisher Association. It is one of several titles available in the
Bright Future Book series
available from Bower Books. The hardcover book retails for $11.99. I would definitely recommend this book, especially to parents with young girls dreaming or playing about fairy-tale weddings to Prince Charming. You can read what other members of the Homeschool Crew think about Bower Books by clicking
here
.
Disclaimer: I received free access to an online version of the book The Person I Marry for the purposes of completing this review. I received no other compensation for my honest opinion

. The Person I Marry

from

Bower Books

on

Vimeo

.