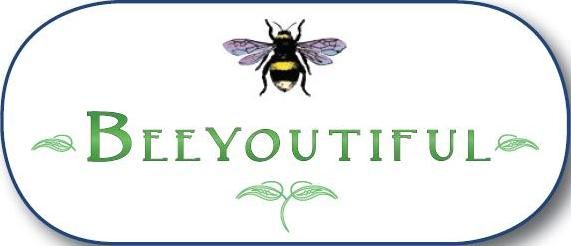 This is our second time to review Beeyoutiful products. Two years ago we tried Berry Well and to be honest I could have used some this past month because I had a doozy of a winter cold. I'll definitely put that on my shopping list because that's one product when you need it, you need it NOW. The two products we received this year will probably make the list as well as I've been pleased with both.
The
Peppermint Lip Balm
was the secondary product sent to me, but I got the most use out of it. In addition to the regular dry winter air from the furnace I had a nasty head cold--lots of breathing through the mouth. My lips were beyond chapped. The balm was very soothing and the mint was refreshing. I even put some on my finger and applied it to the sides of my nose which were raw from tissues. It really calmed the irritation--probably because two of the ingredients, grapeseed oil and beeswax, are natural anti-inflammatory. A tube of Peppermint or Orange Lip Balm sells for $3 or you can buy three tubes for $2.70 a piece.

A few words before I talk about
Hair Shine
. We live on well water with a fair mineral content and I have to admit to having dry, middle-aged hair that is starting to turn gray. I'm also the only female in the house so it was up to me to try the Hair Shine. I would spray it on my wet hair after showering and on dry hair when I styled it between washings. I'll be frank and say I didn't notice or receive any compliments on how nice and shiny my hair looks. It may have had to many hurdles to overcome for that. I did, however, notice that it was much easier to comb through my wet hair and detangle it other mornings. I have naturally curly/frizzy hair so this is a blessing.
Hair Shine is made with several essential oils: lavender, rosemary, citrus, so it does have an aroma. A pleasant one to be sure, but I was a little concerned because my husband is allergic to most perfumes. The Hair Shine didn't seem to bother him. Beeyoutiful's website also suggests using the product on sunburns and insect bites. It's a little too early in the year for me to test out those ideas.
A 4 oz spray bottle of Hair Shine is normally $15.00 but it's on sale this month for $12.75. You can also get a discounted price of $12 per bottle if you buy a case of 12.
Be sure to check out all the natural products carried by Beeyoutiful for both health and beauty (and sign up for their catalog which also contains some great articles). You'll want to be sure and check out the other reviews by Homeschool Crew members as everyone received a different variety of products. Just click
here.
Disclaimer: I received a free Lip Balm and