The Olympics are currently on, and while I veg on the couch watching people in far better shape than me I wonder when they'll start passing out medals for the ability to stretch a dollar. Now there's an event homeschoolers could win--after all most have given up a second income in order to teach their kids, most have larger than average families to feed and clothe, and most have to purchase the books and equipment they'll use to teach. Enter our latest training tool: the
SchoolhouseTeachers.com
website.

Don't know what to teach? The
SchoolhouseTeachers
tab offers more than 15 monthly lesson plans by the biggest names in each field: History from Diana Waring, Lapbooking from Hands of a Child founder Kimm Bellotto, Geography from Knowledge Quests's Terri Johnson. Here's the current list of subject, but more are being added all the time.
Career Exploration
Chemistry
College Choice Guidance
Economics
Figures in History
Filmmaking
Geography
High School Math
History
Home Economics
Lapbooking
Literature
Music/Voice
Reading Lessons
Special Needs
Technology
Writing
My son's not ready for the Chemistry lessons yet, but I'm downloading and saving them for when he is--files take up so much less physical space than textbooks. Right now, all past lessons are still available online but as more keeps being added some of the older lessons may be removed to free up space.

Maybe you've already got your curriculum but just need a few reinforcement exercises or filler activities. The
SchoolhouseDailies
tab has grammar exercises, writing prompts, this day in history facts, and more. Right now there are Olympic themed facts and activities. Totally unrelated to school, but still helpful to mamas everywhere is This Month's Menus with recipes enjoyed by fellow homeschoolers. I'm so thankful for the ones that include photos because we eat with our eyes first.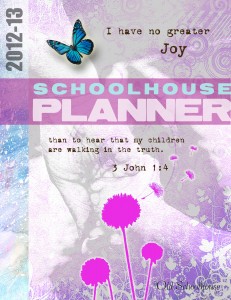 Perhaps the biggest bank for your buck comes with the
SchoolhouseExtras
tab. I no longer need to store the physical copies of back issues of The Old Schoolhouse magazine--they're all here online. (The current issue is available too!) There's a free ebook every month and more ebooks from the TOS store are added the longer you are a member--titles like the Curiosity files and WeE-book series. I feel like an infomercial--BUT WAIT, THERE'S MORE...You can download all of the Schoolhouse planners: Primary, Intermediate, High School, Special Needs, and the 800+ page "Big Mama." I've printed out calendars and sheets to fill in Field Trips Taken and Books Read for our school record book. There are also plenty of pages to help organize and manage household chores and budgets. Coming soon will are the MP3's of the Schoolhouse Expos.
Finally, there's the
SchoolhouseLibrary
filled with virtual shelves of copywork, reading lists, and articles of encouragement.
You can get all this for $5.95 per month. That's a bargain in my book. If you're still not sure you can try the first month for only $1.00. Ready to go for the Dollar Stretching Gold Medal? I just saw that HSLDA members can get a PerX discount code for a FREE Year of SchoolhouseTeachers.com membership!!

Disclaimer: As a member of the TOS Homeschool Crew I have a free membership to SchoolhouseTeachers.com