I have to say I love the idea of Unit Studies--I think it's a great way for kids to learn when reading, writing, Bible, and history or science are combined to reinforce a topic. I could just never get it to work in our homeschool. I could never get everything done at the same time. Part of that may have to do with my reviewing schedule. If I dropped science to review a science product then we'd have the study completed except for science---did I just skip it and move on to a new study or did I delay everything else while we caught up science. After trying for a year I ended up switching to a traditional school approach where each subject stands on its own, but I still like the idea of a Unit Study.
So I was curious to see how the more relaxed format of a Once-a-Week unit study offered by Homeschool Legacy would work for us. The idea is to take a break from your regular coursework and do unit study activities instead. This company has a variety of subjects to choose from--several that can help meet the merit requirements for Boys Scouts and American Heritage Girls: Weather, Birds, Nature, Citizenship, etc. We received
Revolutionary Ideas: The Story of the American Revolution
($19.95). This 7 week course is appropriate for grades 2-12 and includes history, geography, family devotions, drama, language arts, art appreciation, and fun & games .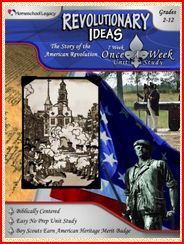 I thought that was a lot to get done in one day--and to be honest, it is. Even the scheduling suggestions included in the PDF file show personal reading and family read-aloud every day and a second day for watching the family movie/playing games and taking a unit study related field trip. (We don't have any Revolutionary sites in Missouri, but we are going to a colonial re-enactment this week).
The seven weeks of study are:
Significant Pre-Revolution World Events--the reading deals with The French & Indian War, but the research goes all the way back to the Magna Charta, Age of Exploration, The Great Awakening and more.
The Life & Times of Colonial Americans and Their Taxing King! --can you study the Revolution without hearing "taxation without representation"? Yes, we cover the Stamp Act & Sugar Act, but I'd never heard about the Proclamation of 1773 or the Quartering Act.

The Firebrands

--Samuel Adams, Patrick Henry, Thomas Paine. One of the book choices is Johnny Tremain, but that's a lot to read in a week so we watched the Disney film instead.
Early Battles and the "Shot heard 'round the world" -- Do most Americans even know "Don't fire til you see the whites of their eyes" occurred before the Declaration of Independence was signed or that Paul Revere shouted the "regulars" not the "British" were coming?
America Declared Her Independence--great study of the Declaration. Older students are encourages to compare the document to the Magna Charta and the English Declaration of Rights. Younger students are invited to rewrite portions (like "We hold these truths to be self-evident" in their own terms.
The Turning Point--The family devotional refers to the victory and Saratoga as the turning point, but the family read-aloud is about Valley Forge. (side note: we also learn to play Whist, a favorite game of Gen. Washington. We've always wondered about the game from Around the World in 80 Days).
March to Victory! -- There are still a few biographies--Molly Pitcher, Nathanial Greene, and Francis Marion, then we move on to Yorktown and the Treaty of Paris. Activities are to prepare for a Revolutionary Party to wrap up the study.
Each week begins with a list of books to select for personal reading. Even the Dewey Decimal listings are included to make your work minimal. Some titles have asterisks meaning they are required titles. Our rural library doesn't have a large selection, but I could choose books with the same call numbers. For example, we read Lenski's
Indian Captive
instead of Speare's
Calico Captive
. Let me be frank, there's a lot of reading in this unit study. In week one,
Indian Captive
is 298 pages for a family read aloud and The
Matchlock Gun
is 80 pages for my son to read on his own. Some weeks I only selected one book and made it a read aloud.
There is also a suggested family movie night film and often a documentary each week. There's a note if the title is available through Netflix. As slim as the pickings are on books at our library, the video selection is even smaller. We do own a copy of Johnny Tremain (which was a recommended title) and we substituted for the rest with pertinent parts of the John Adams mini series, The Crossing (Washington's crossing the Delaware), and Benedict Arnold.
We didn't use many of the family game night suggestions. Most of them were were period games that may have helped my son imagine what it would be like to grow up in that era, but didn't really teach him about the American Revolution. The schedule suggests playing them in the evening, but I would save them for the themed wrap up party if I were going to do them at all.
I still love the idea of Unit Studies, but all the reading.....because I was shifting all the other subjects to a 4 day schedule that made those days longer even before we got to the unit study books. Part of the problem may have been that we weren't reviewing this study in a vacuum. Schnickelfritz is also in a co-op class reading the Little House series so that added to our reading load. I did enjoy the materials and we may try one of the other studies that tie into his merit badge work--perhaps over the summer when other courses won't interfere.
Homeschool Legacy
currently offers 11 Unit Studies ($15.95-$19.95 for a CD-rom)
Birds of a Feather
Forest for the Trees
Horsing Around
Weather on the Move
Knights & Nobles
Native America
Early Settlers
Revolutionary Ideas
We the People: Getting to know your Constitution
Lewis & Clark
Christmas Comes to America
Other Homeschool Crew members reviewed other titles so you'll want to read what they have to say.

Disclaimer: I received a free download of the Revolutionary Ideas unit study for the purpose of completing this review. There was no other compensation for my honest opinions.