As a parent there are certain milestones you look for to judge your child's progress--crawling, walking, first words, toilet training, etc. You sweat over them learning these things because you know these skills build upon one another and someday you kid will driving a car and programing your cell phone because you can't figure it out. In the same way, you can't progress very far in school if your kid hasn't learn to count or read.
Reading Kingdom
is designed to help you teach you child the latter skill. It's much more than a phonics program. In fact, they work on six specific skills to help beginning or struggling readers.

After registering a new student, they will need to complete an assessment test. Fritz was a little insulted at how easy the test started off. He was shown a word and then he had to click on the letters that made up that word in a string of choices (going from left to right to practice sequencing).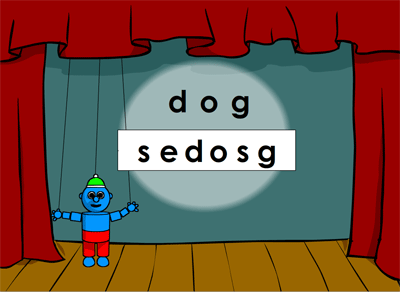 I'm not quite sure about the Motor Skills except that he had to use the mouse and there was a LOT of typing. In fact, I think the program could be renamed Reading and Typing Kingdom. And unfortunately I think the quality of the sentences he had to read and type suffered at the expense of making sure he used a variety of keys. Look at the sentence below:
He may have typed it correctly, but if he used this sentence in a paper I would deduct points for structure.
It seemed like the two parts of the assessment were taking forever. In fact, I let Fritz take a break and return to it on another day. When he finished, up popped a certificate that he'd graduated the program without ever having taken a lesson. Apparently he was already proficient in the skills that this program has to offer. Of course this program is designed for kids ages 4-10, and Fritz is at the upper end of that range. The parents have access to a report to track each child's progress. The program assigns your child to a level based on the assessment and once a child finishes a level they can't revisit it. If you wish to reassign a child (because you work with them every day and know if they've been placed too high or too low), you may email reading kingdom and they will place the child in the level you choose.
The good news is you can sign up for a
free month's trial
of Reading Kingdom. If your child already possesses the reading and typing skills, you won't have lost anything. If you find they are benefiting from the program, subscriptions are $19.99/month for one child, $9.99/month for each addition child. You can subscribe
for a year for $199.99 and $99.99 respectively. As someone still living in dial-up land, I didn't notice a severe lag in the program.

Disclaimer: I received a 1 year subscription to Reading Kingdom for the purpose of completing this review. There was no other compensation for my honest opinions.