For the second year in a row we piled in the car and headed for Mexico – the city in Missouri, not the country, but our trip was really going to be about spanning time, not distance. A Walk Back in Time is held on the grounds of the Audrain County's Graceland Museum (Ulysses S Grant stayed there, not Elvis). All the era's of American history have displays and re-enactors from Colonial times, to the Wild West, and all the wars from the Revolution to present day conflicts. This year a new campsite opened up dedicated to Vikings and Pirates.
The forecast was iffy, but it was still sunny when we left home. We merged into a group of Mizzou tailgaters traveling on I-70 (you can spot them by the tiger tails hanging out of their trunks). When we got to Mexico it was clouding up and looked even grayer to the west but we were assured by two volunteers the "It never rains on Walk Back." Famous last words -- remember "This ship is unsinkable." We thought we'd err on the side of caution and see the new exhibits first.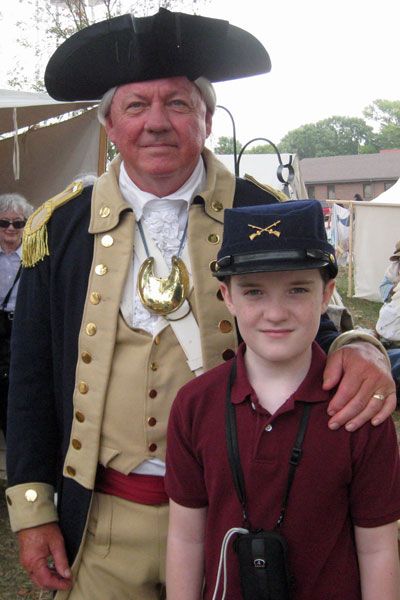 The first thing to catch our eye was General George Washington. Okay, so my son is wearing a Civil War hat with a Revolutionary Way general—you get used to that sort of anachronism as re-enactors visit other eras of the venue. We've been reading a biography of Washington (look for that YWAM Publishing review later this month). This gentleman lives in Mexico and his son, a police detective in California flies home to spend the weekend with him. The son had been building a diorama of the Battle of Guilford Courthouse which he brought with him in his luggage. Dad arranged the costumes this year in honor of the project. While he portrayed the Father of our County, the son had a less desirable role – Banastre Tarleton of the British Green Dragoons. You can see a little of his diorama in the photo below.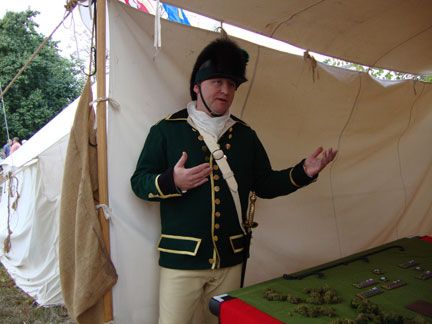 We moved on to the Pirate and Viking exhibit next. I have to say I was apprehensive as we approached. Would this just be glorifying of the swashbuckling and upheaval that both groups are famous for? Or worse, would if fall to the depths of the Pirates of the Caribbean movies and be macabre and totally inaccurate. I was pleasantly surprised to find both to be very educational.
This re-enactor's persona was a navigator that had been conscrpted into service aboard a pirate ship. Apparently men with needed skills would be forced to use those skills for piracy, but they received a document saying they were under duress and if the ship were captured by authorities these men would be let go. I haven't looked into this, but it seems to me then everyone aboard ship would want one of these letters for themselves. Anyway, the gentleman focused on the tools and skills needed for navigation on the high seas. We got to see many of the instruments we'd just studied in our New World Explorers by Homeschool in the Woods.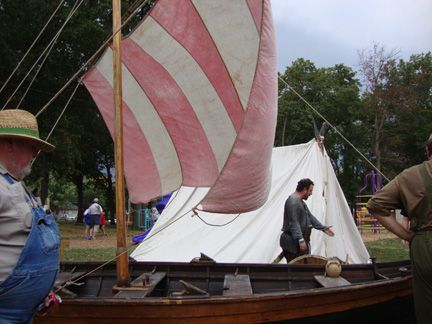 The Vikings also focused less on the ransacking, although this man did have on chainmail and had helmets for guests to try on and see how heavy they were. At another nearby tent was a Norse woman sharing about home life and a man stamping coins.
We stopped for lunch and were preparing to move on to the Civil War and WWII exhibits when the skies opened and the deluge began. While we ran to the shelter of an old Schoolhouse on the grounds I was praying the suttlers and exhibiters were getting their precious memorabilia covered and protected. A quick check of the radar showed this wasn't just a passing shower so we headed back home. You can read about some of the exhibits we couldn't cover this time in last year's post . I don't know if we'll be back next year because it will be the 150th anniversary of the Battle of Pilot Knob which in the past has fallen on the same weekend.
Don't miss a thing! Subscribe to Ozark Ramblings and get my posts in your inbox.