How do you like to celebrate the Fourth of July (I'm talking to my American readers)? I suppose it depends where you live. Those on the coasts by like to spend the day at the beach or watching the famous hot dog eating contest at Coney Island. I grew up watching airshows and fireworks under the Gateway Arch overlooking the Mississippi River. If you're looking for Americana and nostalgia, there's probably not much that can compete with Hannibal, Missouri.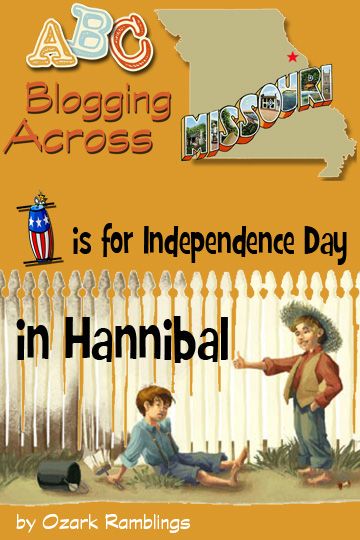 Each year the town schedules its own National Tom Sawyer Days to coincide with our country's anniversary. Tom Sawyer is the fictitious, all-American boy created by the town's real, famous author Samuel Longhorn Clemens (better known by his pen name Mark Twain). During the three day event, you can watch raft races on the Mississippi, compete in a contest to whitewash a fence, even enter your favorite hopper in a frog-jumping contest (this in honor of another Twain work, The Celebrated Jumping Frog of Calaveras County).
One of the highlights is the Tom Sawyer/Becky Thatcher contest to select a young man and young lady to be ambassadors of the city and the faces of the town's tourist industry. This isn't just a look-alike or costume contest and is only open to Hannibal residents (which is too bad because my Schnickelfritz would make a very cute, freckle-faced Tom). The seventh graders must make speeches, be interviewed, and pass two written tests—one about the town and one about Mark Twain. The winners represent the town at civic events throughout the year and stroll the historic district for tourists during the summer so they really have to know their stuff. In the ceremony to announce the new winners the outgoing Becky gives the new Tom a fishing pole and the outgoing Tom gives the new Becky a slate (it says I Love You, just like the scene in the book). Here's the local newscast's reporting on last year's contest…
Of course if you can't visit during National Tom Sawyer Days, you can still submerse yourself in all things Mark Twain the rest of the year. You can visit his boyhood home (the whitewash fence is still there).
Other museum properties are the office where Clemens' father served as Justice of the Peace, the home of the boy who inspired Huckleberry Finn, and the home of the girl that inspired Becky Thatcher. The museum has 15 original painting by Norman Rockwell for a commemorative edition of the Tom Sawyer book. You can also cruise the Mississippi River on a paddle wheel steamboat or explore Mark Twain's cave. Adults might enjoy the Mark Twain Himself show at Planters Barn Theater –one man dressed in the familiar white suit, sharing that special Twain wit. Watching the Tom Sawyer Days events is free, the other attractions have their own fees.
I'm linking up with …