A few weeks ago I shared about an upcoming reenactment for my R post in ABC Blogging Across Missouri series. The Battle of Pilot Knob was part of Gen. Sterling Price's last attempt to divert attention, supplies, and soldiers from the war in the east and gain Confederate control over a state he had once governed (1853-1857). My Schnickelfritz and I traveled down to witness the anniversary battle, 150 years to the day from the original.
Having learned about traffic and parking woes at the Battle of Wilson Creek (we could hear the cannons roar as we waiting in a 2 mile line for the parking field), we arrived more than two hours early. This gave us a little time to look around.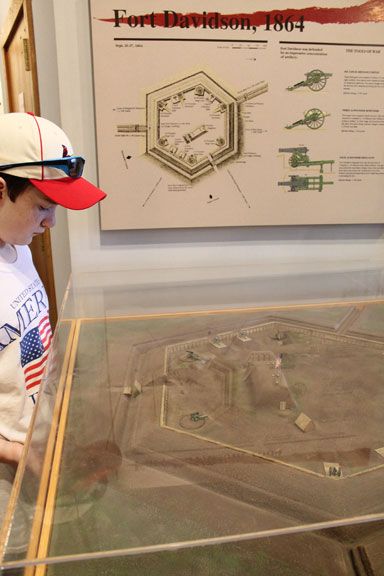 The permanent museum contained a model of the fort. It was not made of logs with parapets as many of us may picture (F Troop anyone?), but a hexagonal earthworks with a dry moat surrounding it. In the middle was a dugout building that served as the armory.
Other exhibits included one of those maps with lights to indicate troop movements. It seemed very popular as I could never get close enough for a picture. There was also a restored cannon that is believed to have been abandoned by the Confederate troops.
We were allowed to walk through the original fort (just DON'T scale the walls). Here in the center is the crater left when Union troops abandoning the fort blew up all the munitions rather than let them fall into enemy hands. I don't know if the cannons are part of the permanent display or were brought in by re-enactors.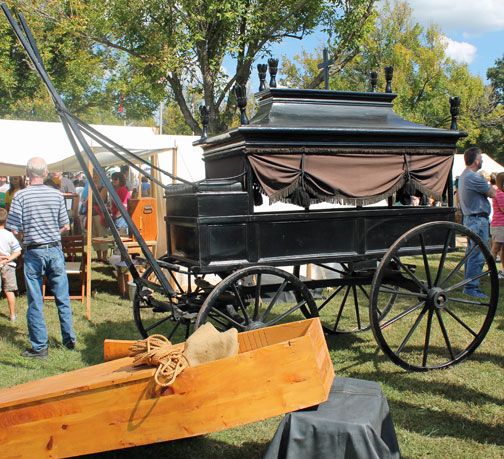 Aside from the battlefield there were various educational opportunities and places to listen to speakers. This display was next to a tent with a "forensic surgeon" sign. The man inside was sharing his knowledge of medical instruments and field surgery.
Sadly, many war dead did not get such fine treatment as this hearse—instead they were buried in a mass grave on the battlefield.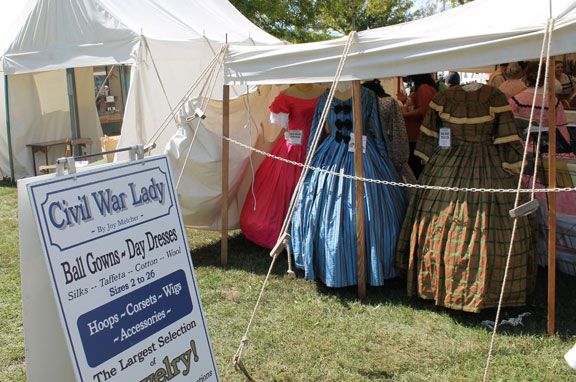 And of course there were the suttler tents—I'd never seen such fine dresses. There were vendors selling soldier uniforms too and the usual collection of wooden swords for the boys. Schnickelfritz got a tin cup and a flint & steel kit, he's think ahead to Frontiersmen Camping Fellowship.
Finally it was time to find our seats and wait for the battle. The field had a slight rise in the center which prevented us from seeing clear to the other side, but we managed to find a shaded spot. A mounted soldier stopped by to let us know the Union Cavalry would be mustering in our corning. This meant sometimes we had great action shots like this ….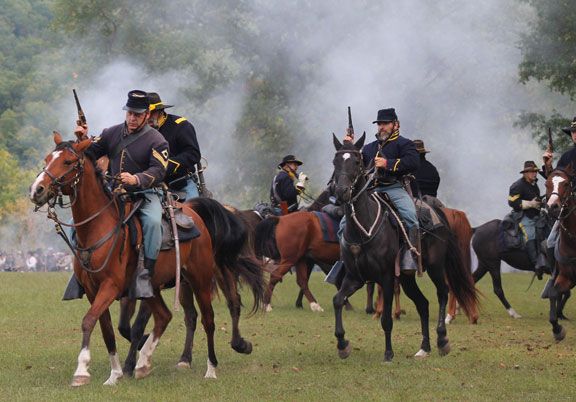 But other times our view wasn't nearly as exciting….
Still we managed to see a few things that we found interesting enough to research further when we got home.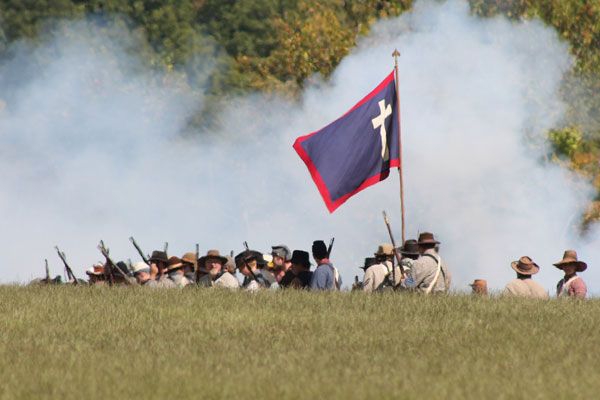 Ever see this flag waving about in a Civil War movie? Perhaps not since most of them (like Gettysburg and Gods and Generals) focus on the eastern battles. This was the flag of the Missouri 1st Regiment Cavalry (dismounted). I thought it was important to point out to my son as he'd developed an idea that Confederates were "the bad guys." I pointed out there were God-fearing Christians on both sides.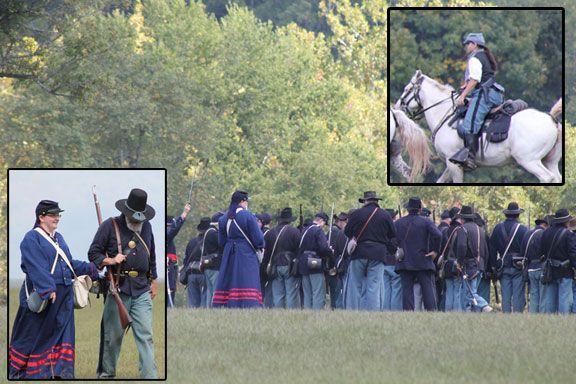 Thanks to my telephoto lens, I was able to notice a few women taking part in the event. The one in the upper right corner was trying to "blend in" as Confederate cavalry, but the other was clearly wearing a skirt on the battlefield. Later we saw her escorting this gentleman to the shade and giving him some water. She spoke to a fire fighter volunteer who'd been keeping tourists behind the barricades. I don't know if she was playing the role of a field nurse or the real thing keeping an eye out for heat exhaustion, etc. I wasn't able to find anything online about nurses being issued uniforms, so if any read can enlighten me I'd love to know.