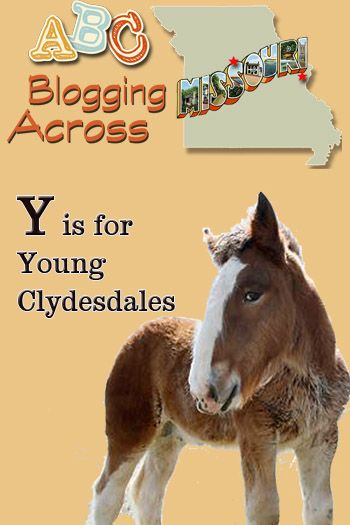 I'll begin this post with a confession. I was planning to write about the Youzeum—a health/anatomy- themed, interactive museum in Columbia, Mo. But when I went to find hours and prices I found out that it had closed just two years after our chance to visit. I could write about the sign of the times--no wonder childhood obesity and diabetes are rampant…. someone finally comes up with an engaging and fun way to learn about their prevention and the place closes for lack of attendance. Instead, I'm thinking off the cuff and the only thing Y post I could come up with is Young Clydesdales.
I'm sure you're familiar with the Budweiser Clydesdales, even if you never drank the product…they star in parades and Super Bowl commercials around the country and probably the world. The Anheuser-Busch brewery began in St. Louis and Missouri happens to be home to their breeding farm. The Clydesdales and I go way back. Remember the map from the Ulysses S Grant home? The Grant's Farm (owned by A-B)highlighted in yellow is home to more than 50 of the gentle giants. They keep young ones just weaned from their moms as a way to get them accustomed to crowds, as well as retired hitch horses (15 years and older). As a little girl I used to feed them handfuls of grass over the fence (if that's a no-no, I'm sure the statute of limitations has run out by now). You can take a 90 minute tour of the stables and get your picture taken with one of the retired hitch horses for $25, but you can walk through the stables on your own for free. By the way, Grant's Farm is a free attraction, but parking costs $12.
But I promised this was going to be a post about "young" Clydesdales, didn't I? Nearly dead center between St. Louis and Kansas City on Highway 70 is the Warm Springs Ranch, the official breeding farm for the Budweiser Clydesdales since 2008. Their herd (100 strong) has breeding mares, foals and stallions. $10 tours of the ranch are offered April – October daily (at 10 am and 2 pm) except Wednesdays and you'll want to visit in the spring when the babies are being born. Tickets sell out fast so you may want to purchase yours online rather than arrive and find they've sold out. You'll have the opportunity to pose for pictures with one of the adults and you can take pictures of the babies with their mamas in the foaling barn. After touring the barns, seeing the semi trailers in which the hitch team travels, and getting to see the wagon & harnesses up close be warned that guests over 21 will be offered a sampling of the beverage these horses represent. You may want to leave the tour at this point and check out the gift shop.
I'm linking up with …