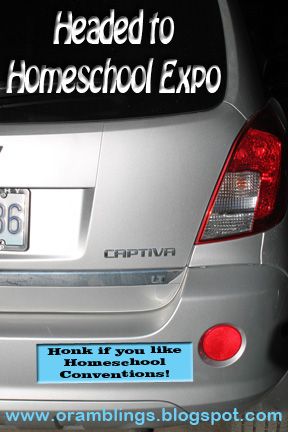 Spring is just around the corner and that can mean a lot of different things to different people. My neighbor has already rototilled his garden plat in anticipation for getting his hands in the dirt. A lot of the country is just ready for the temperatures to rise and the snow to melt. For me spring means I get to go to Homeschool Expo.
Homeschool conventions or expos have a special place in my heart. It's where I first learned about and made the decision to home educate my child if I ever had one. You read that right, I attended my first expo before I even had kids. I was manning a table for a youth services organization just outside the main lecture hall in a large convention center. The children of the attendees had learned a few songs in their own program and were waiting to enter the hall to perform for the closing ceremony. Their leaders simply instructed them to stand in line patiently and quietly….and the kids did! There was no teasing or rough-housing, no testing the limits of how far one could step out of line without getting caught, conversations were done in whispers. Now I'd stood in my fair share of lines in public school and never experienced this. If homeschooling could make my own children behave this way then I wanted to learn more about it. The following year I went back, but not to sit at a table—I went to the workshops and talked to the vendors. I did this for four more years before my son was born. You should have seen some of the looks I got when answering the question "so how many kids do you have?" But after they had thought about it, most said what a good idea it was to get well informed before making the homeschool commitment.
There's still days before Expo, but I want to share with you now because pre-planning can make everything go smoother.
Register Early~~Often this can be a financial benefit to you with cheaper prices for early bird registration. My expo even puts early bird names in a drawing for "gift cards" to spend in the vendor hall. The organizers are not necessarily doing this just to be generous. Early registrations give them an idea how many chairs need to be set up, how many box lunches to order. I've even filled out an interest form on workshops I planned to attend. I wasn't locked into my selections, but it did help organizers plan which speakers would need which size room.
Get any information from the Expo's website~~At the least, you should be able to learn the main speakers and their topics. Ideally you should be able to find a schedule of all speakers and workshops. Start culling through the list—which are your can't-miss topics, what are your back ups in case you can't find a seat in the room when you arrive? My Expo only allows 15 minutes between workshops, that may hardly be time to travel from the first to the third flood so I don't have time to read all the workshop descriptions and decide which one I want to go to. You'll also want to check out policies about whether or not you can bring strollers for babies (some are so crowded they don't allow them).
Make lists and stick to them~~It's just like going to the grocery store, if you want to stay in budget you need to stick to your list. What will you be teaching next year and what do you need to buy. Be thorough, right down to graph paper and science supplies because everything you save in shipping costs and convention specials makes your budget go further. And think beyond school…I often find great gifts for birthdays and Christmas (books, games, puzzles, etc.)
But have a plan for what's not on your list~~ Two years ago I head a father/son team from Celebrate Calm speaking about issues I have to deal with concerning my son. I went to every workshop they had that day and was kicking myself for not having sat in their sessions the day before. And they were having a spectacular "convention only" special on their workshop CD's—it would literally save me hundreds of dollars. It cost far more than my Expo splurge allowance so I 1. called my husband to check with him (the purchase also exceeded the threshold we'd agreed upon requiring mutual decisions) and 2. I chose not to my the science lab kit to shift money towards that purchase. Because I had a plan to deal with unforeseen opportunities I never got that sense of buyers remorse.
Pack your bag~~Make sure you have paper and pens for note taking. I take a highlighted copy of the workshop schedule if I've been able to download one, otherwise I take a highlighter to mark the schedule at the Expo. Take some preprinted address labels if you like signing up for mailing lists, etc. (You may even want to customize some with your email address).
Look for me to share about my Expo experience next month during the 5 Days of Real Homeschool blog hop.