Whenever I get into a conversation about homeschooling with a non-homeschooler for some reason they feel the need to share with me why they've chosen the more traditional path. "I could never do that because…." they say, and the reason more often than not is they don't feel qualified. Let me be candid that I'm not an expert in everything I teach my son. And that's okay! You'd be amazed at the bonding that can occur when we learn something TOGETHER. Take history for instance…now I'm sure somewhere in my past I learned about the period between the American Civil War and World War II. I took an honors course that combined history with literature and I can remember reading The Jungle, The Great Gatsby, and All Quiet on the Western Front. My memory of the literature is clear, but what happened to the historical facts? The names and places and battles and other events? They were all packed in some dry, dull textbook like sardines and I only held onto them long enough to pass the test and then they were flushed to make way for new material.
That's not the way I want history to be for my son. I want him to know that these were real people and real times, not just a file of data to be memorized and spit out by rote. That's why I've chosen to use the Time Travelers series by Home School in the Woods. Yes it covers all the key events and people, but it also gives you real insight into what life may have been like for those people—how they dressed, how they ate, what songs they sang.
This quarter we've been using The Industrial Revolution through the Great Depression unit study. It covers everything from western expansion and the Indian wars through the Roaring Twenties and the Great Depression. We've learned about Native American leaders, American authors, business tycoons, and presidents. While key events are covered chronologically (i.e. the Great Depression has to follow the stock market build up of the Roaring Twenties), many of the lessons followed themes (inventors, the arts, social reform) and we'd be covering around sixty years each time. Being able to put all the information on one timeline was extremely helpful.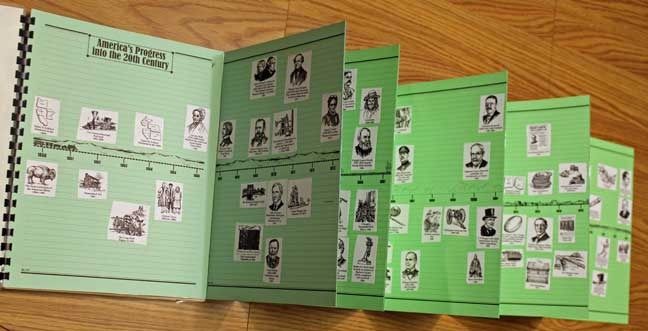 The timeline is the first item in our notebook, one of three review tools we build throughout the study. The other two are a homemade "newspaper" and a lapbook. Actually, I prefer to keep all our work in the notebook (easier to keep track of one thing instead of three). I just hole-punch the newspaper pages and glue the lapbook mini-books onto cardstock pages. Have I told you how much my son appreciates all the notebook pages and mini-book pages that have all the details already printed and he only needs to assemble them? He's a boy and he HATES writing, but he has no problem with reading/reviewing facts. This is true for the page of business tycoons notebook page or the mini-books on leading suffragettes.
On of the best examples is a notebook page designed to look like a WWI ammo belt—open all the pockets and pouches and you'll find a map (which we colored in with Photoshop Elements before printing), a mini-timeline, a biography of Sgt. York, examples of poetry, propaganda posters, instructions on how to display the flag, and more! Speaking of writing or not writing, you have options to print flashcards with the answers on the back or lines for the students to fill in. The are also various options for the penmanship pages to fit your child's abilities: dotted line, ruled line, traceable words, or just finished samples so they can read the quotes.
As I said before, Time Travelers makes historical people come alive and what better way than to eat the way they ate. Every fifth lesson is set aside to catch up on unfinished projects. On those days there is no reading assignment, but you will find two recipes typical of the period. I love moving the classroom to the kitchen!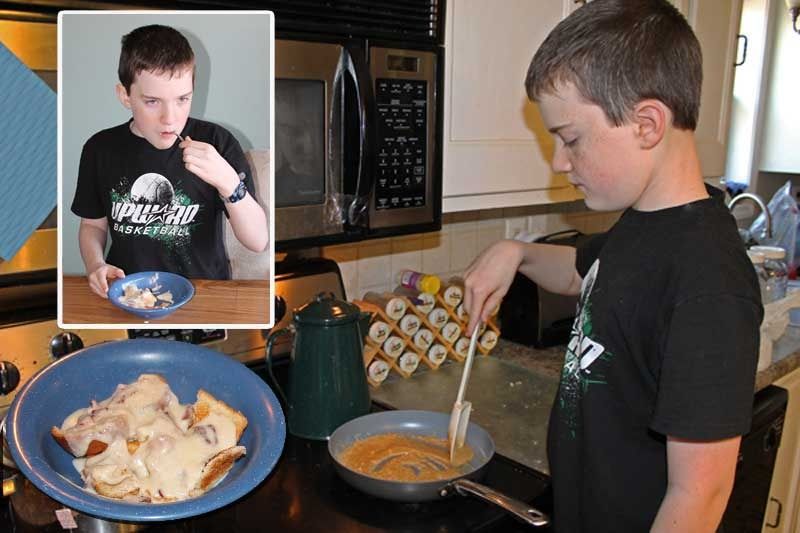 Here's a picture of my Schnickelfritz making our take on Chipped Beef on Toast—no comments please from those who have served in the military. I say our take because I couldn't actually find chipped beef in our rural mom & pop grocery store so we used a strip of beef jerky (found near the cash register) and the meat off a ham bone I had in with our pot of beans. This also gave us the opportunity to discuss how adaptability and ingenuity were important traits to survive the Great Depression. Have the adventuresome spirit? There's a recipe for meatless meatloaf made with rice, peanuts, and cottage cheese. Ideally, the recipes will be served at an end-of-the-unit celebratory dinner to which you can invite family and friends.
If you've got a child with a bent towards arts and crafts, not only will they enjoy coloring in the b/w illustrations but have the chance to make a sample felt penny rug, decoupage a Christmas ornament or memory box, and make a yo-yo quilt. My son is NOT that into crafts so we only made a stick figure animation book and built a model of the Wright Brother's "flyer." For those inquiring minds that want to know this is a "looking at" model not a flyable one (ask me how I know).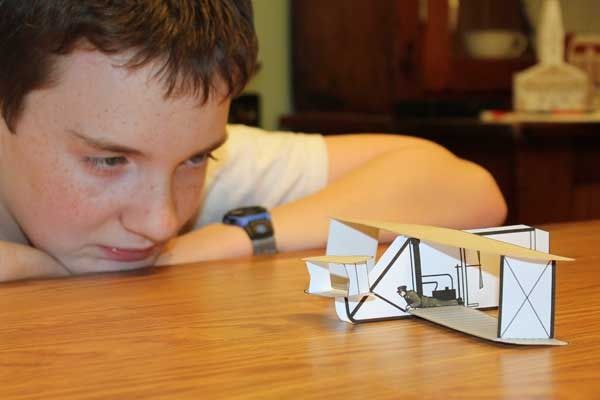 The Industrial Revolution is the sixth and (sniff) next to last of the Time Travelers series that we have used to supplement our history study. To be honest it could stand on its own and would be great if you had multi-aged kids you wanted to study history together. You can also check out my review of The Civil War and look for my review of World War II at the end of the school year.