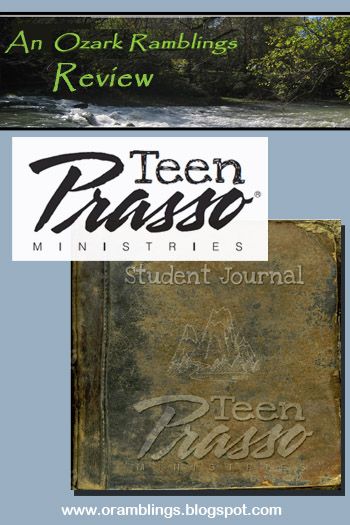 Since we began homeschooling eight years ago, we've always started our day with Bible study. It represents the place God should have in our lives and let's face it…sometimes we can really use the prayer as we start the day. This fall my Schnickelfritz will officially become a teenager (gulp), so this summer I've been checking out a Bible study for this age range published by Prasso Ministries. The thirteen week curriculum consists of two spiral-bound books the Teen Prasso Teacher's Manual and Homework Manual. To be clear, I used the Bible study myself, not my son. I worked in the Homework Manual during my quiet time and read the message & story from the Teacher's Manual once a week.
Teen Prasso is designed to be used in a group setting. There are 13 weeks (or one quarter) of group lessons and the teen will have 12 weeks of homework assignment to complete (no homework after the last lesson). These are essential as they will be discussed at the next group session.
The Homework Manual (it says Student Journal on the cover) breaks down the weekly material into 5 regular days and a sixth day to rethink everything covered for the week. Each teen will need their own copy of the Manual. Most days consist of reading and rewriting scripture verses before writing out what you gathered from the text (usually answering "What did you learn?). There are occasions to check boxes, like a list of over 40 choices of ways in which you seek relief from bad circumstances. I would say the Homework Manual is meant to keep private, so the teen will answer honestly (how many will mark that they turn to anorexia or cutting if they think that mom or a Bible Study leader is going to browse through their book?). Each week does end with the questions that will be brought up at group discussion so the teen can prepare answers.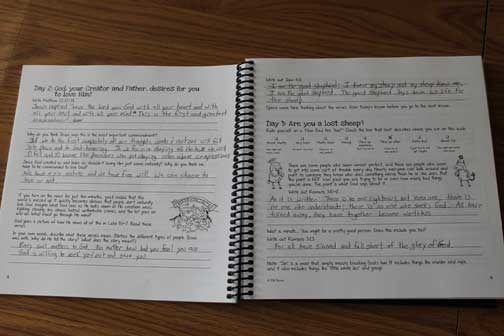 The Teacher's Manual provides most of the material needed for a weekly group study. There is an ongoing story about two teenaged hikers and their dealing with a past family tragedy as well as current dangers. Then there's the Message portion—what I'd call the lecture or lesson. Each week also includes an outline with some additional material the teacher will also need to prepare (e.g. verses to look up and read, questions to ask, preparations to make for next week). Each group lesson alternates back and forth between sections of the story and the message.
My Opinion:
Let's start with the group lessons from the Teacher's Manual. The hiker story is absolutely engaging—I even read ahead to finish it before the review was over. The Bible teaching is sound and speaks to teens on their level. Reading it on my own, I preferred to read all the sections of the story and then all the sections of the message rather than alternate. I suppose this old brain needs continuity to stay focused. On the other hand, I know my son would be wondering in his head about what would happen next when we got back to the hikers and probably would miss most of the lesson if he heard this in a group situation.
I had no problems with writing out the Bible verses daily. It's one thing to read the verse, but the act of putting it in your own handwriting really makes you slow down and ponder the words, whether you mean to or not. My son, on the other hand has dysgraphia, and would find all the writing very frustrating.
Because Teen Prasso is really designed to be done with group discussions, we won't be using it for our Bible study this fall. If I were leading a Sunday School class or Bible study, I'd sure keep this Teen Bible curriculum in mind. I think it could work with young adults as well as teens.