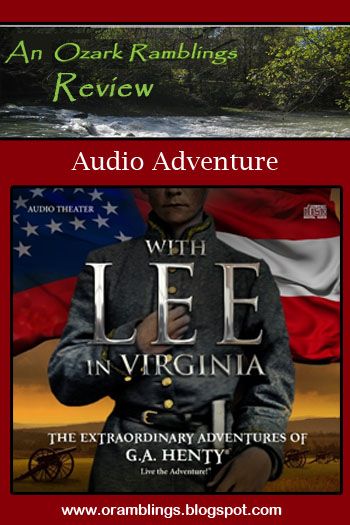 Family reunion……road trip…..over fourteen hours in the car in two days, and that's if we were lucky. Last year we got stuck in road construction traffic and spent an hour to cover six miles. What was one of the first things I made sure I packed in my car bag?
I tweeted the answer—our three audio adventures from Heirloom Audio Productions. These folks have been bringing G.A. Henty stories to life for the past year. Even though they're relatively new to the world of audio/radio theater their production is professional, their narrative entertaining and thought-provoking, and their support materials superb. We've already traveled around the world Under Drake's Flag and battled alongside William Wallace In Freedom's Cause and now we were going to relive the Civil War With Lee in Virginia. The two CD set kept us entertained for about two and a half hours. And just check out the cast of voice actors!

We tend to like to listen to the story and see if we can recognize the voices of the actors rather than look up their roles. Sean Astin was easy, but Kirk Cameron stumped us.
The opening act of Heirloom's audios have two boys meeting" Mr. George" who proceeds to entertain them with a story whose main characters "just happen" to share the same names—in this case Vincent and Dan. The other amazing "coincidence" is that the story characters always seem to encounter famous figures from history. As the title hints, one of these men is Gen. Robert E. Lee. Vincent also fights alongside Generals Thomas "Stonewall" Jackson, J.E.B. Stuart, and Joseph E. Johnston.
To be clear Vincent is a southerner and fights for the Confederacy. His family are slave-owners and he will inherit these staves when he comes of age. I'll even go so far as to caution parents of young listeners that the story includes very realistic sounds of slaves being whipped and slave families being separated and sold at auction. Although Vincent defends the Southern Cause, he stops the whipping, intercedes in the auction to buy the mother and child, and risks his life to help the father escape to freedom in Canada. While reading his father's Bible, Vincent is convicted that no man should own another and does right by Dan.
As with all The Extraordinary Adventures of G.A. Henty, there is an underlying theme as well as an action-packed story. For this title, the theme is Duty. In between the CD's in the case is a quote from Robert E. Lee—"Do your duty in all things. You cannot do more, you should never wish to do less." We hear this in the story along with a Stonewall Jackson quote—"Duty is ours, the consequences are God's." As the mother of a son about to become a teen, I'm thankful for every opportunity to expose him to honorable ideals. It's woven into the story without sounding "preachy."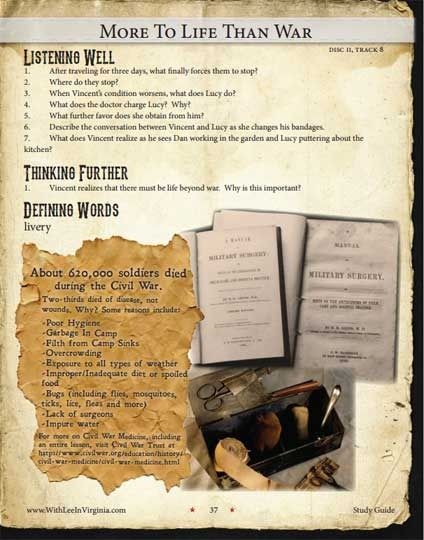 We have been listening to WLiV simply for pleasure since our study of the Civil War concluded the first quarter of last year. Had the timing been right, we could have used Heirloom's free Study Guide to make this more of a unit study. Each track from the CD has its own page of words to define—some military/war terms and some things we just don't see any more, like a livery. The Listening Well questions test memory and comprehension. The Thinking Further questions deal with critical thinking, looking at actions/situations from a Biblical standpoint, and other historical/geographical research. The background and artwork would make it "ink intensive" to print the 52 pages out, but I highly recommend you letting students at least look at the pages. There are maps, inset texts with more information, and some thought-provoking photographs of the war. Look at this image of a Bible that had been carried in the breast pocket of a young soldier. It saved his life by stopping two minie balls and I pray it also saved his soul.
The Study Guide is just one of the free bonuses available to purchasers of the Cd's or the MP3 download. Other gifts, depending on the package selected, include a download of the soundtrack, a PDF version of the book, a copy of Lee's quote on duty, or a poster of the CD cover with the cast.
I think it's safe to say that all future Henty adventures will end up as Christmas or birthday presents. We're such fans of the audio format (my son has yet to read a Henty book). I highly recommend this series to any family, but especially those with boys. If you have younger children you may want to listen before they do or make sure you're listening together as there are very realistic scenes of slave whipping and deaths in battle.
My reviews of other Heirloom Audio Productions titles:
Keep up with Heirloom Audio Productions:
Facebook: https://www.facebook.com/WithLeeInVirginia or https://www.facebook.com/heirloomaudio
Twitter: https://twitter.com/HeirloomStories
Google+: https://plus.google.com/b/114534826166314080647/114534826166314080647/posts