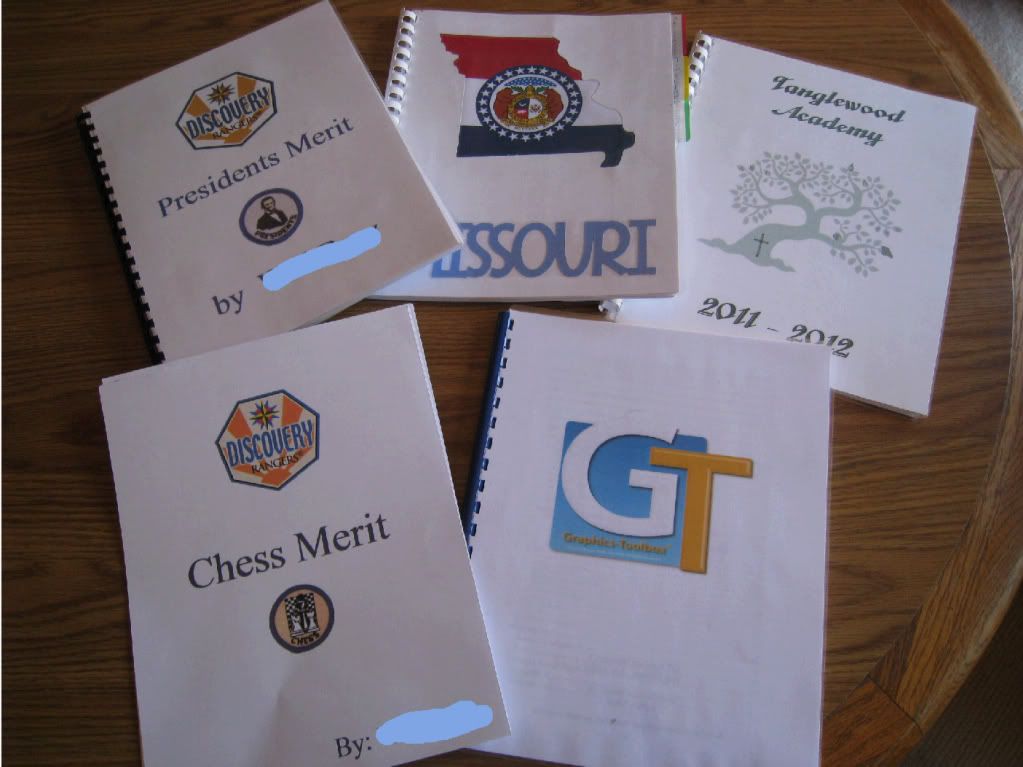 I just wanted to share a few pictures and thoughts about my latest
toy
I mean
tool
for better organization and efficiency. I had been watching a crafting gadget demonstration on one of those shop at home channels and was drooling over a wire-binding machine. Drooling but not buying, I headed over to eBay to see what bargains I could find. In the end I found a model that can use both plastic combs and o-wire--that way we can fill and re-arrange books throughout our school year and change them to a permanent binding when they're complete. I found loads of different size plastic combs in the clearance section of Office Max (25 1/2 inch combs for $2) . Above is a picture of some of the projects I done so far, going clockwise ....
Schnickelfritz has been working on his President's merit badge for Royal Rangers. This book holds a page for each president in chronological order listing years in office, education, birth state, vice president(s) and two events from each administration. Next comes 10 Bible verses that cover leadership qualities and finally and essay on Fritz's favorite president and how he meets some of those qualities. This book is a definite keeper and I may switch it to a permanent wire binding.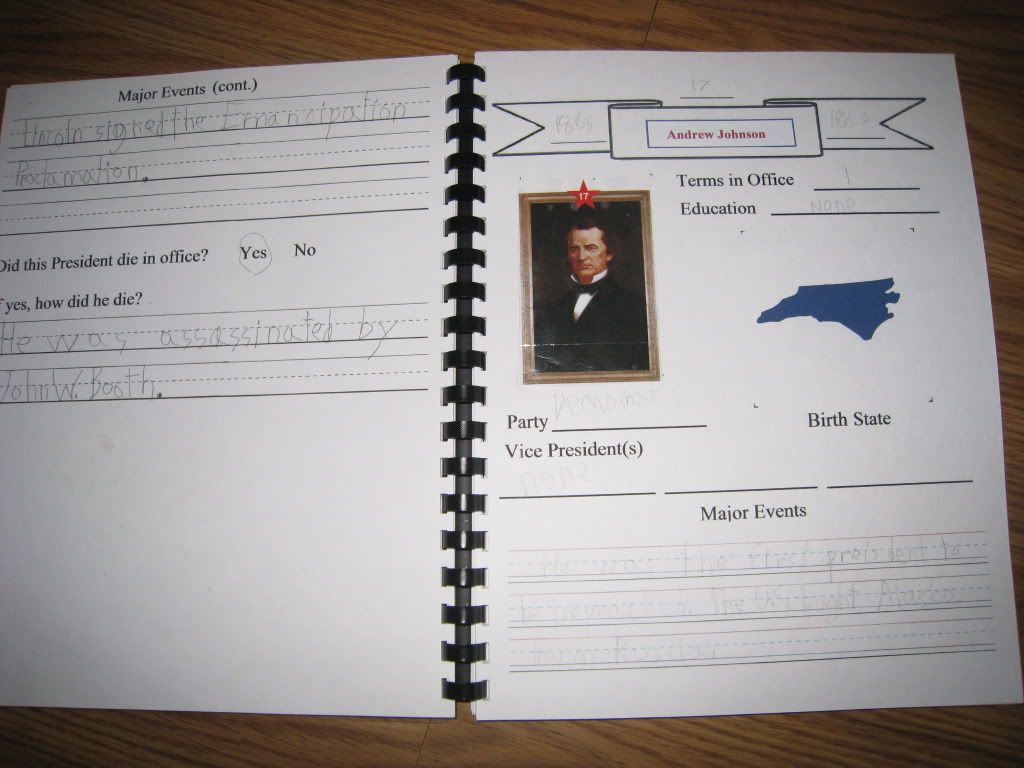 I've been making up my own Missouri history curriculum this year using Where Rivers Meet as a spine. This book contains a timeline specifically for Missouri (our main timeline is in a hallway in our basement), one-page biographical summaries for famous Missourians, a variety of maps, etc. We'll probably add pages with postcards or travel brochures as well (I'm beginning to appreciate the flexibility of comb binding over wire binding more and more). Recently, Post-It advertised an offer to get samples and coupons of their latest products on TV. I found their tabs worked great to separate sections of this binder.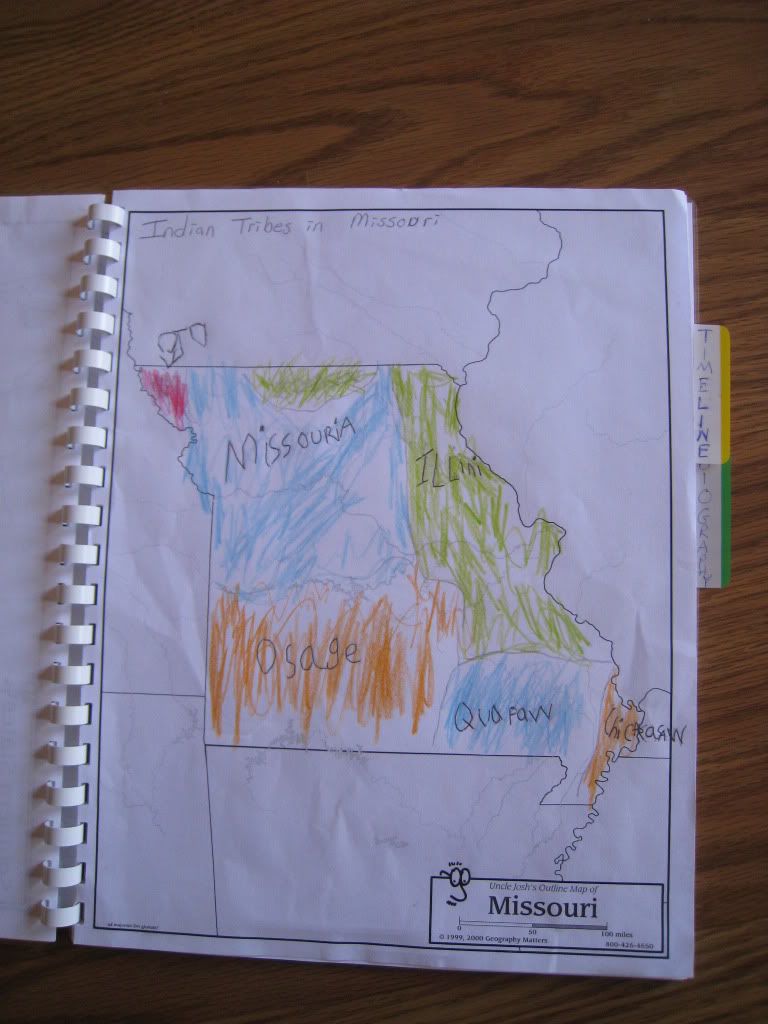 Next is my first project--our school planner (we call ourselves Tanglewood Academy). I've included two-page spreads for each month of the year, a page to list field trips, books read, goals, and more. I use the calendar to note appointments and field trips and any activities I need to add to my Edu-Track lesson planner. When the week is over, I print out the details (which are all accurate at this point) and file them in the back of the planner.
Sometimes I bind together projects for my own reference. This is the users manual for Graphic Toolbox. We
reviewed
this product during my first year of the Homeschool Crew. I still use it all the time, in fact I made all of the covers for these books with GT. I just find it easier to have a hard copy in front of me that switching back and forth between the online version and my project. Other things I've bound include handouts from a canning class I took at the county extension office, recipes for my pressure cooker and others for cooking in the dutch oven on our campfire.
Last is Fritz's newest merit project--Chess. I'll use it to show you how I make books. It is possible to buy clear plastic, pre-punched cover pages for binders but I much prefer to make my own. After designing fronts and backs, I print them out on card stock and laminate them in 3 mil pouches. I bought 200 pouches at Sam's Club for under $15.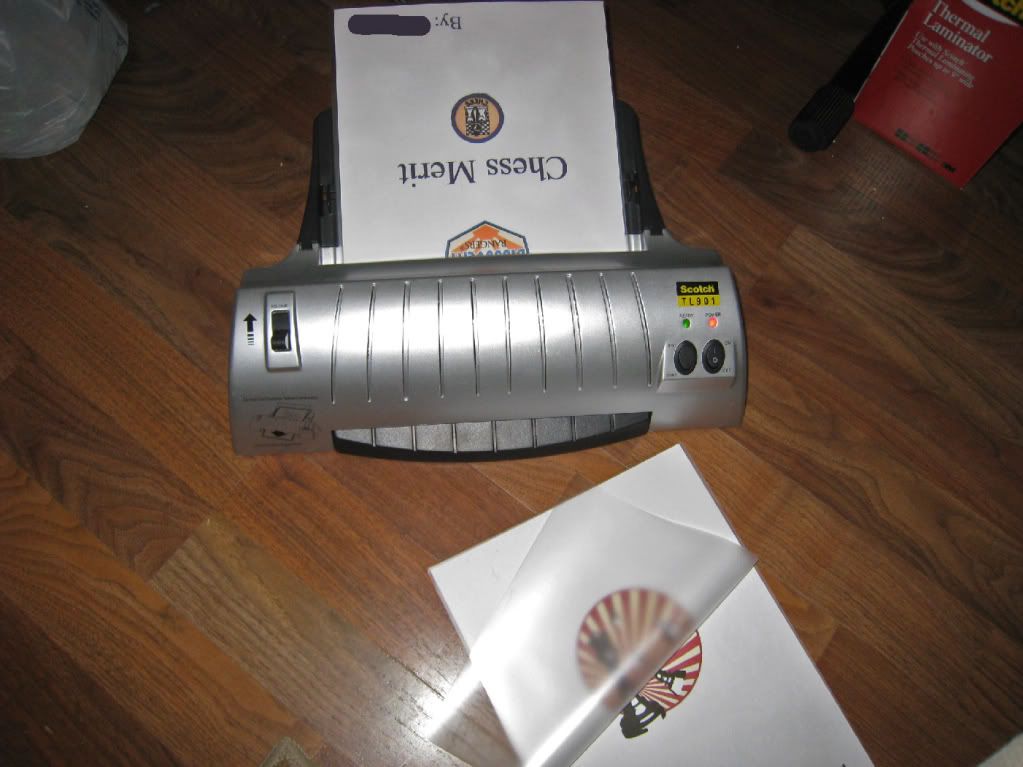 After laminating, you can punch the covers in the binding machine one at a time. My machine has a separate mark for covers at 11 1/4 inches instead of the regular 11. And take care when punching the back page--remember you're making a book so think about which side to punch so the correct side faces out. Of course, you could leave the back blank and then it won't be an issue, but I like to put the date of our project on the back. When assembling the book I start with the front cover face down. This enables me to add any new pages to the back without having to completely taking the book apart.