Benjamin Franklin gave us the quote "The only things certain in life are death and taxes."  I think if
Mr.
Franklin had consulted
Mrs.
Franklin she might have added one more--at sometime during the day someone will utter the phrase "What's for dinner?"   In an ideal world, it would be asked by my husband and he tries to identify that delicious aroma wafting towards him at the front door.  It's often my son who asks when his tummy starts rumbling around 4:30.  Worst case scenario:  I'm asking myself this question as I peer into cabinets or the freezer wondering what ingredients I can throw together to make the semblance of a meal.  When the Homeschool Crew got the chance to review
e-Mealz
 , a tool to help organize dinner menus and grocery shopping, I was thrilled.
A three-month subscription to e-Mealz costs $15 and entitles you to download a meal plan and grocery list each week.  Plans are available for national and regional chains like Aldi, Walmart, Kroger and Publix.  You may choose a 2-3 person plan or a 4-6 person plan.  There are also options available for dietary restrictions like gluten free or portion control.  I selected the Aldi plan as I shop there anyway.  My three concerns were: Does the food taste good,  am I more organized,  and am I saving money?
Delicious or no?
If my family isn't willing to eat what I prepare, it's no bargain no matter how little it costs.  I might as well just throw cash in the trash.   I can report that my family enjoyed every meal I tried from Shepherd's Pie and Low Country Stew  to Swiss Chicken and Taco Salad.   Some of these recipes will definitely make it into my rotating line-up of family dinners.    There were also some dishes that I purposefully did not prepare--fish is not a favorite in our house and one week had two fish recipes.  It's easy enough to cross off ingredients you won't need from the grocery list as everything includes its meal number.  If I'm not making Tuna Muffins, I just don't buy anything with meal #7 beside it.  You can of course prepare the meals in any order.  When we started e-Mealz we had temps in the hundreds and I didn't want the heavy stew that was scheduled.  We swapped it out for a chicken quesadilla.  Three days later when the temperature dropped 50 degrees the stew seemed more appropriate.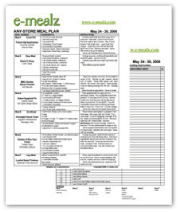 Am I more organized?
I have to say that few things are more satisfying at four in the afternoon than the knowledge that dinner's already taken care of.  Even if I still have to prepare the meal, I don't find that nearly as draining and the frantic dash around the kitchen to see what I've got on hand and what I can make with it.  I even went the step beyond and kept each meal's ingredients grouped together in the fridge and the pantry.  And shopping was easier as well.  I think most Aldi stores have the same floor plan and the grocery list was organized by produce, dairy, canned goods, etc.  A word of warning though--always be sure to check the list of staple items at the bottom of the shopping list.  One night I didn't have pecans on hand because they were listed down in the staples section and I don't consider that as a staple in my house.  There was also one occasion when an ingredient wasn't available at Aldi--the shopping list noted this with an "n/a" in the price column.  The ingredient was a package of seasoning for white chicken chili.  I ended up referring to a cookbook for a similar recipe and copied the spices.
Am I Saving Money?
Shortly after beginning my review period for e-Mealz I was a caller on the Dave Ramsey show.  I was amazed at how frequently I heard a commercial for e-Mealz--usually with Dave himself touting how e-Mealz allowed a family to eat much more than rice & beans off a rice & beans budget.  I'll agree with him to a point.  If you don't have any plan and you're constantly falling back  on a trip to the golden arches for dinner, you will blow the family budget.   By the same token, if you are making multiple trips to the store to pick up missing ingredients you increase you risk of leaving the store with more than the one or two items you went in for--another budget buster.   When I first started e-Mealz, I was surprised that the average weekly shopping trip would cost $65-85 dollars at Aldi's and that's not even covering lunches and breakfasts.  I'm already spending much less than that for all my meals.   It didn't take me long perusing the shopping lists to see why the sticker shock.     Some of the "side dishes" include: potato, tortilla, and corn chips,  frozen Texas toast, and canned buttermilk biscuits.   I don't consider chips a suitable side dish for dinner.  They're snacks, and expensive ones at that.  I was also paying for the convenience of pre-cooked meatballs rather than buying ground beef and making my own.   Dave Ramsey may be impressed but I think it's possible to do better.
Bottom Line:
I don't believe we will continue a subscription to e-Mealz.   I have my own collection of family favorite recipes and I save money by stocking up on loss-leaders at the stores and shopping from my own pantry to make dinner.  I just need to be more organized about planning meals beforehand so maybe a menu calendar is in order.  I would recommend e-Mealz as a starting point for someone who has does not have their own recipe collection, never planned menus, or shopped from a grocery list before.  It would also helpful if your family is adventuresome about what they eat--not from the standpoint that you'll be eating exotic foods but it does take some openness to eat a different meal every night with no repetition for months.  You can find one or two day
sample menu plans
on their website to see which one might be right for your family.
You can read how others on the Homeschool Crew felt about their e-Mealz experience by clicking
here.
Disclaimer: I received a free 3-month subscription to e-Mealz for the purpose of completing this review.  I received no other compensation.