Here week are at week 8 of the ABC challenge at
Ben and Me
. My H is for Home Management Binder.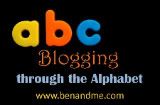 I have to confess that I am not a naturally organized person (I'll pause here a moment to allow those who know me well to get up off the floor and quit laughing at my stating the obvious). I do see the benefits of being organized -- school can go much faster when you don't have to search for the book, the pencil, the whatever; there aren't as many heart palpitations when the doorbell rings and you're nervous the person on the other side will see the dirty dishes on the table, you don't waste money on fines for library books that aren't returned on time or late fees for the electric bill. I'm usually pretty good when it comes to things that cost me money, but lately I've been slipping up so perhaps it's time I kept my brain in a binder.
If there's something you truly can't afford to forget--WRITE IT DOWN. Then you have to take that further step and make sure what you've written it on doesn't get lost. So I went to my local office supply store and purchased a perky, green three-ring binder to collect those "do not lose" papers. So far the sections I know I need are :
Phone numbers for utilities, doctors, other members of the co-op, etc.
A calendar with appts, field trips, and other not to be missed events
A check off list of monthly bills to be paid and their due dates
a calendar to track when I have reviews due and other blogging deadlines
A list of household chores--I just don't come by this naturally
I started by looking through the pages of my Schoolhouse Planner (which has plenty of non-schooling related forms). There's the library item list (is it a homeschooler thing or a bibliophile thing, but I go to the library more than once a week so nothing I get has the same due date). I also printed out medical history forms, shopping lists, chore charts, and phone/address pages. Then I went online to find recommendations for how frequently to do certain household chores (not the frequency with which I was currently doing them obviously) and wrote them on calendar pages. Now I at least have a reasonable shot at remember to clean the refrigerator coils or change the furnace filter.
Here's my own contribution to a Home Management Binder, two-sided sheets where I list all my family's favorite recipes and where I can find them under the appropriate category . This way we don't forget a favorite just because it's in a cookbook I don't crack open often. The Planned Over pages are for recipes that use meats left over from a roast on a previous night--cooked, chopped chicken for example. It's a great place to list what you're going to do with the leftover Thanksgiving turkey. On the protein type pages there is a column to list the specific cuts of meat and amount to purchase. This way when you see a sale price on meat you'll know immediately what recipes you can prepare.
Recipe Organizer Printable
Speaking of sale prices, if it's really a stock up value you may want to buy more than you can consume in a week (or would care to, who wants pork chops five nights in a row?). There's a column labeled Freeze? I may a check mark if the dish can be assembled ahead of time and frozen to cook and serve later. You'll want to check back May when I present 5 Days of Freezer Cooking and part of the Homeschool Crew's Blog Hop.