Internat'l symbol for Orienteering
Last April Schnickelfritz and I rode the Metrolink downtown to see the FIRST Championships in St. Louis. Seated behind us on the commuter train was a lady who worked with public schools to fight the growing problem of childhood obesity. It didn't take long for Fritz to present his solution, "You should take them orienteering." The women had never heard of the sport and perhaps you haven't either so this week's ABC post is on Orienteering.
While Americans were inventing basketball and volleyball, the Swedish military thought a little competition might help their officers improve their land navigation skills. In 1919 the first public competition was held.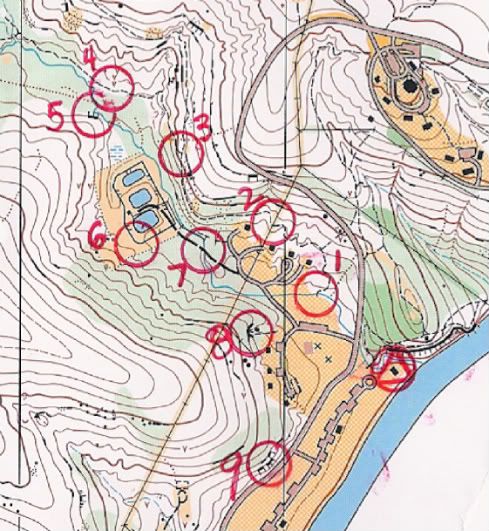 A traditional course
 In a traditional race contestants are given a very detailed topographical map. The background colors indicate the denseness of the brush. The distance between contour lines shows how steep or flat the terrain is. Even man-made objects as small as a drinking fountain will be symbolized. Each numbered circle on the map represents the location of a control (usually a windsock or flag with the orange/white triangles) that must be found IN ORDER. Once you locate the control you'll find a paper punch attached with which you can punch your race card. Each punch has a unique number of pins to make a shape or letter to prove you found the right one. In fact our club is now switching over to electronic thumb devices so you really can't cheat. The start is often done in staggered intervals and the fastest to complete the course wins.
A second popular race format is an O-meet is sort of the inverse of a traditional race. These races have a time limit and you decide the course you will take to find as many controls as possible. Controls that are farther away may have bonus points for the extra efforts you'll need to make. You may also been penalized points if you return after the deadline.
The winner is not always the fastest person, but the one who can best keep his or her head. Last year Schnickelfritz and I were neck and neck with a group of Boy Scouts. When it came to the last control the scouts took off in one direction because he'd seen a control earlier that day. However there were multiple courses being run in the same areas (some even using the same controls but in a different order). They headed toward the river but I could tell the last marker was further south and on the opposite side of the road (#9 in the traditional course map above). By the time the scouts realized their error they couldn't catch up.
These two formats can be used for bike races or cross county skiing, they can be short sprints or last 6 hours. Our favorite versions take place at night when everyone wears or carries flashlights. While Schnickelfritz and I are drawn to the competition, others simply like to take a stroll in the state or county parks. I've seen grandparents and dads carrying kids on their shoulders. The O-meet map above is of a sculpture park. Now if I'd tried to get Fritz to go observe some art with me, he'd have a fit. But the clever organizers placed many controls on or in or around the statues so he had to interact with them.
If you like to this a try, check the
Orienteering USA
website for a club in your state. Most clubs offer a training session for beginners before races. I've also seen state and county parks offer classes/races in conjunction with a local club. Start up costs for this sport a minimal--a good pair of shoes and a $3-5 compass (and perhaps a can of bug spray, this year the ticks are bad).
But before you head off into the woods, be sure to check out the other O blogs at
Ben and Me
.