If I had to choose to teach my son just one of the three R's of education it would be reading. After all, if you can read well you can gain information about any other subject in print! I love reading--and books (just ask the moving men) and I read aloud to Schnickelfritz all the time. When Fritz's turn to read came, he often skipped words, inserted words that weren't there, and missed whole lines entirely. He was having difficulty learning how to track from left to right and from one line to the next. So we began using plastic bookmarks with tinted windows to help isolate the line of text he was reading. He said that it really helped keep the words from "jumping around the page." His reading has improved so much that he's often the first to volunteer in his Prairie Primer co-op. He hasn't used the isolating tool in a while, so when we recently received a shipment of a similar product from
Crossbow Education
I was curious to see if his reading would make another leap of improvement.
The
Eye Level Reading Ruler
is an 8" X 3" flexible piece of plastic. The two long sides are tinted but transparent, The narrow window isolates a line or two of standard text while the wide end can highlight about five lines. The 10 pack we received allowed us to try a variety of colors to see which one was most helpful. The color choices are:
Yellow, Celery, Grass, Jade, Aqua, Pink, Purple, Magenta, Sky, and Orange.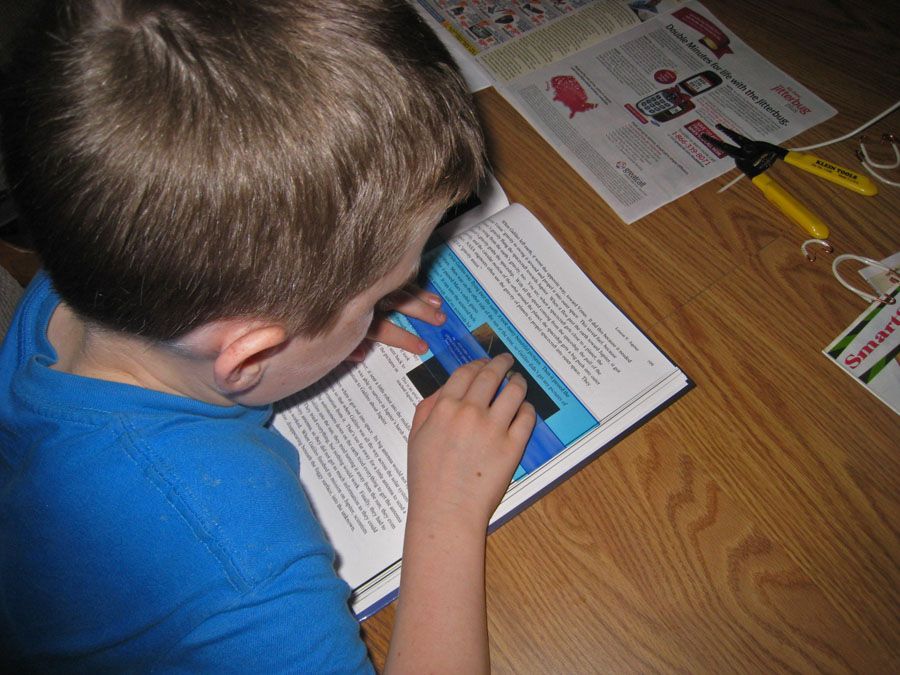 Schnickelfritz chose his rulers based on his favorite color--blue. He preferred using the narrow side and highlighting each line one by one. It was the perfect width for his textbooks. When I asked him to try the wider window he got distracted from the text by trying to determine when to move the ruler--when he was in the middle of the window or waitint till he reached the bottom. It was simplest to just move the ruler after reading each line so the additional tinted area was unnecessary. I forced him to try other colors and asked if he noticed any difference. He didn't perceive any and I didn't notice any missed words or jumping lines as he read aloud no matter which color he used.
When Fritz was reading out of something other than a textbook, the ruler was more of a distraction than a help. It would stick out way beyond the edge of the book and seemed cumbersome. Fritz stopped using the ruler for free reading and I didn't force the issue. In the end, he didn't use it in school either unless I reminded him, but I didn't really see a difference in his reading performance either way. I suppose he's overcome the tracking obstacles he used to have. If we were to continue using the Reading Rulers, I'd buy a set of his optimal color and trim some of them to a paperback width.
But we had such a nice set of rulers and I didn't want them to go to waste so I started using them and was amazed at the benefit I received. As I mention at the beginning, I love to read and by the end of the day my eyes are quite tired. I found that certain colors, especially the purple, made the text appear sharper and I didn't feel the eye strain in the evening. The rulers also make a great straight edge when I want to underline or highlight in my Bible study. The makers even thought to coat the sides of the ruler--one side glassy and the other matte finish so I could glide it over the page easily or have a little more grip when I pushed against it with my pencil.
I really do think these tinted tools can help beginning readers with tracking and now I know they work well for "more mature" eyes too. One suggestion I have for Crossbow is to label the colors on the rulers. If I want to order a set of just purple, that's pretty easy, but if I found the most benefit from one of the green tones I wouldn't know if it was grass or celery. There was a flyer in the packet that shows the names and colors, but that's just another thing I can't keep track of.
A 10-pack of reading rulers (variety or single color) sells for $16.95. A 5-pack is available for $9.45 (the variety pack includes Yellow, Grass, Aqua, Purple, and Pink). Check out their website for other helpful tools for dyslexia and visual stress.

I received a free set of Eye Level Reading Rulers through the Schoolhouse Review Crew in exchange for my honest review. I was not required to write a positive review now was I compensated in any other way. All opinions I have expressed are my own or those of my family. I am disclosing this in accordance with the FTC Regulations.