Let me be upfront with you, this isn't the first time I've reviewed
Beeyoutiful
products and I hope it won't be the last. My first year on the crew we received a bottle of
Berry Well
. Earlier this year we had
Hair Shine
. I love to read the articles in their catalog when it comes (yes, I'm a customer). I'm currently receiving their email series, 101 Practical ways to use Essential Oils. Okay, I may not have a totally unbiased opinion about the company, but I promise to keep it honest. This year I was thrilled to open a whole box of health and well-being products that can be used by the whole family.
NOTE:
Berry Well
does
contain raw honey which doctors recommend not be given to babies under one year old.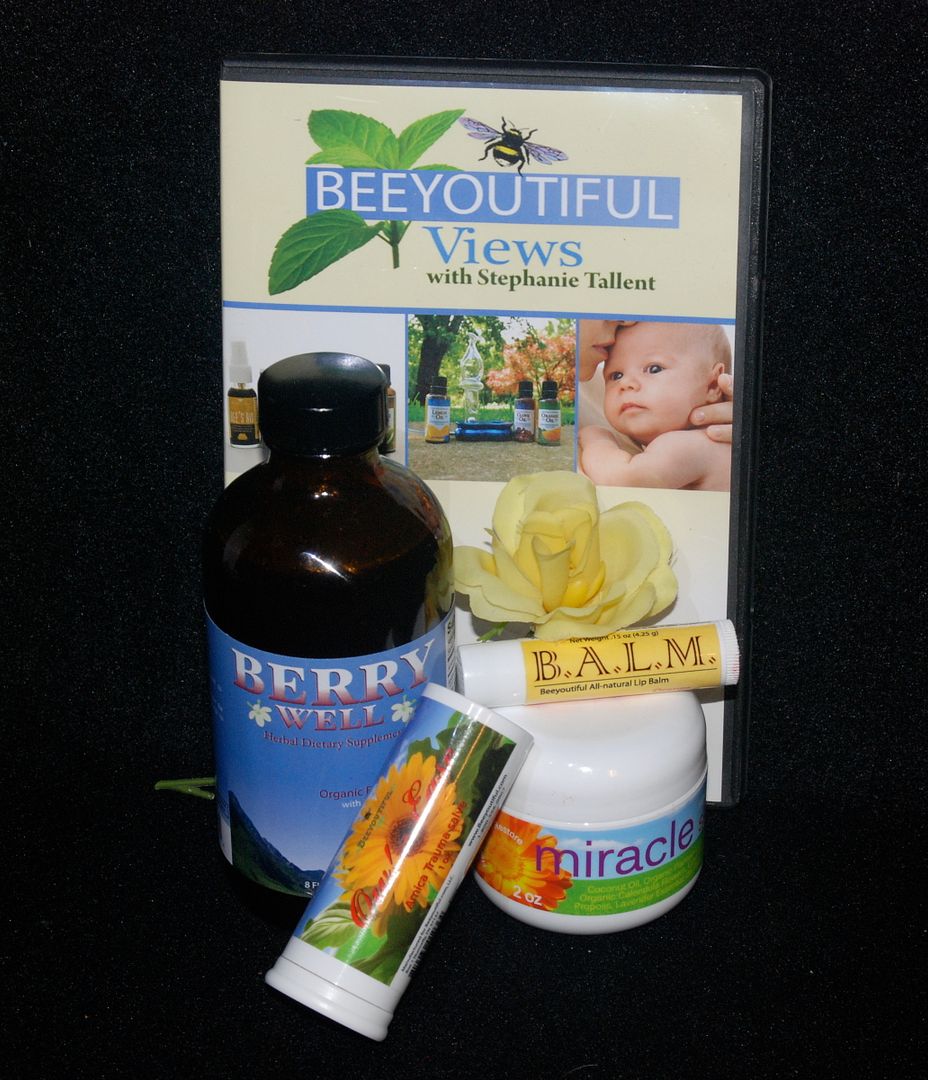 So let's go through the box together.......
Berry Well - 8 fl. oz. ($19.75)
A combination of Elderberry Syrup, Proplis, Raw Honey, Echinacea, and Raw vinegar designed to help fight colds, flu and other bacterial and viral infections.
The first time we received a bottle, no one got sick. This year my husband came home from a trip to Chicago with a case of airplane crud--coughing, sinus pain, etc. I started him on doses right away (he also upped his vitamin C doses) and began taking it myself. It's been three weeks and he still has a phlegm-y cough, but I didn't catch it. My son picked up a cough but I started giving him my dose and it disappeared after two days. Full Disclosure: My husband has had all the lymph nodes in his neck and upper chest removed while battling thyroid cancer as a teenager so he's already missing a key defense system in fighting disease. My son and I, on the other hand, have a fairly strong immune systems. I would say Berry Well gave me a boost to avoid the cold, but it's not going to be a miracle cure for everyone.
Ow! Ease Salve - 1 oz. ($15.00)
Olive oil, St. Johns Wort, Coconut oil, essential oils. Use on sprains, strains, bruises, sore muscles to reduce swelling and pain. No heavy minty odor!!
This fall a local church has opened up their recreational center for homeschoolers to use once a week. The first day had a tremendous turnout and a few of us moms were teaching the kiddos the finer points of volleyball. I was so caught up in reliving the glory days of our high school careers that we didn't notice the bumps and pains on our wrists and knees (no pads!) until I got home. What a perfect opportunity to try Ow!-Ease. I rubbed the stick on my and my sons arms. Before suppertime we both realized that the pain had stopped. We were even more pleased when the bruises didn't appear the next day (we're both very fair skinned and show bruises easily). It also relieved the pain from a superficial scrape from my son's bike riding accident. (According to the DVD that accompanied the products you should use Miracle, not Ow!Ease on open wounds). I keep the stick in our gym bag now for immediate application.
Miracle Skin Salve-2 oz. ($15.00) OR 4 oz ($25.00).
Coconut Oil, Olive oil, Beeswax, herbs and essential oils to pomote deep healing and skin restoration. Use on burns, bites and diaper rash.
This product was the real reason I wanted to review the Beeyoutiful set. Without getting too graphic...ever since my hysterectomy two years ago I've had a reoccurring sore spot that burns when I use the bathroom. The doctor says that it's a difficult area to heal because it's hard to keep dry and there's not much circulation in this spot. I began applying the salve every time after I used the toilet. As long as I'm consistent, the burning doesn't occur on my next visit.
I unexpectedly found a second opportunity to test the salve when something bit me at our bonfire. I didn't even feel the bite, but the next day I had a bright red spot the size of a half-dollar covered with fluid filled blisters. My husband popped all the blisters and I began applying the salve every time I was in the bathroom. Two weeks later, the spot is almost healed on the outside although it's still sore to the touch. I've also been applying it to my cuticle area to try and deal with soreness/hangnail issues. You just rub your fingers over the surface of the product and then apply a thin film on the skin so this 2 ounce jar will last a long, long time!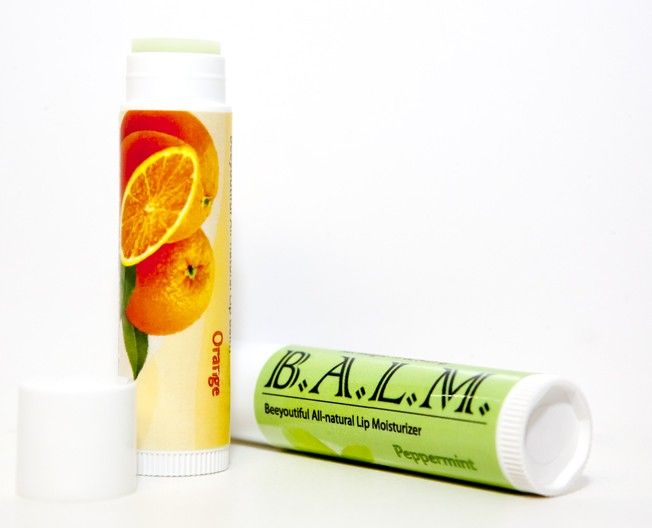 Lip B.A.L.M ($3.00)
A non-petroleum based lip moisterizer.
We haven't officially entered chapped lip season, but I also received a tube of this last spring when I did have a cold. I applied it regularly to my lips and used a finger to smear it around my nose which was raw from tissues. I had relief right away. I've tried both and prefer the orange, but that's just personal preference.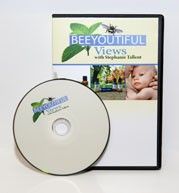 Beautiful Views DVD ($3.00)
In this DVD, Stephanie Tallent shares how she uses some of the most popular Beeyoutiful products in her home.
This is more than just a promotional video. If I hadn't watched it, I wouldn't have known not to use Ow!-Ease on open wounds. There was also a four part lesson on how to use Activated Charcoal. I'm glad I saw it now so that I can purchase some and know how to use it in an emergency--like a food poisoning. There was another section on natural pregnancy that I skipped--having had a hysterectomy that stage of life is over.
I've been pleased with every product from Beeyoutiful. While the politicians continue to ruin our heath care system, I'll be relying more and more on these natural remedies. Let me update you on our use of Hair Shine. I'd been told that it worked well to treat sunburns but it wasn't the right time of year to test that claim. Since then, both my son and I have sprayed it on mild to moderate sunburns. There was instant relief so he could go to sleep. By morning a lot of the redness was already gone and another spritz stopped the pain. You couldn't even tell we'd had sunburns by day three.
Others on the Homeschool Review Crew tried out their make up and skin care products so you'll want to read their reviews as well.

Disclaimer: I received the products described above for free from Beeyoutiful for the purpose of completing this review. There was no other compensation for my opinions.