This year I let Schnickelfritz choose what part of history he wanted to study and he picked the Middle Ages--knights & damsels, kings & castles, the Black Plague....what's not to love? We use Mystery of History Volume 2 for our studies. I do love their books, but the lessons are mostly focused on one person or one event in each lesson. There is one lesson on "Life in the Middle Ages," but how much information can you pack in three pages for an era that lasted 1000 years? I wanted Fritz to gain a better understanding on what is meant to work, eat, play, learn, worship and get sick if he'd been alive then.
Sometime last fall I got an email from Homeschool in the Woods about their lasted series--Project Passport. The first CD-Rom product was on the
Middle Ages
!! I already love HITW Timeline figures and their occasional freebie sets so I was willing to give this a chance. I'm so glad that I did.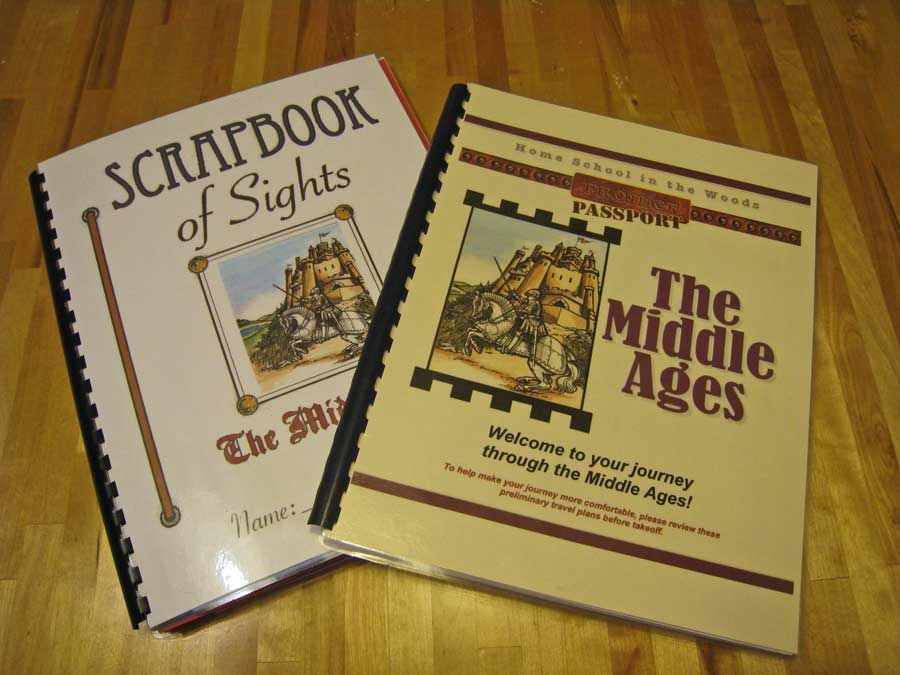 Scrapbook & Teacher's Guide from printables on the disk

The idea behind Project Passport is that you're part of a bus tour visiting medieval towns, a castle, a monastery, a Viking village, we even get detoured because of a plague outbreak. Everything is themed like a vacation: the timeline is called "Snapshop Moments," you'll be making a "Scrapbook of Sights" (a minibook/lapbook), you'll assemble a pile of postcards and you can make "souvenirs" along the way. You even make a passport & luggage tag to use with this and future Project Passport studies. What distinguishes this from HITW Time Traveler series is the addition of MP3 files. We actually get to hear the tour guide showing us the sights of market day or speaking to a viking boy about is longhouse. You can listen to a
sample
.
There are 25 stops on our Itinerary:
Laying the Foundation--Part I: Packing for the Trip
Laying the Foundation--Part II: Barbarians in the South & East
Laying the Foundation--Part III: Barbarians in the North & West
Everyday Life--Part 1: Family
Everyday Life--Part II: Clothing & Food
Everyday Life--Part III: Community
Everyday Life--Part IV: Crime, Punishment & Entertainment
Business--Part I: Towns & Guilds
Business--Part II: Merchants, Trade & Exploration
Science & Invention
Education
The Arts
Medicine & Disease
The Church--Part I: History
The Church--Part II: Church and Other Religious Events
The Church--Part III: Monastic Life
The Crusades--Part I: The Big Four
The Crusades--Part II: Other Crusades
Knights & Chivalry
The Vikings--Part I: Viking Life
The Vikings--Part II: Era of the Viking
Battles, Wars, & Conflicts--Part I: The Muslim Invasions
Battles, Wars & Conflicts--Part II: Eastern Europe
Battles, Wars & Conflicts--Part III: England
Final Stop -- Packing Up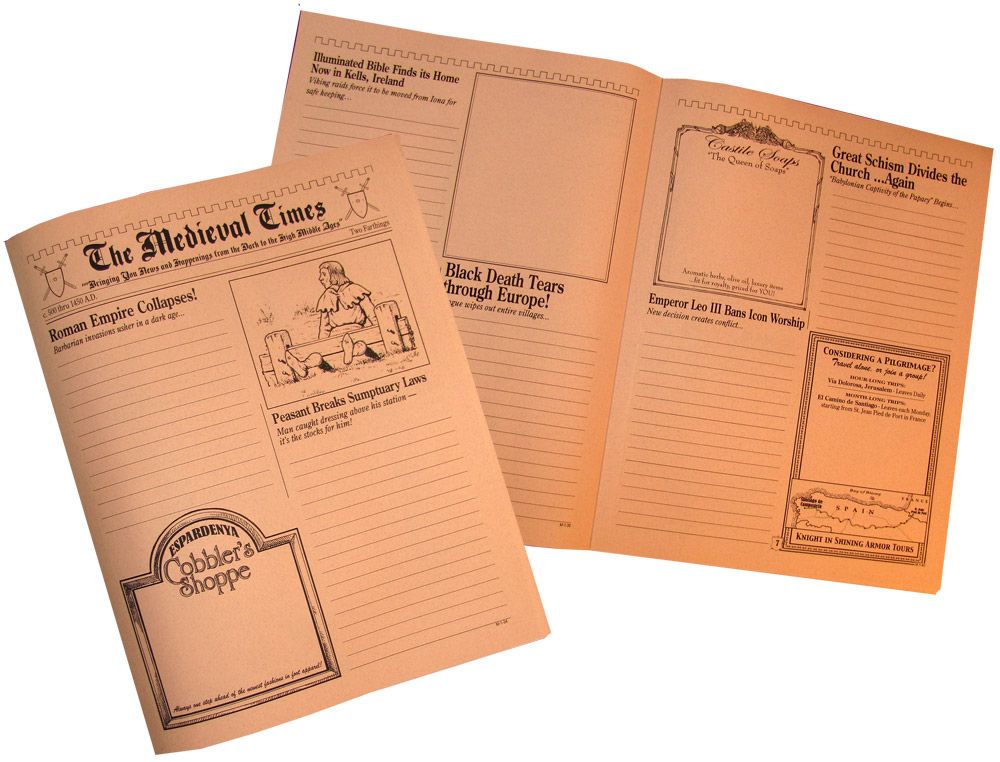 I have been taking breaks in our Mystery of History lessons at appropriate times to use Project Passport to fill in details and add atmosphere as it were. When we read MOH Fall of the Roman Empire, we used stops 2 & 3. We took two weeks at the start of the Second Quarter to read all the Everyday Life lessons and Science, Education and Arts. We ended the quarter with a Date To Remember about the vikings and we able to supplement that lesson with stops 20 & 21.
You don't have to use Project Passport as a supplement for another curriculum. There's plenty of material here to make it a unit study on it's own. For language arts your kids might enjoy writing "articles" about Trouble on the Silk Route or the Great Schism of the Church. They can draw a picture for an advertisement about classes at the monastery, but there are other more elaborate art projects involving illuminating texts, stained glass, mosaics, and painting .


The teacher's text contains instructions and pictures for assembling all projects (including this lapbook which we chose not to use)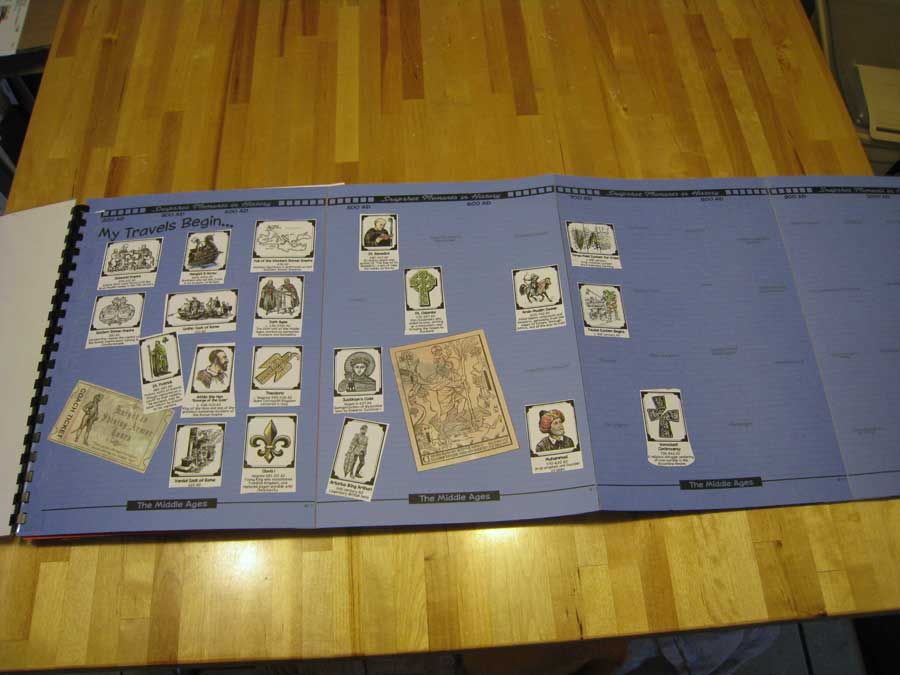 When we finish this timeline it will be more than six feet long. The pictures match those in the text of our Mystery of History book.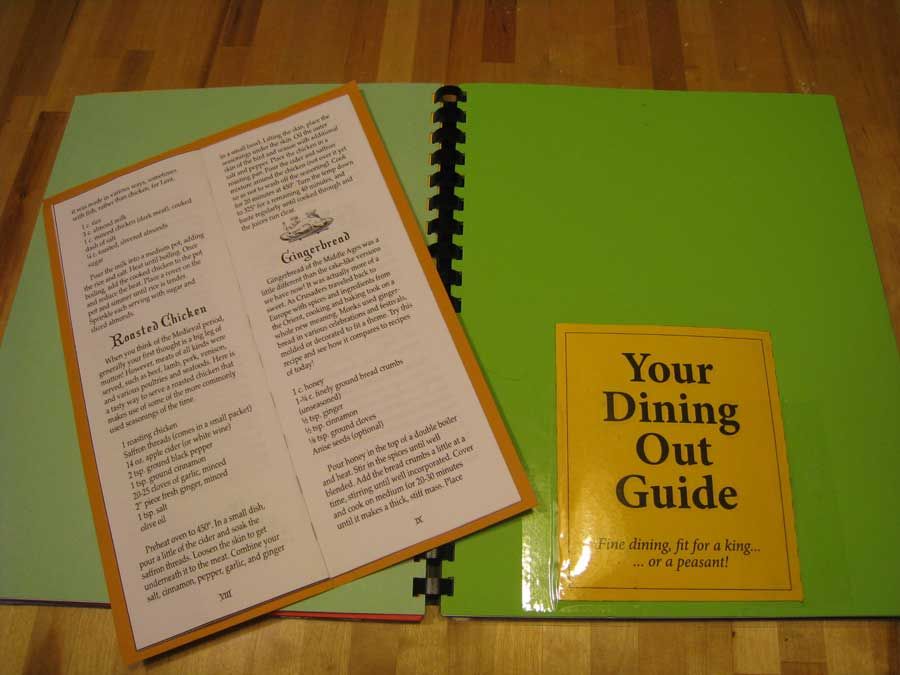 This menu and pocket would normally take up one flap of a lapbook. Instead I featured it on its own page in our notebook. I love how Homeschool in the Woods products involve all the senses. We rate the gingerbread high, but would pass on the gruel if we lived in the Middle Ages.
Each matchbook/minibook covers a different person involved in the Crusades.
This is one of four minibooks to summarize life in a Viking settlement, a castle, a town, and a monastery. They were designed to go in a lapbook, but I enlarged them with my graphic software and mounted each on a separate sheet of our notebook. I was able to make the line spacing large enough for my son who still struggles with penmanship.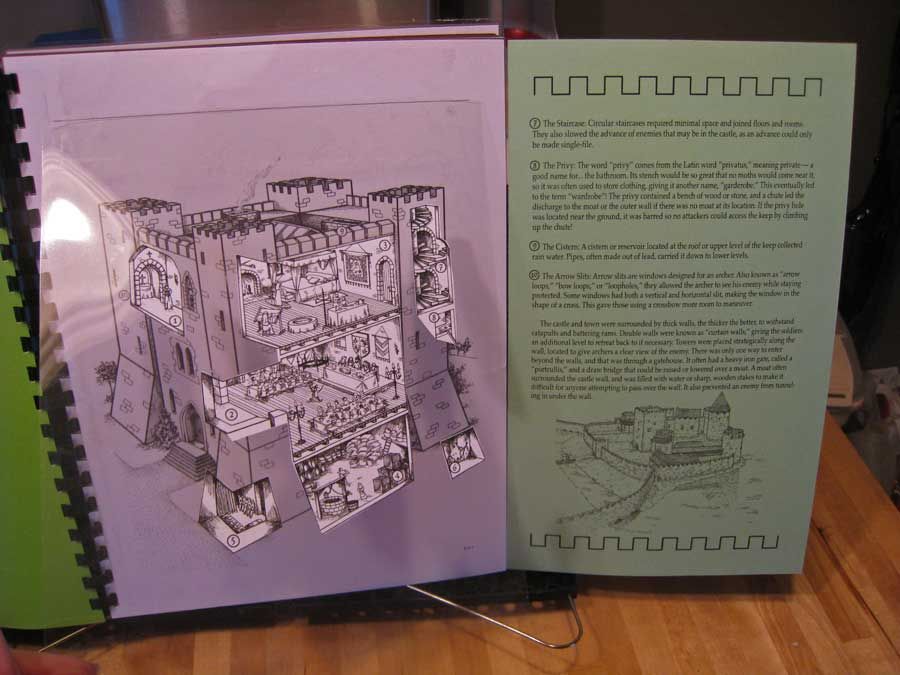 Here I'm holding up a sheet of overhead film that has cutaway views of the castle interior. Our tour includes the chapel, the great hall, the solar, the armory, a prison cell and the privy.
The quality of the materials is so great, I know my son will be proud to hold onto and share his Middle Ages notebook for years to come.
This week's Virtual Curriculum Fair topic is Exploring Our World: Social Studies and more Science. Here's a list of other bloggers sharing their thoughts about history, geography, world cultures, worldview, biology, botany, geology, etc.
Exploring Eastern Cultures with Sonlight
by Susan @
Homeschooling Hearts & Minds
Cell Unit Study - Mitochondria and Energy
by Julie @
Highhill Education
Our Blended Social Studies
by Christy @
Unexpected Homeschool
2013 Virtual Curriculum Fair-Exploring Our World: Social Studies and more Science
by Leah C @
As We Walk Along the Road
Exploring Canada
by Annette @
A Net In Time
Project Passport: The Middle Ages
by Missouri Mama @
Ozark Ramblings
Virtual Curriculum Fair- Exploring Our World
by Karyn @
Teach Beside Me
Our Absolutely Positively Favorite History Curriculum Ever
by Wendy @
Homeschooling Blessings
Science: learning to use what you are given
by Piwi Mama @
Learning & Growing the Piwi Way
Historical Significance
by Kristi @
The Potter's Hand Academy
How We Are Exploring Our World as Homechoolers
by Laura O in AK @
Day by Day in Our World
VCF: Week 3 The Social Sciences
by Lisa @
Golden Grasses
A Trip Around the World: Homeschool-Style
by Nicole @
Schooling in the Sun
Virtual Curriculum Fair ~ Exploring Our World:
Biology by Dawn @ Guiding Light Homeschool
Virtual Curriculum Fair: Learning about our World
by Joelle @ Homeschooling for His Glory