We're about 3/4 of the way through January and I'm sure many of you have already fallen of the resolution bandwagon. That's why I never resolve to organize, diet or exercise on New Years. I chose a much more fun resolution--to try a new recipe every week. I've got more that a decade's worth of Taste of Home cookbooks with pages dog-eared and recipes highlighted. Today's recipe though, is based on my 1st edition of 30 Day Gourmet cookbook.
Italian Chicken & Veggies
(serves 6)
6 boneless skinless chicken breasts (I actually used 8 b/s thighs that I had on hand)
8 oz Italian Salad Dressing
8 oz Cream Cheese (low-fat works)
14 oz Chicken broth
1 can Cream of Chicken soup (low-fat works)
1/2 t Rosemary
1/2 t Thyme
Put the chicken in a slow cooker and pour the Italian dressing over the top. Cook on low for 5-6 hours. Remove the chicken and cut into small pieces (you can shred it easily if you want), set aside.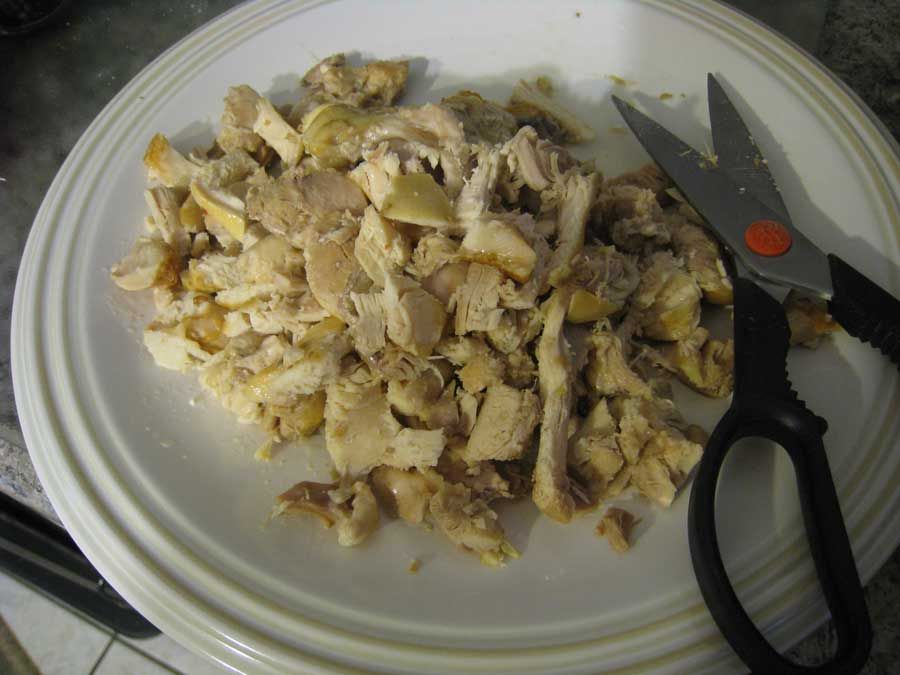 Discard the dressing in the slow cooker and replace it with the cream cheese, chicken broth, cream of chicken soup, and spices. Turn the slow cooker to high and stir the ingredients together as they melt (I actually used an immersion blender).
Add the chicken to the sauce and heat everything through.
[At this point you could cool the chicken mix and freeze it. On serving day, thaw and reheat it and serve it over pasta.]
We were planning to eat it that night so when I added the chicken I also put in:
1 1/2 C frozen mixed vegetables
1 box macaroni noodles, cooked and drained
I'm always looking for ways to add more veggies to our diet and they best way for us is to add them to the entree. The macaroni was more to make the dish go farther economically speaking. If you leave it out you could probably pour the chicken & veggies over baked potatoes for a good meal.
The consensus: I was pleased with how much of the Italian Dressing flavor carried over to the chicken and the creaminess is fantastic. Even my meat & potatoes husband said the dish was fantastic. Schnickelfritz did not object to the bite-sized veggies covered with delicious sauce. So this one's a keeper.
I'm sharing this recipe with Home to 4 Kiddos'
Try a New Recipe Tuesday Linkup
.