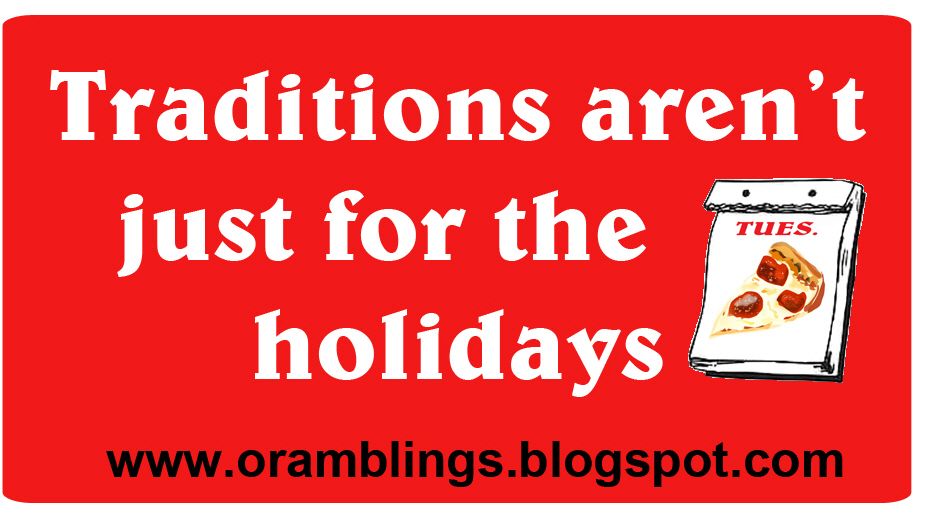 I confess that there are plenty of days that I hit the kitchen around 4 pm and start rummaging through the fridge and pantry trying to figure out what's for dinner. Those days never fall on a Tuesday though. Just as soon as Schnickelfritz wakes up on a Tuesday he's reminding me that tonight is pizza night. And it doesn't matter if he just had pizza Sunday afternoon with his grandparents or finished the leftovers of said pizza on Monday. He expects homemade pepperoni pizza for Tuesday night dinner.
Big deal, you say. You've a got a kid that could eat pizza for every meal if you'd let him. I used to feel that way to until I attended a workshop by Kirk Martin of Celebrate Calm at our Homeschool Expo. Now I understand that it's more about the tradition of pizza night than the food itself. I hadn't even realized it had become a tradition—my husband doesn't care for pepperoni so I'd fix it on Tuesdays when he comes home late and stops for drive-thru. Mr. Martin gave me some insight into my son's brain and all the thoughts, emotions, and impulses tumbling around inside it like a dryer on steroids. Since it's so hard for him to control what's going on inside, Fritz is trying to control his outside world. It's a calming constant for him to know there will be pizza on the table on Tuesday nights.
Now as I look back through the years I can see other traditions that Fritz has developed. When we lived in Indiana, he had a set sequence of exhibits to visit at the Indianapolis Children's Museum or the zoo with Grandpa. Nothing about them had changed besides the surrounding visitors, but if he'd skipped one it would be like he'd missed seeing a very dear friend.
When Fritz was perhaps three years old I once found him lying still under my blankets. I pretended not to notice and acted as though I were going to sleep, carefully applying some of my weight on top of him. When he shifted I said "I can't sleep on such a lumpy pillow, I guess I'll have to fluff it up" and I proceeded to just that. The whole shifting/fluffing was repeated twice and then I through back the blankets to "discover" him underneath. It's ten years later and he still loves to play that game at bedtime—not every night but often enough. And his father and I will get in trouble if we move the blanket before the third cycle. This game not only fills his need for tradition but also a need for pressure on his joints (more about that in a future post).
On the other hand, I also have to be careful that trends don't grow into traditions. So occasionally we do school in our pajamas (a perk of homeschooling), but if we do it everyday for a week then Schnickelfritz will want to keep doing that for the rest of the year.
I left the Homeschool Expo with Mr. Martin's complete series of CD's: Calm Kids Parenting, Straight Talk for Dads, Straight Talk for Stressed-Out Moms, 10 Secrets to Motivate Unmotivated Kids, Enjoy Calm 24/7, Straight Talk for Kids,and Brain Boosters School Success (it's directed to classroom teachers but I've found plenty of helpful hints). It was a sacrificial purchase (we'll muddle through without a science lab kit this year). But I've known for years that my son was wired differently (not just differently from me) and it's more important to me to learn how to help him cope and thrive with his life than teach him to dissect a frog. If it's still beyond your means, I found a number of BlogTalk Radio shows on the Celebrate Calm website.