Last year I set out to share 52 of the books (or series of books) that I've "rescued" from library sales and other used book sales. The came the ABC Blogging across Missouri challenge and I fell waaayyy short of my goal of 52. So I'm going to finish the Rescued Books series, although you'll notice I've taken "weeks" out of the series title.
My "W" for Blogging Across Missouri was Walt Disney's Hometown. He wasn't born in the state, but he considered Marceline, MO as his hometown—it was even the inspiration for Main Street U.S.A. at both Disneyland and Walt Disney World. So naturally good ole Walt came up when we studied famous Missourians in Schnickelfritz's study of The Show Me State. I used all living books for our history that year and was fortunate to find an old Disney biography.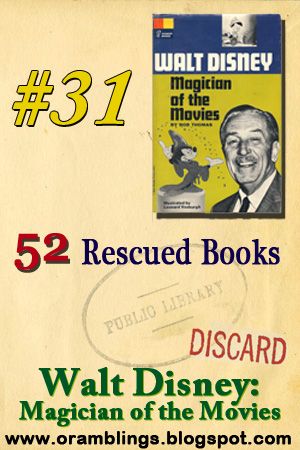 Walt Disney, Magician of the Movies. Thomas, Bob, and Leonard Vosburgh. New York: Grosset & Dunlap, 1966. 176 pp.
Before the Table of Contents is a storyboard of Disney's life. For those who don't know—a story board is a series of illustrations displayed in sequence to pre-visualize the actions of a motion picture. The process was develops by Walt Disney Productions in the early 1930's.
The biography begins with six year old Walter having too much time on his hands, a bucket of tar, and a perfectly blank canvas of whitewashed siding. When his father saw the painting of the pig on the side of his home he gave Walt a spanking, when Walt's aunt heard the tale she gave Walt a set of colored pencils and some pads of paper.
We learn that Walt loved English in school, even Shakespeare, but algebra seemed like a foreign language. He spent his recess and lunch hour sweeping the sweeping the candy store across the street from the school in return for a hot lunch and some treats. Other jobs included delivering newspapers for his father (a non-paying job), selling papers and refreshments on trains, and being a mailman. He never forgot his love of drawing and painting though. While driving ambulances for the Red Cross after World War I, he earned some spending money by painting medals on the leather jackets of the soldiers. He returned home having made up his mind to be an artist, more specifically a cartoonist.
We still had two chapters before The Mouse came on the scene (and he was originally going to be called Mortimer). Fritz got to learn about Oswald the Lucky Rabbit and the innovative "Alice" series of shorts that combined live action with cartoons decades before Song of the South. Then came Mickey Mouse, Silly Symphony cartoons, Donald Duck and the first feature-length cartoon, Snow White. I've got quite a collection of Walt Disney Treasure DVD's and whenever we read about a cartoon, we'd look through the collection to see if we could watch the actual feature.
More chapters and more innovations—the True Life Adventure movies, Disneyland, television shows. We go on a ride worthy of an E ticket (and I'm old enough to know) before the book ends with Disney's death on Dec 15th, 1966.
Walt Disney: Magician of the Movies is one of Gross & Dunlap's Pioneer Books. The introduction explains that these books are "designed to create unique and challenging biographies in many areas in which there has been some significant breakthrough in human achievement—a breakthrough largely engineered by a single person." Remember, there was a time when Disney wasn't a worldwide corporate behemoth but simply a man with a dream, better yet a boy with a paintbrush and a blank canvas to fill.
You can see all my rescued books by clicking here.