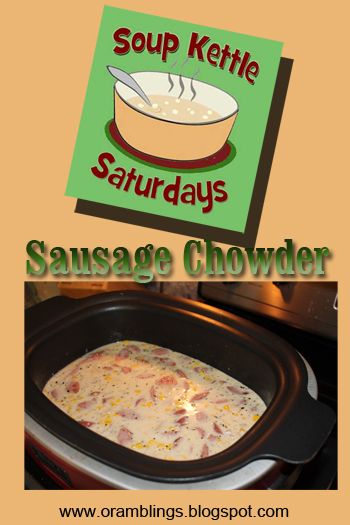 The tree and decorations are down, the temperature is dropping, a cold rain may turn to ice overnight…the reality that the holidays are over and winter itself still lies ahead has hit me. I need comfort food! As long as the weather holds, I plan on sharing a comforting soup, stew or chowder with you on Saturdays. And the bonus for myself—I's going to scour through my all-too-large cookbook collection and select all new ones to try. I'll share first opinions and brainstorm how I might tweak the recipe in the future. I might be using the pressure cooker, slow cooker or just a Dutch oven on the stove. Here's my first—Sausage Chowder.
Ingredients
1 pound fully cooked smoked sausage

1 med. onion, quartered & thinly sliced

4 cups diced potatoes

3 cups water

2 tsp. dried parsley

1 tsp. dried basil

1 tsp. salt

1/8 tsp. pepper

1 can whole kernel corn, drained

1 can cream-style corn

1 can evaporated milk
Directions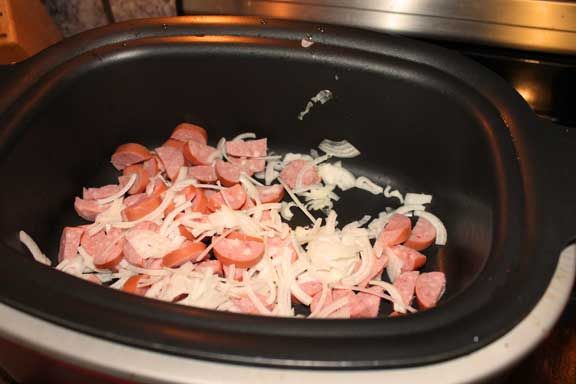 Cut sausage in half lengthwise and then thinly slice. Brown the sausage and onion over medium heat in a soup kettle or Dutch oven.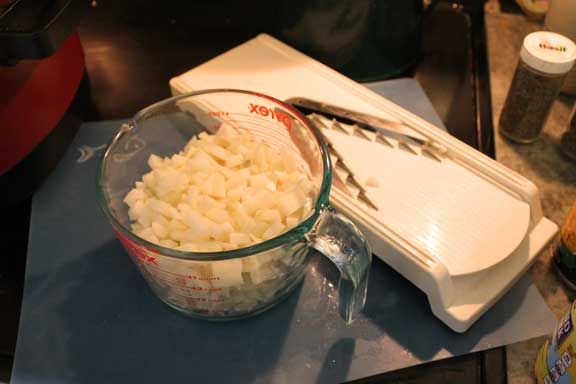 Add potatoes, water, parsley, basil, salt and pepper to pot. Bring to a boil then reduce heat, cover, and simmer 15-20 minutes until potatoes are tender. Add canned ingredients. Cook another 5-10 minutes until heated through. Yield: about 3 quarts of chowder – you'll have to judge the number of servings depending on whether you use this as a main dish or an appetizer.
Family Reaction:
You can see I already tweaked the recipe because all I had in the house was kielbasa instead of smoked sausage. Rather than use a Dutch oven, I cooked it all in my Ninja 3-in-1, which has a stovetop setting. Everyone loved the taste. My husband would have liked it to be a little thicker—maybe I'll cut down on the water. I'm including a picture of my diced potatoes. For their size a 15-20 minute simmer was too long, they were too mushy. Another thought is to mash them slightly to thicken the dish before I add the corn. A sprinkling of cheese when serving would go well too.