You know it's summertime when the VBS signs start popping up, the lightning bugs come out at night, and the library begins its summer reading program. Every Wednesday afternoon, Fritz and I head over to the library to hear the next chapter of
The Invention of Hugo Cabret
, play games and make crafts. The librarian outdid herself this week--making a giant game of pick-up-sticks made out of PVC pipe marked with different colored electrical tape.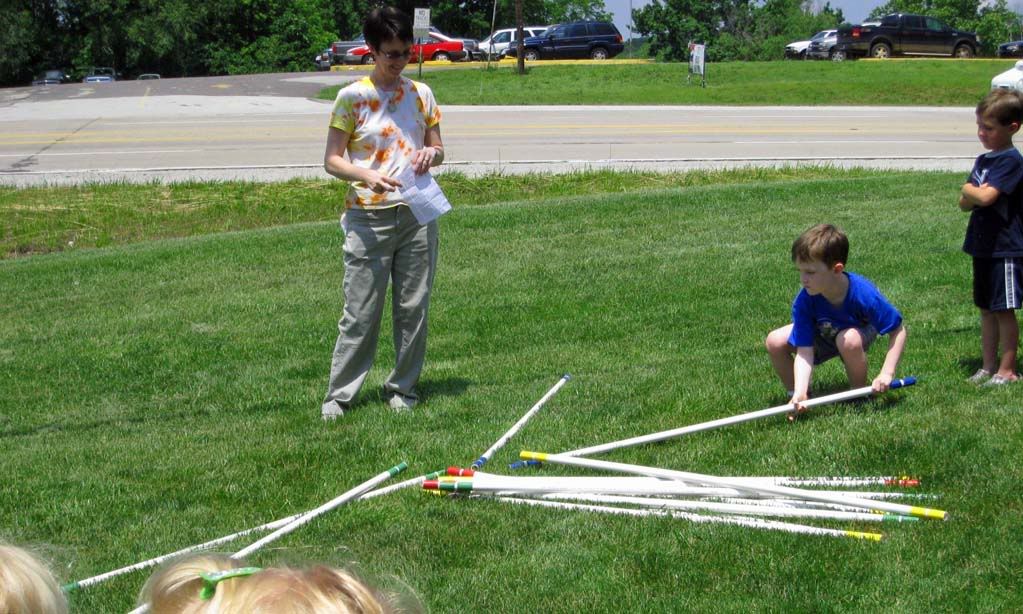 Then the kids made their own pick-up-sticks games out of bamboo skewers. The sharp tips were rubbed on sandpaper to dull them and then colored with markers. I was impressed that Fritz was enthusiastic enough to color those 30 sticks and that he's wanted to play it over and over. Of course we don't have video games, so he's used to playing old fashioned games.
Fritz tracks his reading (and being read to) with stickers for every 15 minutes. He's hoping to accumulate 540 minutes and earn a 10-color ballpoint pen. I'm in the adult program and just have to track the names of the books I read. (I'm not eligible for the pen prize). While Fritz was coloring his sticks, I picked out a biography of Dr. Benjamin Rush.
This book was in the juvenile section, but I don't think many children would pick it up to read or even sit still while it was read to them. It strays away from Dr. Rush's life to give more background about the world of his time. How many kids would care that there was a debate among physicians about whether disease was caused by an unbalance in the four "humors" or a malfunctioning of the nervous system?
I did read one passage that should challenge homeschooling moms everywhere. When Benjamin was 8 years old, he was sent to his minister uncle's home to receive his formal education. Ministers of the time often supplemented theiry salaries by taking boys into their homes to educate. Here's a quote:
"Dr. Finley started his boys on arithmetic at about the usual age of eleven. Most teachers used a 'sum book,' from which they read problems to their students......The boys were required to multipy a figure of fifteen digits by another of fifteen digits, to divide a figure in quintillions by a figure in billions."
Wow, and they didn't even have Math-U-See!