I hope that some of you have noticed the change on my sidebar—I've been selected to review homeschool curriculum and products as part of the 2009-2010 Homeschool Crew! And my first assignment: The 2009 TOS Planner. It's a one stop shop for all the record-keeping, list-making, reminder-tracking forms you're going to need for the coming school year.
I begin with a confession: I'm not a naturally organized person. It's not that I don't recognize the value of being organized—I love walking into tidy rooms, having tonight's supper in the crockpot by noon, and knowing what meals I've planned for the week before I head to the grocery store rather than creatively concocting something from the items that ended up in my cart. I'm just one of those folks who starts to tidy a room, but when taking one object to put away in another room, gets sidetracked by something in the room I've just entered. Jessica Hulcy once said in one of her Konos training seminars "Faintest ink still better than strongest memory." In other words, maybe writing down my goals and to-do lists with the forms in this planner will help me stay on track
The Planner is available at the Schoolhouse Store, its regular price is $39, and it is 375 pages long. (For those of you with dial-up internet service, don't let the size worry you. I downloaded the whole thing in less than two minutes). There are also additional themed modules that can be purchased separately to expand the planner.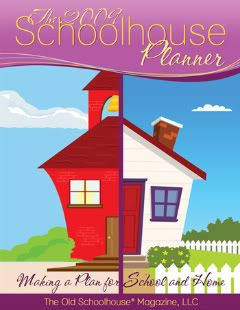 We'll start with the Table of Contents
Calendars for 2009-2012
These are not for writing notes, just being able to tell my birthday will fall on a Tuesday in 2011.
Monthly sections for the 2009-2010 schoolyear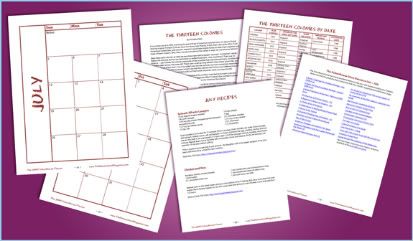 Each includes a two-page, write in calendar; an informative article, links to Schoolhouse Store resources, and recipes to try.
Miscellaneous Education Information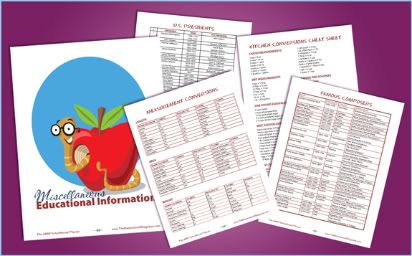 Accumulated here are all the facts that you probably memorized when you were in school and promptly forgot after the test: the names and terms of U.S. Presidents, countries of the world and their capitals, conversion tables from U.S. to metric, etc.
Homeschool Forms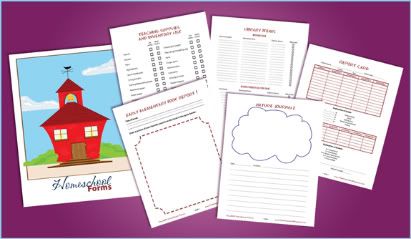 The largest section of the planner. There are forms for setting goals, planning field trips, daily schedules for 1 to 5 children, attendence charts, etc.
Household Forms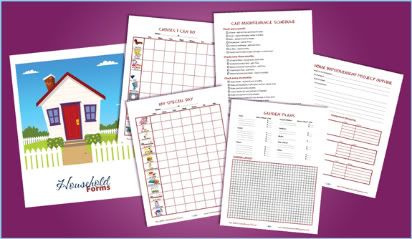 These forms would be useful to anyone, not just homeschoolers. There are forms to track car maintenance, pet health, budgets, and Bible studies.
Here's my advice: Don't just load a ream of paper and hit "Print." You'll waste a lot of paper. There are multiples of the homeschool forms, customized for 1 to 5 students, you'll need only one version for your family. Other forms may only be necessary for a particular style of homeschooling--the Unit Study or Unschooling records for example.
With a paper copy you'll also be missing some of the best features of the planner. Many of the articles contain links to additional information on the web that can only be accessed if you read them on your computer (you'll also need to be connected to the internet). Other forms allow you to type data into the form before you print them. In the upper left corner of the screen is a paper icon with two purple rectangles. Clicking it and then the "Highlight Fields" button on the upper right will allow you to see where you can type in your own text.
For my first organizational baby step I chose the Grocery List 1. It divides your shopping list into categories like Produce, Meats, Snacks, Paper Products, etc. I typed in the staples that usually appear on my list and discovered a neat feature: if my list exceeded the size of the category box, the text automatically shrank to fit everything in. Then I printed the list and laminated it. Now it can stick to the refrigerator and as we run out of something I just highlight it on the list. I could add items for specific recipes with a wet-erase marker. Not only did it speed up my list making, but my shopping went faster. With like items listed together, I wasn't back-tracking because I missed potatoes on my list when I was in the produce aisle.
I could only come up with two shortcomings to the planner. One: for any Missouri homeschooler, I could not find a form that could be tweaked to track core hours or home-teaching hours that our state requires. For this reason I won't be using these forms for my homeschool record keeping. Other states might have similar quirky requirements that can't be covered in forms designed to meet the general need.
Secondly, and I confess I was oblivious to this until a new Canadian friend pointed it out: the planner has a distinctive American slant. The Misc. information section covers US states and capitals, the American presidents and important US documents. The recipes don't include metric conversions. The monthly themes include the Thirteen Colonies and American Government Basics. I think the forms would still be of benefit, but some of the extra goodies might not be of interest to those outside the United States.
Overall though, I would still recommend the 2009 TOS Planner for anyone who needs to organize their home or homeschool. Having everything in one file, ready to print when necessary, is a blessing. You can see what my crewmates thought of the planner here.