When I first saw Exploramania's Gymathtics dvd, I thought this would be a match made in heaven. Math is Fritz's favorite subject and he has enough energy to run the western power grid if we could just figure out a way to hook him up. When I was using exercise videos to walk away the pounds two years ago he would often join me in the living room and jog circles around me. The packaging included a Dr. Toy's 100 Best Products stickers--another reason to be impressed.
We popped in the video that afternoon. We were introduced to Ms Carrie and the boys and girls (an older and younger of each). The workout is sound--starting with a warm up and ending with a cool down.


Warm up while learning about lines, circles, and polygons


Calisthenics while counting, skip counting and learning about odd, even and prime numbers


More aerobics while learning about patterns


Cool down (no math concepts here)


Ms Carrie would explain the activity we were going to do and the math concept that accompanied it. For example, we were going to do punches and count by place value. Then she and the kids would appear in a small box in the corner doing the exercise while the math concept takes up the rest of the screen.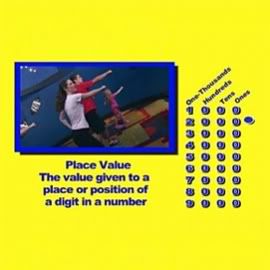 The only section Fritz's enjoyed was the Counting Calisthenics. This could be because it's the same subjects we're learning in math right now. He took the idea and ran with it--skip counting by 3's and 12's on his mini trampoline. In fact, he would now rather do this on his own than follow the video.
The concept is good in theory. I think most kids could benefit from more exercise and it would be great if learning math was seen as fun rather than a chore. Once the novelty wore off, Fritz was no longer interested in doing both together in this format. He's also very sensitive to other people's emotions and he picked up that Ms Carrie's enthusiasm was seemed forced or scripted.
The Exploracise Gymathtics dvd is $24.99 at Exploramania's website.
Disclaimer: Exploramania provided a free dvd of Gymathtics for me to watch and use for the purpose of writing this review. I received no other compensation.