Another wave of thunderstorms is headed our way. I made sure the dog had her necessary time outside and we're headed back into the fort for some more fun school through game playing. This time, we've got a series of games that cover science.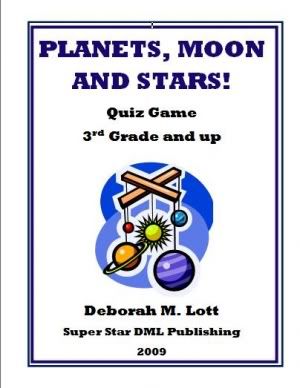 Planets, Moon and Stars is a card game. Correctly answering questions entitles a player to draw a solar system card. The winner is the first to accumulate all the planets and a sun card (Pluto is included but you may opt to play without it). The game is targeted to 3rd graders and up, but Fritz didn't have any trouble answering questions since we have been working through Jeannie Fulbright's Exploring Creation with Astronomy. The game comes with 33 questions, which may not be enough if you have a lot of players. If you have older students have worked through the Astronomy text, a good activity might be for them to come up with additional questions for the game.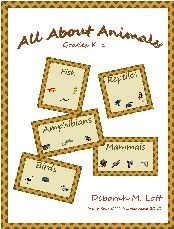 All About Animals deals with the classification of animals by classes : Fish, Reptiles, Amphibians, Mammals, and Birds. There are two levels of play here--younger children can simply identify clip art pictures of animals; older students have to identify the class of a named animal or a trait of the class (eg. "Feed their babies milk" would be a mammal). The first person to get two cards on each class is the winner. We haven't begun studying the Apologia Zoology yet, but we have read the Dr. Suess Learning Library books Is a Camel a Mammal and Wish for a Fish so Fritz was able to recognize several facts. There are 48 animal fact cards and 48 picture cards, again I can see this game expanding as we study zoology in depth.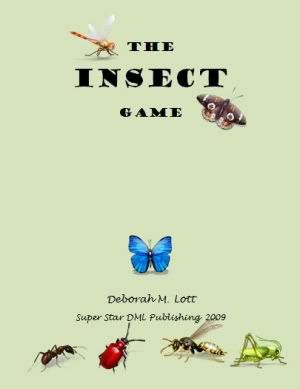 The Insect Game gave me flashbacks to playing the Cootie game as a kid. Do you remember that game where you collected legs, a head, and curly-que tongue to build a cute plastic bug? In this case you're building a paper bug that's anatomically correct (head, abdomen, thorax, 6 legs and antennae). You earn body parts by answering questions correctly. This game had the most advanced questions and hardest vocabulary: entomologist, metamorphosis, invertebrate, etc. We'll be putting this game aside until Fritz gets a little older.
All three of these games would make excellent components for a lapbook. The cards should be printed out on cardstock and probably laminated if you want them to last. Descriptions for these and other games are available on the Super Star Speech website and the games can be purchased at Currclick for $3.50 each.
You may be wondering what "Super Star Speech" has to do with educational games. Well, the games are just a sideline for a company that helps homeschool parents with speech therapy for their children. There is an overall Speech Therapy Made Simple e-book and also e-books for specific sounds--my Schnickelfritz has just recently grown out of pronouncing "mother" and "father" like he's writing a letter from Camp Granada. The Ch-J-Th book addresses how to teach the correct formation of the sounds and then provides oodles of games and activites to make practicing the sounds more fun.
You can read what other Crewmates thought about the games or Super Star Speech products by clicking here.
I received free copies of The Insect Game, All About Animals, and Planets, Moon and Stars games and the Ch-J-Th Therapy ebook for the purposes of completing this review. I received no other compensation.