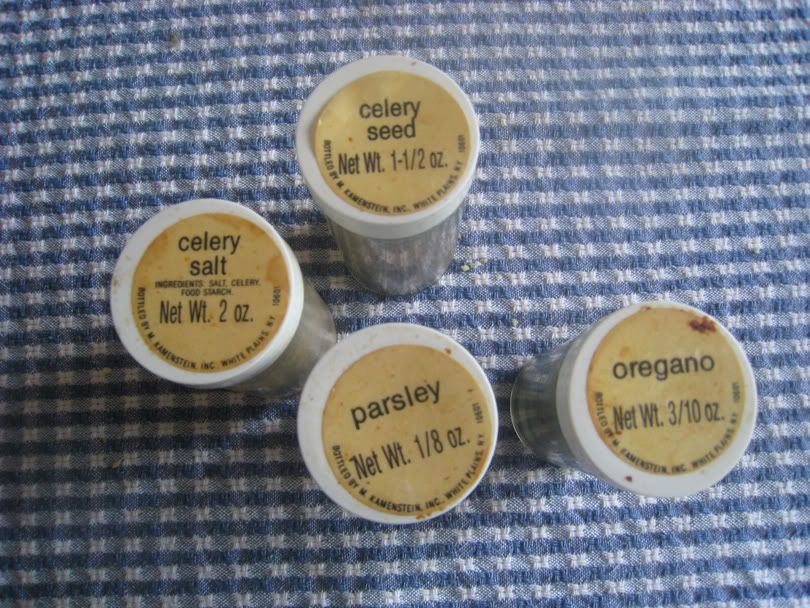 I can't tell you how long I've owned these spices jars but they were certainly showing their age.  For cooking convenience I store them right next to the stove and years of grease splatters and other food spills have not only discolored the labels but some lost their adhesive and just slipped off.  I could have gone the easy route and just purchased a new spice rack but the frugal German in me  decided to scrounge around the house and see what I could come up with.  In the end this worked out better because I could customize the labels and fill them with the spices I use, not necessarily the ones that come in the set (as I worked on the jars I discovered some were still sealed and never been used in at least a decade--a waste of valuable counter space).
 My first thought was the Graphics Toolbox program we
reviewed
for the Homeschool Crew last year.  I still use it all the time for editing pictures, making lapbook components, etc.   I checked the clip art files on my computer and found a vibrant picture of some chili pepper; cute but a little too vibrant, especially when you want to add the name of the spice over the top.  GT lets you copy an image while adjusting its transparancy so I was able to make a more muted background.   I played around with text color as well--trying all of the colors from the original clip art.  In the end I decided to go with basic black since it just popped out so nicely.  I made hollow circles in the proper size to fit the lids and put them around each picture.  I printed everything on a sheet of photo paper but before cutting out each label I ran the sheet through my Scotch Laminator (to hopefully protect the new labels from grease splatter).  I chose hot lamination over my Xyron because I've learned the hardway that cold lamination doesn't hold adhesive well at all.  
 After cutting out the labels, I ran the circles through my xyron with the permanant adhesive cartridge.  And below you can see my finished results.