Well December has rolled around again...our burst of enthusiasm for a new school year has waned just as holiday activities and winter sports have kicked into high gear.  I don't want to drop school work entirely and yet I'm ready for a break from the "heavy" stuff myself.  That's when I like to pull out the educational games--there's still learning going on (or at least refreshing old facts learned), but it's all done in a spirit of fun.  It's a perfect time to review a card game like Fractazmic.  This is from I See Cards, the same company that provided our
Pyramath
 game last year.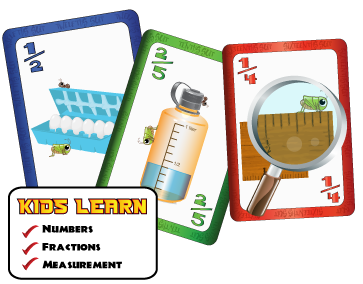 Fractazmic's focus is on fractions, so instead of having symbol suits the cards are organized into tenths, twelfths, and sixteenths.   The fractions are reduced to their simplest terms (1/4 instead of 4/16) but you can still keep track of the fraction families by the colored border and the picture on the cards.   Tenths are green with a 1 liter water bottle, twelfths are blue with an egg carton, and sixteenths are red with  a magnified view of a ruler.  This was my one qualm with the picture choices: the magnified view focuses on half of the inch not the full inch. In the above example the grasshopper represents 4/16 or 1/4 of an inch but the picture itself looks like it's taking up 1/2 of the space.  This made it a little confusing to my son who's new to fractions.
The object of the basic game is to form "hands" by collecting cards of the same suit to equal one whole.  For students just learning their fractions, they can count the number of eggs, etc to make sure they have a full dozen or twelve/twelfths.  Once again, you have to keep in mind that the ruler suit represents sixteenths not eighths so you need to "fill" the ruler twice.  Players take turns drawing from the draw or discard piles (if you take a card from the discard pile you must use it in a hand immediately).  Schnickelfritz and I found that completing the final hand and going out was extremely long for a game with two players.  We developed our own rule that the final hand can be made up of different suits as long as it still totals one.  There are other game rules as well as samples of all the cards available at this
website
. 
Fractazmic, Pyramath, and Prime Bomb card games are available for $6.95 from the I See Cards
website
.   You can also try online versions of their games and possibly win a free deck.  Rather than an age range for this game, I would consider your child's math skills--are they ready for fractions.
You can read what other Homeschool Crew Members think of Fractazmic by clicking
here
. 
Disclaimer: I recieved a free deck of Fractazmic cards for the purpose of completing this review.  There was no other compensation for my honest opinion.