As part of the 2012 Virtual Curriculum Fair, we are going to be sharing some of the curriculum and products that really work for our family. Today's topic deals with language arts and I've chosen to focus on spelling.
As the years pass it get harder and harder for me to remember individual subject from my own education but for some reason spelling sticks in my head. I think that's because the pattern was the same for all six years of my elementary education. On Mondays the teacher would provide us with a list of 25 words related by a theme--days of the week, weather terms, etc. We would study that list on our own time and be tested on Thursday. If we got 100 percent right we would be done for the week, otherwise we had to study the words we missed and retake the test on Friday. I don't know what happened to the people who missed words on Friday because we set those words aside to prepare for a new list the next Monday. We never discussed rules of spelling other than reciting "I before E except after C." It wasn't really an exercise in spelling so much as memorizing. One time, the teacher's aide mistakenly marked my spelling of "tomorrow" as wrong and changed it to two m's instead of two r's. When I retook the test the next day writing my newly memorized version of the word, the teacher marked it wrong (this time correctly). To this day I still have to let the spellcheck feature tell me which way is right. I wanted a better system for my son.
Two years ago, I was given All About Spelling to review. I'd never heard of it before but it quickly became a favorite for both teacher and student. I liked it because it showed me step by step
how
to teach spelling (going so far as to tell me what to say). My son liked it because it used magnetized tiles with individual and combinations of letters to build words (any time he didn't have to write himself was good). We've gone on to purchase the other levels of the program after getting the first one free.
This board gives you an idea of the spelling workspace with all the tiles added. I found this magnetic white board at Sam's Club and it was perfect except that my Schnickelfritz was always removing the tiles so he could draw on the board. Since he no longer needs the practice of putting letters in alphabetical order and because I'm tired of tracking down missing tiles I have relinqushed the board to him and we use the front of our refrigerator as our spelling space.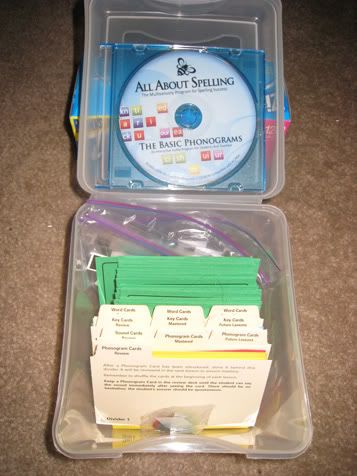 All About Spelling has a wonderful built-in review system to ensure that previous lessons aren't flushed away to make room for new material. The are fort sets of colored cards: yellow Phonogram cards display a letter or combination of letters and the student must identify the sound(s) each phonogram makes. Red Sound cards instruct the teacher what sound to make and the student must write or say what letter or letter comination makes that sound. Blue Key cards give questions on the rules or generalizations about spelling and the student must provide the answer. Green word cards make up the spelling lists for each lesson. The cards are stored in a file box behind tabs for Future Lessons, Mastered, and Review. Because this filing system is customized to the student--what they have mastered and what they still need to review, you will probably need to buy a student packet and keep separate boxes for each child. Some of the cards move up with the student to higher levels so you also won't be able to just save the set for younger kids moving up.
PLEASE NOTE: All examples are taken from the free download sample on the All About Spelling Website.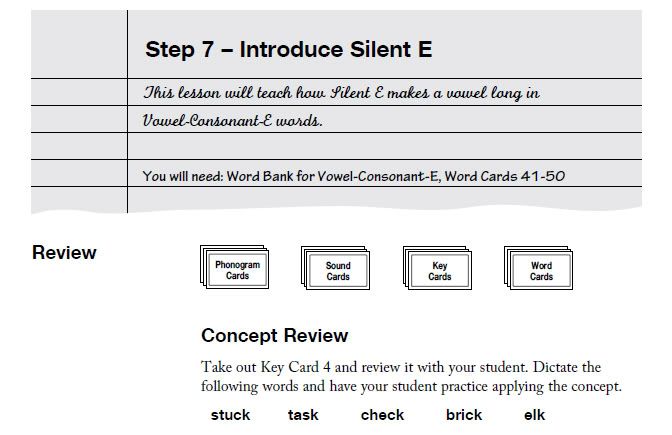 Each lesson begins with a review of the phonograms, sounds, key concepts, and words with which the student still struggles. There may also be a Concept Review where we practice dividing words into syllables or review when C makes its hard or soft sound. Every so often there is also a review of mastered cards just so the material stays locked in the mind. We do our reviewing on Mondays.
Tuesdays bring new teaching. This may be a new phonogram or recognizing a "rule-breaker." One of the difficulties in teaching spelling by the rules is that the English language is replete with exceptions to said rules. All About Spelling handles rule-breakers in a fun and better yet, memorable way--the student circles the portion of the word that doesn't follow the rules and the whole card, the teacher asks "What do we do with rule-breakers" and the student responds "We throw them in jail!"
The material package comes with a picture of an old western jail complete with buzzard on top. I've attached a manilla envelope to the back to hold the cards. (While I've never seen it listed in the review directions, we also visit our jail-bird words on Mondays).
Wednesdays may bring additional new teaching (some lessons have two concepts) or we may be ready to spell reinforcement words with our tiles. Nost lessons include at least ten words with the new teaching and 10-20 more words in the reinforcement sections. The big advantange in the All About Spelling method is that the student is learning words that follow a specific rule at the same time rather than words from a variety of rules that happen to fall into the same theme (the way I learned).
Thursdays become the reinforcement day if we've had a second day of New Teaching. There is a second section of reinforcement that involves dictating phrases as sentences. The book suggests dictating several each day rather than leaving them all for the end of the week and my son prefers this as well. There are usually six of each and I assign two per day on Tuesdays, Wednesdays, and Thursdays. We're able to get our spelling done in three to four days!
As I mentioned at the beginning, I'm taking part in a Virtual Curriculum Fair. Other participants will have different products that their enthused to share, although they will all be about Language Arts this week. Be sure to check some of them out this week.
Reading on Time
by Cindy Horton @ Fenced in Family
Playing with Words: the Language Arts
by Christa Darr @ Fairfield Corner Academy
Reading and Beyond: Language Arts in Our Homeschool
by Laura O in AK @ Day by Day in Our World
Language Arts that Work for Us
by Melissa @ Grace Christian School

Learning Language at Our House
by Jessica @ Modest Mama
Virtual Curriculum Fair: Language Arts
by Christine T. @ Our Homeschool Reviews
The Learning of Language
by Dawn @ tractors & tire swings
Reading and Spelling: Modifying the Magic
by Pam @ Everyday Snapshots
Virtual Curriculum Fair: Let's Talk About Words
by Debra @ Footprints in the Butter
Why We Love Classical Conversations Essentials (and how I know that is not a complete sentence!)
by Nicole @ Schooling in the Sun
Virtual Curriculum Fair---Playing with Words: the Language Arts
by Angie @ Petra School
Whole Language vs. Phonics
by Christine @ Crunchy Country Catholic
It's All About the Art of Language
by Brenda Emmett @ Garden of Learning
Watching Movies for Language Arts Class
by Debbie @ Debbie's Digest
Only 5 Spelling Tests a Year! (Can we do that?)
by LP @ justpitchingmytent
Playing with Words
by Chrissy @ Learning is an Adventure
Language Art at Our House
by Joelle @ Homeschooling for His Glory
Virtual Curriculum Fair Week One Playing with Words: the Language Arts
by Leah Courtney @ The Courtney Six Homeschool Blog