Okay, the calendar has turned, the Christmas tree has been taken down, the New Year's resolutions have been made. Now do you just huddle inside your home waiting for the first robin of spring? Well if you live in my neck of the woods, January is a great time to go bird watching--and I'm talking about something that will stir your soul a lot more than a dull little robin.
Bald Eagles!!!
That's right, the national bird, the bird that made it back off the endangered species list. On this particular day we saw more than
300
of them soaring, swooping for fish, and roosting in the trees along the Mississippi River.
In the winter they gather around the locks and dams on the river because these waters won't be iced over and they can continue to fish. January is prime viewing time and the Missouri Dept. of Conservation holds several Eagle Days designed to make your bird watching special. If you want to avoid the crowds you can go on any day, but Eagle Day weekends have some extra perks you won't find on your own: warming tents, photography workshops, the chance to see eagles up close, spotting scopes, educational material for the kids, etc.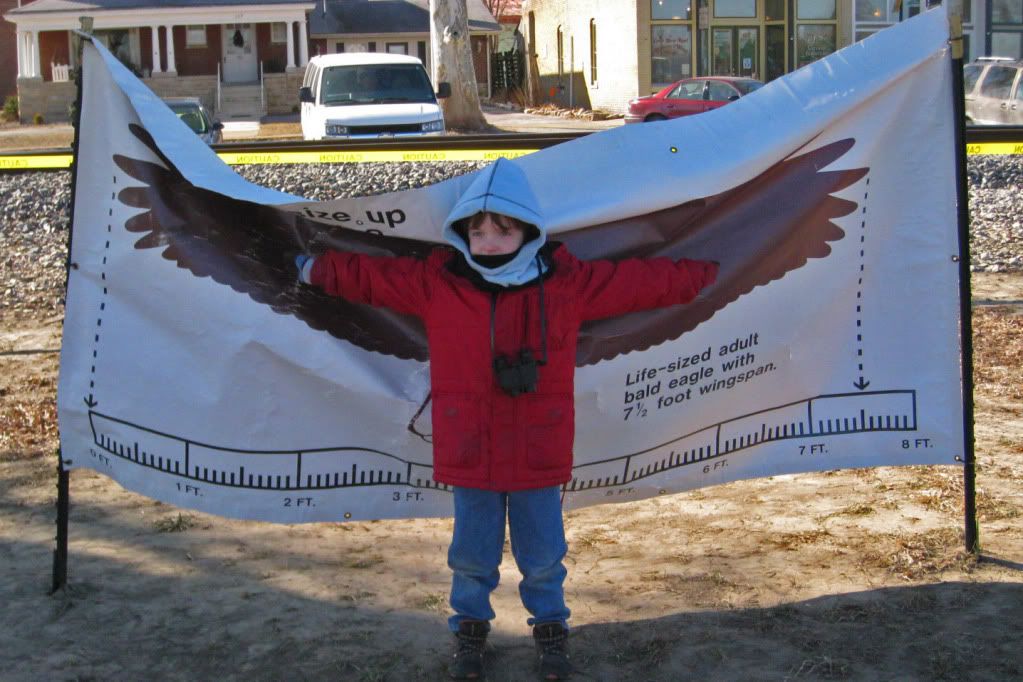 Schnickelfritz learns just how big these birds are

If you want to see these Eagles here are some dates to remember.
January 14-15
Chain of Rocks bridge just north of St. Louis There will be warming tents, Wild Bird Sanctuary presentations, a full size eagle's nest replica to have your picture taken in, hands on exhibits by the St. Louis Audubon Society, Lewis & Clark re-enactors, and a chance to learn about the confluence of the Missouri and Mississippi rivers.
January 14-15
Columbia Bottoms Conservation Area. The Dept of Conservation will host its own Eagle viewing days offering Photography workshops (reservations required)
January 28-29
Clarksville Missouri near Locks and Dam #24. There will be spotting scopes, hourly presentations by Wild Bird Sanctuary, exhibits, children's activities, and a MO Dept of Conservation movie: Where Eagles Soar. Local groups offer inexpensive lunch options.
Just a note if you plan to go to Clarksville. The Apple Shed where the presentations are held is NOT heated and they don't use space heater because of the live birds. You may want to bring a throw blanket to snuggle under while you're seated.
These aren't the only spots to see eagles. The MDC map suggests other areas that might be closer to home.
2. Chain of Rocks Bridge
3. Smithville Lake
4. Squaw Creek National Wildlife Refuge
5. Lake of the Ozarks
6. Springfield Conservation Nature Center
7. Schell-Osage Conservation Area