Before we start with this week's soup recipe, I want you to note that this says "Like Grandma Used to Make" not Grandma's Soup recipe. Both my mom and aunt have tried to recreate the dish based on their best recollections. I don't know if this was a recipe that Grandma never wrote down or if it was in the recipe file she gave to someone who worked in the assisted living center she moved to because she thought no one else would be interested in them. (Grandma got that one wrong). My point is the recipes you customarily make for your family are as much a part of your children's heritage as knowing which boat brought your family to America. I never got the chance to meet my husband's mother and now I can never fix his favorite dish, Beef Manhattan, the way she used to make it. I used to be able to eat a whole jar of my great Aunt Evelyn's dill pickles as a kid. By the time I grew up and had my own place to plant a garden, Alzheimer's disease had stolen the recipe from her mind. So if you love your kids, write down some of their favorite recipes for them. Kids, if you love your mom or grandma, pay them a visit and ask them to share their recipes with you. Heck, go into the kitchen and make some (and some great memories too). Okay, I'm off the soapbox now.
Vegetable soup like Grandma used to make:
1. Put 4 soup bones in a large pot and cover with water. Cook for several hours until the meat falls off the bones.
2. Chop up and add the following vegetables
3-4 potatoes (my mom peels them first)
3-4 carrots
1 onion
several ribs of celery (include the leaves)
enough cabbage to make 2-3 cups chopped
a turnip
a cup or more of green beans
corn cut off the cob
Here's the secret, peel and chop an apple and add to the pot.
Also add:
1 can tomato or V-8 Juice
1 t nutmeg
1 1/2 t cinnamon
1/3 cup brown sugar
salt and pepper to taste
3. Simmer all this on the stove until vegetables are tender. Because the men in our family prefer meat at every meal you can also add browned ground beef or stew meat to this soup.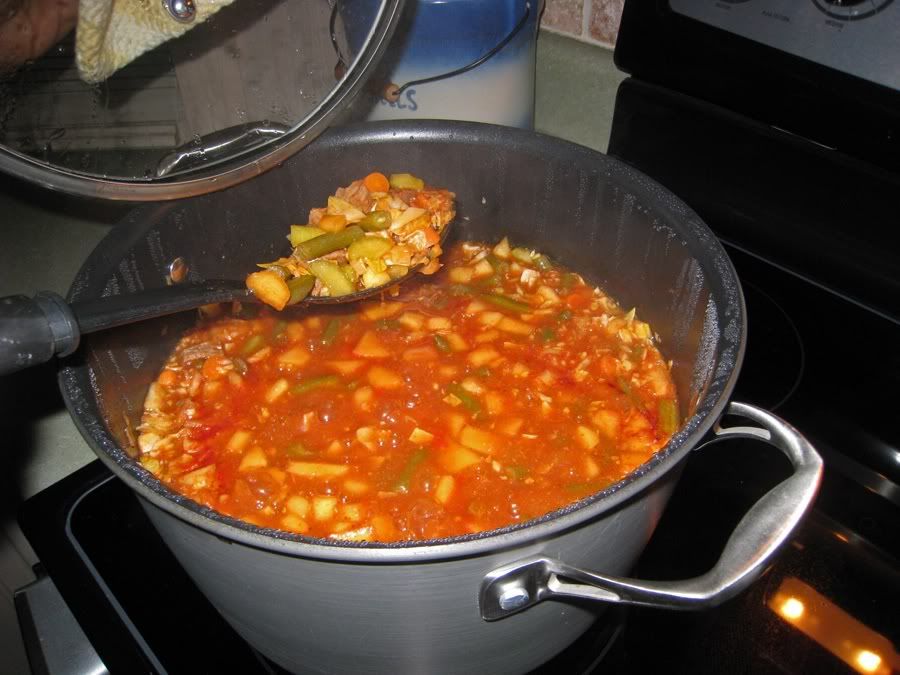 The best part about this pot of soup was that I went over to my mother's house and we made it together! Check out the other recipes on the
Soup Swap
this week and share them with the ones you love.