You can tell what time is approaching the minute you enter Walmart--pastel colored candies, chocolate bunnies, and baskets of all shapes and sizes.
E
aster is coming. It doesn't get quite the same build up as Christmas which seems to appear in stores around October. Frankly, I'd rather have more time to think about Easter coming because it means winter is over and spring is here. Still, I usually end up leaving the store perturbed that the world is celebrating a myth that brings gifts to good little boys and girls rather than Jesus who offers the greatest gift of all to a world of sinners. For the purpose of fitting in with the "E" letter of the week for Ben & Me's ABC challenge I need to call the day
E
aster, but the activities I'm suggesting are really to celebrate Resurrection Sunday. I know the actual day is still a few weeks away, but some of these ideas will require a little prep time.
Make a Resurrection Garden
This picture appeared on my Facebook news feed. I've been trying to track down the originator but I've found it on several blogs and Pinterest boards. If it's yours, let me know so I can give you credit.
The design uses a large terracotta base and a smaller pot (buried) forms the empty tomb. Cover the pot with soil and grass seed. Find a large stone to cover the entrance--I'll admit the smooth stone looks better than the rough ones I can find in my yard. We may need to head down to the creek to look for our stones. The crosses can be lashed or hot glued. All in all, a rather inexpensive project.
Make Resurrection Rolls or Cookies
from MommysIdeaBook.com
This next idea doesn't need to be started so far ahead. Both involve a hollow treat that reminds us of the empty tomb. The cookie is meringue-based so it may not appeal to everyone but it's easy to Google the recipe and Bible verses to read while making the cookies. I found a PDF version at
MommyIdeaBook.com
. The cookies have to be left in the oven overnight so there is some planning ahead to be done. If you've forgotten until Easter morning or if the cookie doesn't appeal to you, the rolls may be a better option. You can use you own bread dough or if you don't bake your own bread you can get a tube of crescent rolls. Dip large marshmallows in melted butter and then in a mix of sugar and cinnamon. Then wrap bread dough or a crescent roll around the marshmallow--TIGHTLY! The marshmallow will melt and coat the interior with the sugar mixture. Lori Viets of Breadclass.com has a
video
of the process.
Make a set of Resurrection Eggs
Okay, I'll admit I enjoyed hunting for Easter eggs as a kid. My cousins and I would take turns hiding them in different rooms at Grandma's house when the family gathered for Easter Dinner. It is still possible to make the event lead us to think about the true story of Easter instead of a hippity-hoppity bunny. Last year Schnickelfritz made a set of Resurrection eggs in Sunday School. All you need is a dozen plastic eggs, a permanent marker, and a few odds and ends. Think of 11 objects from Palm Sunday through the crucifixion and keep a numbered list with corresponding Bible passages (here are a few ideas).
A leaf can represent a palm branch
A thorn from a rose bush or other thorny plant (we have raspberry canes) can represent a crown of thorns.
A few dimes can represent the 3- piece of silver.
A piece of sponge representing the one dipped in vinegar
A piece of purple cloth
Cloves to represent the spices to anoint the body
Nails
A toothpick decorated with paint or markers to resemble the spear in his side
Make sure to leave one egg empty
If you want to include something for which you don't have an object you can always print a small picture from an online source--maybe a picture of a lamb to represent Passover or sacrifice.
Use the marker to write numbers on the eggs to match the Bible passage list. The empty egg will be number 12. Save the eggs after they've all been found and open them in order and share the Gospel story as you go.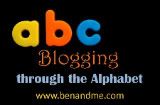 Be sure to visit
Ben and Me
and see what "E" topics the other bloggers have come up with.