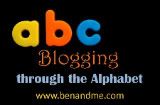 It's week three of Ben & Me's ABC challenge and I find myself thinking throughout my day D is for Driving and G is for Groceries--always trying to think ahead to future posts. On our tour of Onandaga Cave we saw a formation called the Queen's Canopy and I'm thinking "Great, I can scratch Q off the list."
This week's C is one of our family's favorite activities--sitting around the campfire. When we first looked at this house we noticed a bare spot in the lawn surrounded by rocks where the previous owners used it to burn their garbage. We've literally taken it from trash to a real treasure. Three seasons of the year you'll find us carrying out lawn chairs, a portable table, and cooking gear and spending an evening away from TV's and Internet.
It's one of our favorite ways to entertain. Last year, we had a gorgeous fall day for Schnickelfritz's birthday and invited over several families to roast hot dogs and marshmallows. The kids played in the leaf piles (it got really out of hand when the Toolman cranked up the leaf blower, but I digress....). Other times we'll keep the gathering smaller and I can cook supper in the dutch oven over the coals. When we have other kids over I always pick up a pack of glow in the dark bracelets--the chemical kinds you have to snap and shake to activate. The kids will play at the just outside the limits of the fire's glow but we can keep track of them by their bracelets. Sometimes they'll catch fireflies or play hide and seek (the smart ones figure out they need to cover their bracelets). If we bring out the recliners, we can lay back and watch the bats acrobatics while they catch dinner--well I guess it's really breakfast to a bat. Then we'll watch the stars pop out one by one.
We've really stepped up our campfires a notch or two since we took several Dutch Oven cooking classes from the Dept. of Conservation. They've had some that focused on desserts, one that covered a whole meal, one that presented other ways of campfire cooking--foil packs, stick cooking, etc. You can cook practically anything in a Dutch Oven. How do you think our pioneer ancestors managed? Check out Craigslist to find your first oven. We scored a 14 inch model for a mere $20 bucks. Sure it was rusted, but the Toolman cleaned it up with a wire brush attachment on his drill. We reseasoned it and it's as good as ever (makes great nachos and even venison chili to feed an army). This is one of my favorite recipes from the Conservation Dept's handouts.
Creamy Chicken Enchiladas
2 pounds cooked, chopped chicken
1 (10 oz) package frozen chopped spinach, thawed
1/2 C thinly sliced green onions
2 C sour cream
1 C plain yogurt
2 T flour
1/2 t cumin
salt to taste
1/2 C milk
8 o diced green chili peppers (drained)
12-24 flour tortillas (soft taco size)
8 oz grated Monterrey jack cheese
diced tomatoes (optional)
sliced black olives (optional)
Combine chicken with spinach and onions, set aside. In a separate bowl combine sour cream, yogurt, flour, cumin and salt. Stir in milk and chili peppers. Divide sauce in half. Combine chicken mix with half the sauce. Divide filling among tortillas and roll up. Place in Dutch oven in layers. Spoon remaining sauce over enchiladas. Bake for 25-30 minutes. Sprinkle with cheese and let stand for 5 minutes. Garnish and serve.
Want more recipes? Try googling "Dutch oven gathering" to see what other enthusiasts have created. If you have RFDTV you can catch the Campfire Cafe or Cowboy Kitchen for step by step instructions.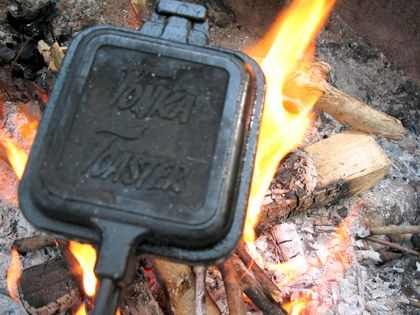 If a Dutch oven intimidates you, you might want to look into Pie Irons.  The typical recipe will call for two slices of buttered bread next to the outer surfaces of the iron. Then you can complete your sandwich with sandwich with savory or sweet fillings: pizza fixings, taco meat and cheese, peach pie filling, chocolate pudding and marshmallows. The Rome company makes round and square irons, even a double iron and you can find prize winning recipes at their
website.
You can often find pie irons at Walmart, but these don't have a good fit and loose irons can mean scorched food. I'd go to a real outdoor/sporting goods store to get a quality set.
If you're planning a "stay-cation" this summer, or if you'd just like a little more quality family time, a
c
ampfire is the way to go. Curious what everyone else came up with for the letter "C"? Check out the links
here
.