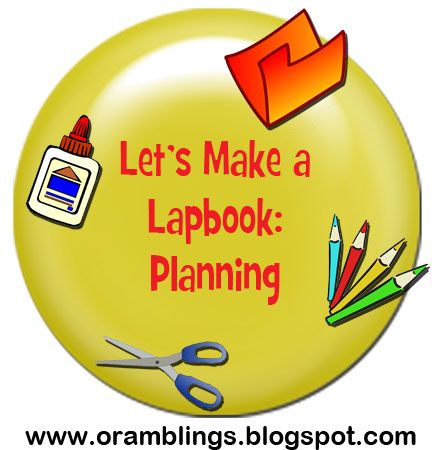 I'm planning on squeezing in Exploring Creation with Botany this summer. We skipped this book in the series and I want to do it in the summer when we can actually grow some things. I realize that I could purchase the Notebooking Journal for this title or one of several commercial lapbook kits, but I've decided to make my own and I'm taking everyone along for the ride. We'll learn together (hopefully not from mistakes) how to plan and design a lapbook. I developed my own planning page and you can download your own copy here.
Lapbook Planning Page
Today I'll be reading through the first chapter and deciding what to include. The obvious place to start is with the vocabulary words. Apologia makes this very simple by printing them in
BOLD
text, but they've also formatted a few other words this way (and I don't think my son needs more than 8-10 vocabulary words) so I'll be selective. For example, the words kingdom, phylum, class, order, family, genus and species all appear in bold but the text really never explains
what
a phylum is. These terms would be better used in a mini book explaining taxonomy. The text also bolds the words
xylem
and
phloem
but then mentions they'll be covered in a future lesson so I won't include them now. The planner page I created has space for twelve words so I may list some and cross them off later. For lesson One I found the following:
Botany
Biology
Classification
Binomial Nomenclature
Vascular
Angiosperms
Gymnosperms
pod
After addressing vocabulary, I look for the author's hints about what key information my child should be learning/remembering. So far all the Young Explorer Series books have had chapter sections titled "What Do You Remember?" These are usually a list of questions--our job is to translate that into a mini book form. Some questions simply ask for the definition of a term (we've already taken care of that in our vocabulary section). A better mini-book topic is "Why do scientists use Latin?" I write the question on my planner page. This is a simple, 1-unit book. I'll write the question on the front and try to include a picture (maybe even scan the Roman boy from the book) and then Schnickelfritz can write his answer inside. Other concepts may need two parts, like comparing/contrasting the human vascular system to a plant vascular system. I'm still trying to come up with a plan to cover the seven levels of taxonomy but I've put a little sketch in the mini book template area as a starting point.
Once I've got my list of mini books, I can search the Internet and my saved files for mini book templates that will fit the bill, but we'll save that for another post...