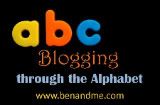 Here we are at another post for
Ben and Me's ABC challenge
. Since the beginning I had planned on sharing about my Kindle, but several others beat me to it and I hate to be a copy cat. I really struggled with what my K would be--I even looked for my 20 year old picture of me holding a koala bear. But when I was organizing workboxes for the upcoming week I spotted the author of our Bible curriculum--problem solved!
I mentioned a few posts back that my Schnickelfritz is serving our church by running the sound equipment for the children's worship. A requirement for the privilege/responsibility is to keep up a daily Bible study. To meet this (and for homeschool) we've been using Kay Arthur's Bible studies for kids--Discover 4 Yourself. It is still the inductive Bible study used in the adult program, but each lesson has an introduction involving Molly and Max and their dog Sam. For the Daniel studies they were helping an aunt write scripts for a TV series, in the Genesis studies they are helping an uncle with an archaeological dig.
I think what originally appealed to my son was wrapping his head around the idea that is was okay to color in his Bible--in fact it was a requirement.
Here we've been marking the key words of Daniel 2 where King Nebuchadnezzar has a dream about a large statue made of different materials: kingdom, God, (the "you/your" are all pronouns for the king and are marked the same as his name). We also have underlined placed in green and made green clocks for time references.
After marking the passages we may have questions to answer about the text or we may fill in a chart to make things clearer. I wish I could find the book covering the second half of Daniel but I've apparently left it in a "very safe place." Or Fritz has been looking through it--he still gets out former studies and reviews them on his own). But here is the statue from Daniel 2.
I was a little hesitant to study the prophecy in the second half of Daniel--it's intimidating to adults never mind kids. But everything was handled step by step. It did this mama's heart proud to see her son reason out that the small horn in Dan 8 couldn't be the same as the little horn in Dan 7--one grew out of four horns and one grew out of ten. He also made the connection between the four horns on the goat and the four headed beast and realized they referred to the same kingdom.
If you're looking for a Bible study for your children I highly recommend the Kay Arther Studies. Some studies cover books (or portions of books) of the Bible, one is a generic "how to study", and two cover Names of God and How to Pray. The Bible books with studies so far are:
Genesis (5 studies)

Daniel (2 studies)

Esther

Jonah

John (3 studies)

James

2 Timothy

Revelation (2 studies)
Since we've started these studies my son has insisted we do Bible study every day. Sometimes he's even said Bible has replaced math as his favorite school subject. I've been learning alongside my son so don't think these studies are just for kids. I share all this as a customer, not a reviewer. I've bought all the books in the series and we'll work our way through them.