Temps in the high 70's, low humidity, blue skies with puffy white clouds. The weather this past week has been perfect for one of my favorite activities--sitting in the porch swing with a good book. The swing has been crowded as we've been visited by a cast of characters and historical figures: King Arthur, Joan of Arc, the Vikings, and Robinson Crusoe to name a few. All were brought to us the the Young Readers Classic Curriculum by
Heritage History
.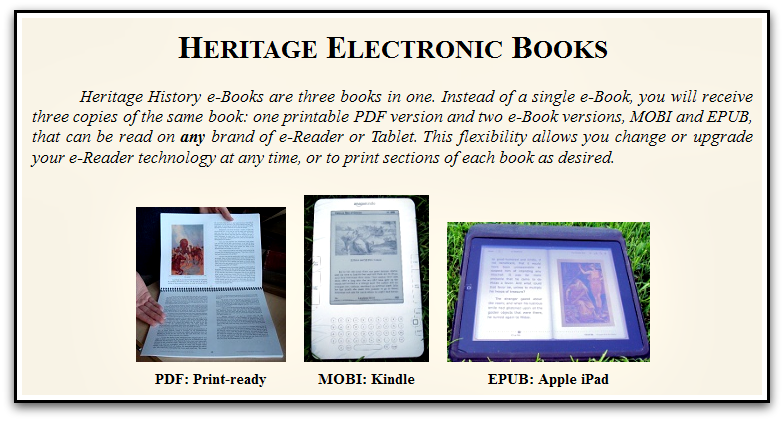 This one CD contains over 80 books in three formats: PDF, EPUB, and MOBI. It was very simple to load the MOBI versions onto my Kindle. Those without e-readers may print the texts or read them on the computer. I was reading aloud to my Schnickelfritz, who was often busy with a highway system done in sidewalk chalk, but the Young Readers books are appropriate for any child reading at the fourth grade level. If used as a curriculum, Heritage History recommends a student pick one book from each of its categories:
American History
Colonial Children
European History
Children's Heroes
Ancient History
Bible and Saint Stories
Historical Anecdotes
Legends and Folklore
Twins of the World series
Our Little Cousin Series
As you can see by the inclusion of Bible and Saint Stories, Heritage History has a Christian Worldview. Many of the titles covering historical events don't mention religion at all, but the book choices do respect Christianity and traditional morality. All the titles are out of copyright (older than 1923)...another reason why today's anti-Christian bias isn't present. Despite being in the public domain, I wasn't able to find many of the titles from sources outside Heritage History.
I think the Young Readers Curriculum would be great for a mom teaching unit studies or at least history to a wide age range of kids. Finding living books for older kids is easy, but my library doesn't have captivating stories about Joan of Arc, Napoleon, or Francis Drake for the elementary levels.
As a teacher/reader, I was less enthusiastic about a classic work that was re-written for younger readers. Robinson Crusoe Written Anew not only simplified the vocabulary but oversimplified the structure leaving short choppy sentences I wouldn't want my son to emulate. I also didn't feel drawn into the story--a real loss of description of surroundings and feelings. Take the following example:
No boat could live in such a sea at that. But we saw land ahead of us; and perhaps some of us might be cast alive upon the beach.
This was our only hope.
Now get a sense of how desperate the situation was in the Original
And now our case was very dismal indeed, for we all saw plainly that the sea went so high, that the boat could not live, and that we should be inevitably drowned...we worked at our oar towards the land, though with heavy hearts, like men going to execution for we all knew that when the boat came nearer the shore, she would be dashed in a thousand pieces by the breach of the sea. However we committed our souls to God in the most earnest manner; and the wind driving us towards the shore, we hastened our destruction with our own hands, pulling as well as we could towards land.
We didn't read all the stories, and my perusal of the Stories of Beowulf showed it still used complex sentence structure and vocabulary (though not nearly so hard as the original). Bottom line--preread some of the selections yourself before assigning them to your kids. Here's the great news--you can actually read full versions of ALL the titles on the Heritage History website for FREE. (Or you can buy individual e-books for $1.99)
I also received a hard copy of the Teacher's Guide. My understanding is the Young Reader's version is much shorter than Guides for other Heritage History Curriculum. It includes a broad overview of the different historical divisions and summaries of the book titles within each division, but not the maps, timelines, and study aids as the guides for older readers. The hard copy Teacher's Guide $20.99, or it can be downloaded for $8.99, but it is also included free on the Young Readers Curriculum CD.
The Young Readers (and most other curriculum) are $24.99. Other titles are: Ancient Greece, Ancient Rome, British Empire, and British Middle Ages. The Christian Europe, Early American, and Spanish Empire titles are only $19.99. Right now Heritage History is running a
Spring Curriculum sale
--buy 2 and get 1 free! I don't know when the sale ends.
Other Homeschool Crew members reviewed other curriculum so you'll want to
click here
and see what they think of their titles.

Disclaimer: I received a free Young Readers CD and Teachers Guide from Heritage History for the purpose of completing this review. There was no other compensation for my honest opinions.